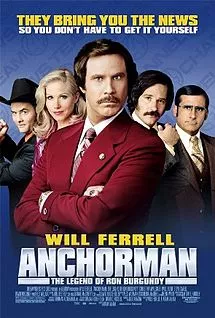 You probably saw this Thursday morning, attached to a mostly accurate quote on your Facebook news feed: Will Ferrell appeared as Ron Burgundy on Conan to announce Anchorman 2. That's great, and anybody who's ever derived any joy from quoting any movie will have long since dug their "I Love Lamp" shirt out of the closet with all their high school things in it. But we're forgetting the real, inescapable fact of any recognizable Anchorman sequel: It's going to make you think you love its '70s-crap-laden soundtrack ironically, until all of a sudden you're trying to figure out whether you can swing a road trip to the Illinois State Fair to watch Starland Vocal Band open for Christopher Crosslemania.
To paraphrase F. Scott Fitzgerald: First you pretend to love the song, then the song loves the song, then the song loves you. Afternoon delight!
It's no accident that Ron Burgundy made the announcement while flute-syncing some self-indulgent jazz riffs and slinking past Conan O'Brien's actual band; the only thing more important to Anchorman's success than its endlessly repeatable non-sequiturs was its relentless, creepy drive to make people sincerely enjoy the worst excesses of seventies culture without realizing it.
So yeah, sure. You could pretend to be above the paternalistic broadcasting, the awful fashion, the deeply strange gender roles, just like the movie pretends. But every time you told someone else that you were very important, that you had many leather-bound books, you were getting a little closer to actually calling sex "Afternoon Delight" in your head. And when you do that, the '70s have won, permanently.
Now it's only a matter of time--you will be carried away by the comforting lie of irony after this movie comes out, and assuming it's set a few years after Ron's mid-70s heyday, here are some songs to watch out for on the inevitable soundtrack--songs you're going to not admit you really like until it becomes obvious you love them. The good news: As we move closer to the cleansing, hot-pink fire of the '80s, they're less likely to be as terrible as "Afternoon Delight."
Christopher Cross--Sailing Edging past the Ron Burgundy era we're rapidly approaching yacht rock territory--and I'm not sure any genre is so uniquely suited to the Anchorman universe as the smooth, white, facial-hairy slow jams of the late '70s. Jazz flute as played on a wheezing synthesizer is already a genre must. Entirely speculative Anchorman 2 quote: "Just sail, Veronica. Feel the tide comin' in, vag high." Billy Joel--Piano Man "Piano Man" needs no assistance staying permanently embedded within the popular culture, provided people will continue to get drunk in large groups. But then, who'd have guessed that "Afternoon Delight" could have used a boost? Anchorman was, anyway, like "Piano Man" for a new generation of companionable drunks--"Something something killed a man with a trident" is the new "something something get out of this place." Entirely speculative Anchorman 2 quote: "I don't like the piano man, Ron. He stares at me and he makes noises and there are keys all over him."
Wings--Goodnight Tonight This is perhaps the ultimate Anchorman song. It's a weird, nearly forgotten disco hit about dancing and being very tired, which seems built for some kind of unsuccessful party montage, and as a Wings song it's also got a terminal dose of the sledgehammering dramatic irony that is Ron Burgundy's entire reason for existence. Entirely speculative Anchorman 2 quote: "Wings Wings Wings Wings. Lull me to sleep, Denny Laine, do it now."
When a song gets into a movie like this one it's no longer just about the song-in-itself; it's about the song as it defines some stereotyped time or place or mood, be it deadly earnest, like Joe Cocker's "With A Little Help From My Friends" becoming the official theme song of the non-Mad Men, non-hippie '60s in the '80s or Wayne's World formalizing the "Bohemian Rhapsody" singalong.
All that's fine--just don't pretend you aren't sincerely enjoying "Just What I Needed" when Ron Burgundy starts singing it while he's crying.