The Hive Dwellers | Woodsman | Sleep In Sundays Luminary Arts Center, 3/27/12 It is hard to underestimate just how influential Calvin Johnson has been over the past three decades. Since 1982, he has been the proprietor of K Records, a label that has been involved with some big names (Beck, Jon Spencer Blues Explosion, Teenage Fanclub) but whose main contribution was to help spread the DIY ideal and the "punk" spirit (if not necessarily the sound) to bedroom-dwellers and misfits worldwide. Throughout the 1980s, he was one-third of Beat Happening, a trio that mixed spirited amateurism with simple lyrics. Beat Happening is remembered for faux-innocent songs like "Indian Summer" and "Cast a Shadow," but the band was just as capable of blindsiding you with a murder ballad to rival Nick Cave. Beat Happening split in 1992, and Johnson has continued ever since, releasing solo albums and fronting such bands as Dub Narcotic Sound System, the Halo Benders (whose lineup included all of Built to Spill), and Sons of the Soil. He's never stopped working and touring over the past quarter century, even when the crowds were small. What keeps him going, even as he approaches his fifties? "Beats working," he suggested to me last night while working the merch table.
Since 2009, Johnson has fronted the Hive Dwellers. On the heels of its just-released debut album, Hewn from The Wilderness, the trio stopped at the Luminary Center for the Arts last night for a rare St. Louis appearance. Johnson last appeared in St. Louis in 2007, when he participated in a Spalding Gray tribute at Washington University. However, he has not performed music here since 2002, when Dub Narcotic Sound System played Mississippi Nights with Jon Spencer Blues Explosion. Despite a small Tuesday-night turnout, Johnson, guitarist/bassist Gabriel Will and drummer Evan Hashi performed an impressive and low-key set.
Sporting a pink acoustic guitar, Johnson ran through most of the songs on Hewn from The Wilderness in his Johnny Cash/Stephin Merritt baritone. Performing without a microphone, he stalked the stage and did each of his trademark dances. Anyone who's ever seen him knows what I mean: the hip shaking, the turning back and forth toward the audience, the vogue-like arm movements. It all seems almost ludicrous until you notice his thousand-yard stare, daring you to laugh. After all these years, it's still eerie to watch.
Like his solo albums and other recent material, the Hive Dwellers' material dug deep into the dark country, blues and garage-rock that was always just under Beat Happening's sunny surface. There were recurring themes of gravesites, doomed romance and sheer dread. Not that it was all heavy-hearted; "Somebody's Phone is Ringing" humorously flipped Alexander Graham Bell's urgent message to his assistant ("Come here, Watson, I want you"), while "Get In" was an extended rap inviting every kind of loser, outcast and social misfit to form their own exclusive club. The lilting "Love Will Come Back Again," from Johnson's first solo album, was a nice late-set surprise.
Johnson seemed excited to be playing the Luminary. In between songs, he contrasted it to his Mississippi Nights experience, where, he said, "the closest people were back there where they're serving coffee. And they just went back from there." Hopefully this means there won't be another decade-long gap before his next St. Louis appearance.
Notes, photos and setlist are on the next page.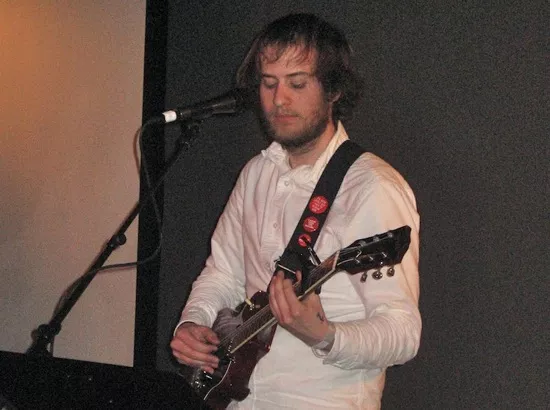 Sleep in Sundays. Photo by Mike Appelstein
Critic's Notebook: Opening act Woodsman, a NYC-via-Denver trio, was a pleasant surprise. Beneath their noisy, pedal-driven instrumental guitar attack, there was always a propulsive rhythm (often Krautrock-influenced) and a nice midrange buzz. Like jazzbos under the influence of Spacemen 3, each song set up a simple riff and explored its permutations for several minutes before fading away. Sometimes three chords is already at least two too many. Sleep in Sundays, a band bred in St. Louis but based in Olympia, kicked off the evening with its unassuming, hushed sound. There were elements of Elliott Smith in the finger-picked guitar and Eric Williger's subdued vocals, with occasional small crescendos a la Mount Eerie.
Hive Dwellers setlist: A Woman Named Trudy Somebody's Phone is Ringing Tell-Tale Heart ? ("...baby, be mine") Pine Shaped Box Messed Up and Rambling ? ("...daughters of the revolution") Get In Nothing But The Buryin' Love Will Come Back Again ? ("...who's afraid of Oedipus Rex?") Sitting Alone at The Movies
Note: We know we missed a few titles. Please get in touch if you can help fill them in, and we'll update this setlist accordingly.