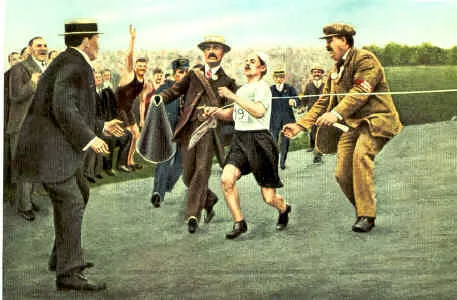 Dorando Pietri, wishing Nike had commissioned workout music from LCD Soundsystem at the 1908 Olympics.
"American Pie" is eight and a half minutes, "In-A-Gadda-Da-Vida" is seventeen. It is not uncommon for a prog track to reach twenty minutes, but it takes a certain breed to break the half-hour barrier. Below is a list of the six best songs over thirty minutes long. Feel free to interject your favorite long songs in the comments, but please keep it brief.
6. The Vindictives - "In Pursuit Part II (Featuring Hypno-Punko Sound)"
Punk band the Vindictives made an ambitious record called Hypno-Punko in 1999, full of bizarre acapella tracks and songs that disappear before hitting the one minute mark. The highlight was "In Pursuit," a speedy pop punk number borrowing chords from Pachabel's "Canon in D" (or, if you prefer, "Basketcase" by Green Day). The tune ends with layers of vocal lines, each of which would make its own great hook individually. After the song tapers off, "In Pursuit Part II" enters, essentially a loop of the previous track's great ending that plays for 44 minutes. It can be jarring, but it's fascinating how hypnotic this actually is, the perfect score for zoning out while keeping your energy level at its max.
5. LCD Soundsystem - "45:33"
James Murphy's "work-out album" was commissioned by Nike to flow like an exercise routine. Warm ups, slow downs, jogging tempos, et cetera. Turns out that same pattern of intensity lends itself well to listening while not moving, perhaps while driving or staring at a computer. Most notably, a chunk towards the beginning of the track was rearranged and given lyrics for "Someone Great," a standout of LCD Soundsystem's Sound Of Silver. The corporate sponsorship could have added a level of discomfort (I've read horror stories of Lil Wayne's recent on-stage Mountain Dew commercials at this year's SXSW), but Murphy used the challenge as a stepping off point for awesomeness. Bravo.
4. Orthrelm - "OV"
Orthrelm guitarist Mick Barr shreds so quickly on "OV," you worry he's going to hurt himself. And actually, he did. The duo had to cancel dates on its tour performing the 33 minute composition due to flare-ups of Barr's carpal tunnel. "OV" is brutally repetitious, an artsy track that loops 2 second segments of grind metal for minutes on end, and each riff change emerges like a new demon escaping the gates of hell. It's not as much of a headache as it may sound. Each melody hangs out long enough for the listener to get comfortable in its shape, and the overall structure moves forward with subtle changes - drummer Josh Blair (also of dance band Supersystem) spends a good twenty minutes not touching a single cymbal. "OV" is easier on the ears than an album half its length by the Number 12 Looks Like You or Tony Danza Tapdance Extravaganza or whatever other grind metal band that fifteen year old girls inexplicably like. Just enter at your own risk. 3. Sleep - "Dopesmoker"
Sleep's "Dopesmoker" is an hour-long doom metal masterpiece. No huge surprises throughout, just flawless execution: meaty bass, neanderthal drums, and amps stacked taller than the weird TV remote thing that the ape people freak out about in 2001: A Space Odyssey. The vocals were actually sung into a bong with a microphone inside*. If you have a beard, you need this album.
*this is completely false
2. Ornette Coleman - "Free Jazz"
Free Jazz coined the term for Ornette Coleman's distinctive abstract style, but the album was not the defining moment for his playing. That would be The Shape Of Jazz To Come, an album so controversial that Miles Davis's Kind Of Blue, released around the same time, landed relatively under the radar of many critics who were still dissecting Coleman. Free Jazz is a more singular work than its encompassing title implies. It is a collective improvisation featuring avant-garde legends Eric Dolphy, Don Cherry and Scott LaFaro as well as relatively straightforward players with a wild streak like Freddie Hubbard and Charlie Haden. The interplay between players is captivating, and it is especially innovative in its use of stereo recording; the "double quartet" is set up with each rhythm section in a different channel, so the musical crosstalk lends itself to headphone magic.
1. Terry Riley - "In C"
"In C" is the most important piece of twentieth century classical music that has gone largely unheard in the broad sense. On paper alone, it is a revolution, a work for unlimited musicians playing fifty three melodies at their own will with very few rules. The melodies themselves are easy-ish; just a few would be difficult for the average high school band geek. The only obvious structure is a pulsing piano giving tempo to the players - which was thought up and performed at the piece's debut by Riley's contemporary Steve Reich. The song has been performed by orchestras, hippie collectives, new music groups, and rock bands. I have yet to find a recording under thirty minutes, but legend tells of "In C" performances going on for days. Riley's piece began the movement known as minimalism (which is as annoying a term to Terry Riley as "emo" is to a Get Up Kid). Without "In C," we would not have the following: Phillip Glass' Koyaanisqatsi, Steve Reich's Music For Eighteen Musicians, Brian Eno's Music For Airports, this awesome website or anything by Tortoise. There would have been an empty spot at the All Tomorrow's Parties event curated by Animal Collective, who chose Riley as a performer, and the Who's "Baba O'Riley" would have had a different title and a way less interesting introduction. For all this, we thank you Terry Riley.