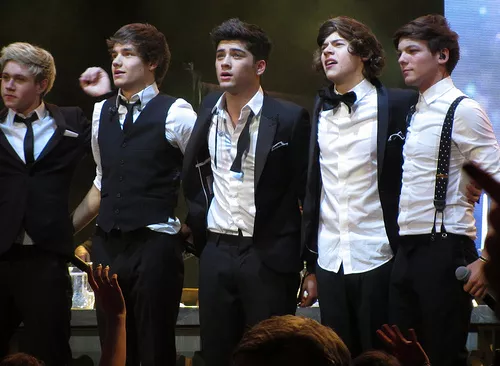 From left: The 80s-movie-villain guy, the Zac Efron guy, the John Stamos guy, the soulful guy, the Kurt-from-Glee guy
It's been fashionable in some sociological circles to decry the lack of change in American popular culture over the last decade, and those worriers do have a point, however exaggerated--fashion between, say, 2000 and 2012 is much more interchangeable than fashion between 1970 and 1982. When this kind of thing comes up my go-to refutation has always been musical tastes: In 2000, American pop music was dominated by white twentysomethings with goofy frosted tips and shiny sunglasses, but soon after that the boy band backlash was complete and well-documented. Today, score one for the futurists: America, your Billboard chart-toppers are now a boy band called One Direction. There's a shy one, a badass one, a hip one, and a smart one, probably! Guys: What did you think of topping the charts in America with your debut?
"I'm lost for words. When we heard that we were the first British band to get the number one debut album in the States in history, you think of names like The Beatles, the Stones, Spice Girls."
In that order, probably. Before you get your foil-covered lounge pants out of storage, a quick refresher course on this modern strain of boy band:
1. Boy bands never left Europe. I cannot emphasize this enough: Whenever somebody tries to tell you Europe is more sophisticated than America, remember that we were the only country on earth to eradicate boy bands in the middle-aughts. While the members of 98 Degrees were forced to marry members of the Simpson family or busk on the streets of Manhattan, British listeners were incubating a new generation of close-harmonizing, costumed wish-fulfillment objects.
Here on North America we spent years attempting to inoculate the world against these cyclical boy band plagues--we developed grunge, and post-grunge, and Nickelback, and post-Nickelback, and even Lil Wayne and post-autotune Lil Wayne.
Now--much like both World Wars and the recent Eurozone credit crunch--we're left to deal with a spreading contagion that's really somebody else's problem. Put it on our tab, France.
2. One Direction has a long, crazy history as a band. They've been together since at least 2010, when a member of the Pussycat Dolls suggested they perform as a group on The X Factor, instead of separately. Much like the Beatles in Hamburg, that kind of trial-by-fire really changed the band for the better, especially after Nicole Scherzinger fired Pete Best.
3. One of their names is Zayn. I know it seems like this is the one I'm making up, but I'm serious. There's a Niall, a Liam, a Harry, and a Louis, too, but the leader in the clubhouse for composite boy-band-name most likely to spontaneously generate a mediocre SNL sketch is now "Zayn Chasez."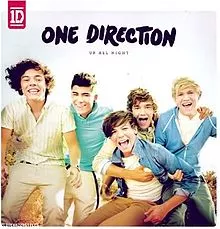 4. They are extremely clean-cut. So far as I can tell from this album cover, there's no "dangerous one," at least not yet. Though it looks like the guy on the far left might be dealing with an undiagnosed sports hernia, which is dangerous in its own way.
Really, though, this is what makes boy bands bearable: They may be a calculated, creepy effort to make 13-year-old girls fall in love--which is illegal in a number of other contexts--but at least they aren't as crass about it as the equally dubious, equally calculated LMFAO. Anybody who dilutes America's dangerous concentration of party-rocking is, on some level, doing God's work; we may have another boy band to deal with, but according to our in-house numbers the 7-14 ad demo is buying considerably less ecstasy than they were in February.
5. Nobody knows which direction it is. That's kind of their thing. I think it's north, but I mean, I have no way of knowing.