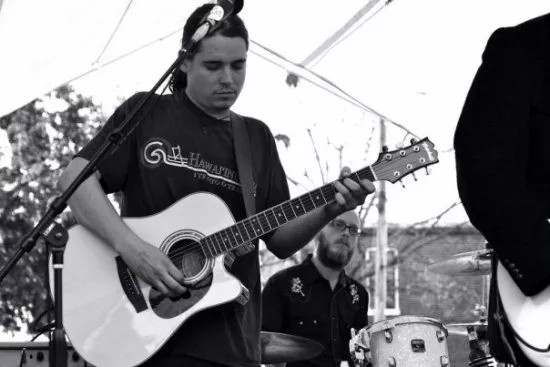 Dave Hagerty Memorial Facebook Page
Dave Hagerty, the leader of the band Fattback, is getting a songbook made in his honor.
A local musician is putting the finishing touches on a book showcasing the music of Fattback member Dave Hagerty, who passed away two years ago.
Stu Leal tells RFT Music on Thursday that he is the process of finishing up a book that features Hagerty's lyrics and chords. Hagerty died in August 2010 from injuries he sustained in a hit-and-run accident. He was 28.
"When he was still alive there were some of his songs that I think he'd been keeping close to his chest," Leal says. "And he wanted to just do a little unplugged solo thing and release it on my label. So we did that. After he passed, a lot of people had never heard these songs. ... His mom, dad and his family were kind of interested in what we could do to keep his memory and his music going."
Leal says the book will include a CD featuring unplugged renditions of Hagerty's songs, many of which were recorded in Leal's studio. Additionally, the CD will feature three tunes from Fattback and one track from Ellen Cook and Fire Dog.
Leal says he met Hagerty by going to open mic nights, including ones at the Venice Café and the Shanti. He described Hagerty as being "a real friendly, humble guy" and "very supportive of other people's music."
He says he's hoping that the book provides Hagerty's fans a chance to get more acquainted with his music.
"He wrote a lot of great songs and a lot of musicians have wanted to cover some of his songs," Leal said. "I listen to that recording that we made hundreds of times. I'm one of those people who can listen to a good song over and over again ... I never get tired of it."
"What I'm hoping is that people will continue to play his music and enjoy it just the way I did," he adds. "It's just kind of sad sometimes listening to him, but at the same time you get a lot of joy in hearing his songs played. And I love playing them too at open mics and stuff like that.""
In addition to seven songs from Hagerty, one co-written by Brad Munger, and three Fattback tracks, Leal says the CD also features Ellen Cook and Fire Dog covering one of his songs.
Leal says the songbook should be back from the printers sometime this week and could be ready for distribution this weekend. The profits from the songbook will go to Music for Lifelong Achievement - a Sheldon Arts Foundation affiliate that Leal says was one of Hagerty's favorite charities.
While Leal says he will try to distribute the songbook at places such as Vintage Vinyl and at music stores, he adds that people can also get more information by e-mailing him at stuball111@yahoo.com.