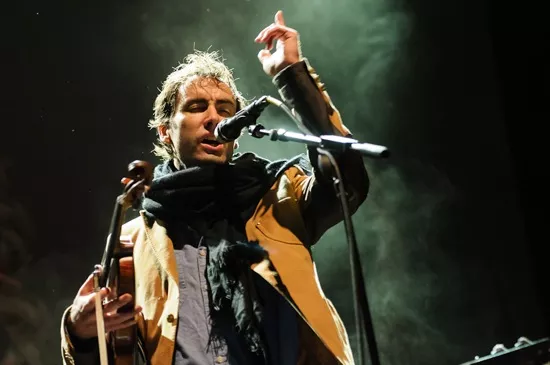 Andrew Bird | Eugene Mirmin The Pageant March 22, 2012
Andrew Bird had a rough day. He didn't offer details or share the wherefore and why. Instead, he performed an impromptu cover of Kermit's ballad about individuality and identity, "It's Not Easy Being Green," at his show last evening at the Pageant (6161 Delmar Boulevard, 314-726-6161). It's a tailor-made cover for a man who makes whistling as high an art form as classical violin, so much so that he was asked to contribute a entirely-whistled track, "The Whistling Caruso," to last year's The Muppets Movie. "That song just makes me feel better," says Bird. "It's for my benefit."
It would be fair to say that the last six months have been extremely busy for Bird, but for a man who never stops moving, creating, performing, it probably doesn't feel like much else other than living. In late 2011, Fever Year, a concert tour documentary film chronicling the self-described worst year of his life, was released. At Bird's request, the film is only being screened at film festivals across the country -- it had a run at Webster University's Winifred Moore Auditorium last November and was an official selection of the St. Louis Film Festival -- and its director, Xan Aranda, has said in interviews that Bird's anxieties with the film are in watching himself struggle. The film's title is a partial allusion to this: At one point in the doc he says he was only well for four days of the year, an issue that's never really diagnosed but perhaps due to an overwhelming drive, a cycle of creation, re-imagining and destruction judged by the all-consuming anxiety and ever-shifting standards that accompany a creative soul.
For a musician of Bird's range and depth, one who incorporates so many styles of song that it renders his work nearly impossible to tack a genre to, it's perhaps too easy, too trite to call that frustration or discomfort a "tortured artist" complex. Especially when his reaction to distress is to create further, contribute more beauty than bemoaning, conjure latent feelings of childhood comfort with everyone's favorite swampland, twangy banjo tune.
Bird's stop in St. Louis was a great departure from his last local show, which was in support of 2009's Noble Beast. Yesterday's concert featured almost every track of Bird's latest record, Break It Yourself, released on March 6, and instead of a default indie rock opener, comedian Eugene Mirman warmed the crowd. Hugely talented in his own right, Mirman has played tour support for a handful of other acts, including Flight of the Conchords and is not to be confused with his role as Bret and Jemaine's landlord in the television series of the same name. He also has a starring role on Jon Glasser's Comedy Central show Delocated as Russian-American comedian slash would-be villain Eugene Mirminsky.
Taking the stage at 8 p.m., Mirmin's act was a pleasant mix of old and new material, opening with fodder about Rick Santorum probably not hating Ricky Martin, with an easy segue to grammatically erroneous abortion protest signs, a badly planned anti-abortion billboard (Abortion hurts? Because child birth and rearing is pain-free!), silly, unofficial Tea Party slogans ("Obama is chamomile and we're motherfucking oolong" and "How could I be racist, my favorite tea is black people") and direct-marketing Facebook ads, sprinkling print-outs of web articles and photos throughout like a pre-Microsoft Power Point presentation. The set seemed punched up and decidedly geared toward a concert audience. And just when you think his humor is largely relatable, common man misanthropy, he says things like, "I was in special ed for six years," and you feel a bit thrown, though you're still laughing with him, probably, you think.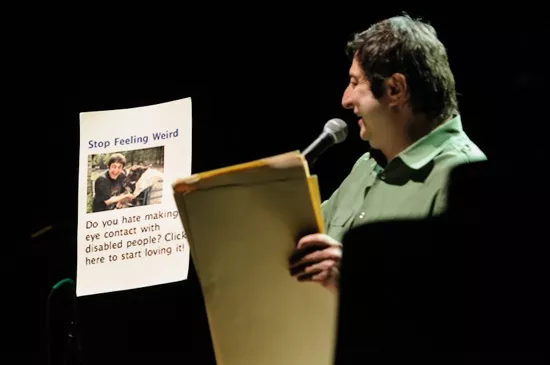 At 8:30 p.m. Mirman exited the stage to a polite wave of applauses, and the crowd restlessly awaited the arrival of Andrew Bird (mostly by, per usual, flooding the Pageant's two bars and reenacting Mirman's funniest lines -- hey guys, we were here for that part, too.) At 9 p.m. Andrew Bird took to the stage, opening with a quiet violin instrumental that led into "Hole in the Ocean Floor" from his latest release. Famous for pitch-perfect sound, the first obvious hiccup in the performance was that the sound was off. During the Noble Beast tour he played an electric violin, and at last night's show he wielded an acoustic, though it seems unlikely the source of the sound issues. Fast-pedaling his looping station, Bird transitioned into another instrumental riff, this time with trademark whistling in tow.
His purpose-filled violin playing, plucking and strumming, on "Danse Caribe" bled into "Desperation Breeds..." also, from Break It Yourself -- in total Bird played nine of the album's tracks. A purple pearl-effect on the lights during "Desperation Bleeds..." illuminated stunning clusters against the white backdrop and the songs bluesy, dressed-down din created an entrancing aura, with Andrew in the shadows, as nearby sound techs worked to fix the aural issues. Bird's passion and precision with his violin was distraction enough, and steadily, the sound rebounded.
Bird incorporates art into his shows, manipulating light and sound to engage and intensify the experience. Shades of deep red light saturated the stage during "Give It Away," and the stage was covered in things, surrounding Bird, enveloping him. Watching him perform feels like witnessing a very private or intimate moment that he simply needs to share.
"I thought I'd dig out an old tune," he says before delving into "The Naming of Things," which he starts on violin before switching to the electric guitar slung across his back. Seven songs in, when he abruptly begins "It's Not Easy Being Green," neon, grass-colored lights engulf the stage. The universally beloved tune calls back to Bird's song "Dr. Stringz" for Nickelodeon series Jack's Big Music Show, a reminder of his earnest, diverse talent no matter the context. During the song, Bird's actions seem to imitate Kermit's exaggerated, distinct, hurried Muppet movement. Next is "Eyeoneye," the first single he's heavily promoted from Break It Yourself, a brighter, upbeat rock song that includes the new album's title in the chorus, "No one can break your heart so you break it yourself." He follows it with "Near Death Experience Experience," which begins with guitar plucking, a lot of it, with Bird balancing the guitar with xylophone playing. The song has a gypsy soul sound, nomadic and restless. A bandmate uses vibrato on his guitar for this cut, creating a Doppler sound effect that results in supernatural-tinged nature noises. Bird starts clapping near the end of the song and the crowd follows. He comments, "That loop was subpar," to an audience response of laughter. Gel lights projected very close to the white screen backdrop created a distorted series of patterns, shapes and colors -- it's a statement about Bird's powerful, engrossing performance that attention could remain so fixed upon him throughout such spectacle.
Right before the next song, he warns the audience this might be one they know, and as he leads into "Effigy," it's clear by the audience reaction that it is. Bird, standing bow-legged, leaning into the microphone, pours boundless energy and life into the song, proving his voice is as strong an instrument as any of the sound-makers on stage. After the song ends he pauses to say, "I was distracted...there's a monitor back there and all it says is 'Creed.' And I kept thinking 'can you take me higher?' That's all I'm going to say."
"Lusitania" follows, after which he says, "I'm a little clammy if you must know." (Fever Year commentary?) A whistle break broadcasting that signature impressive staccato, range, and scale takes us into "Orpheo Looks Back," and then it's fan-favorite "Plasticities," played to a excited, we've-been-waiting crowd. Though the lights throughout the show have been a visual art show of their own, the lights during this track explode across the room like fireworks: The entirety of the Pageant sparkles with four high-beams bouncing around in every direction. After "Plasticities" stage decorating-gramophones begin spinning, then spin even faster, like a weather vein atop a tall building on a blustery day.
During "Table and Chairs" Bird begins to chant and is soon joined by the audience before leaving the stage at 10:25 p.m.; returning shortly after to a flood of applauses and a standing ovation. The encore was somehow more stripped-down than the set, opening with a Handsome Family cover of "So Much Wine" with upright bass, acoustic guitar and Bird on violin. This bluegrassy, soulful tune leads into knee-slapper and hand-clapper "Fatal Shore," and crowd roars when, next, he starts playing, picking and plucking "Fake Palindromes," his final song of the evening.
Critics Notebook
Random Detail: In addition to his signature gramophone stage decorations, a sock monkey dressed strikingly like Andrew Bird sat on the stage.
Overheard: "I feel like I'm having a seizure right now," during the the light show at the beginning of "Plasticities," and "So this is his most popular song? It's the one I know," during "Eyeoneye" and "Wow, I didn't know he was such a good whistler!"
Setlist: 1. Hole in the Ocean Floor 2. Nyatiti 3. Danse Caribe 4. Desperation Breeds... 5. Give It Away 6. The Naming of Things 7. The Lazy Projector 8. It's Not Easy Being Green (cover) 9. Eyeoneye 10. Near Death Experience Experience 11. Effigy 12. Lusitania 13. Orpheo Looks Back 14. Plasticities 15. Tables and Chairs
Encore: 16. So Much Wine (Handsome Family cover) 17. Fatal Shore 18. Fake Palindromes