Time to camp out at your favorite sports bar and take in the action. Don't have a favorite sports bar? Let the
Riverfront Times
assist you. We just spent the past couple weeks filling our gullets with brew and wings and bruising our butts on the bar stools of some of St. Louis' finest sports-themed taverns. Here in alphabetical order (with the very best at the end) are ten such watering holes we highly recommend:
Flannery's
The first "sports bar" to open up in the renovated warehouse district, Flannery's continues to be a great spot to meet up before and after games at nearby Busch Stadium, Scottrade Center and Edward Jones Dome. Dozens of flat-screen TVs line the wall above the bar showing damn near any matchup you want to watch. A wide selection of draft beers will keep you parked in your stool for the entire game and then some. Though you might want to avail yourself from time-to-time to the tables on the sidewalk, where you can't see the televisions for shit but can find equal entertainment in watching cheesy, drunk clubgoers stumble up and down Washington Avenue.
Friendly's
Friendly's is one of those south city saloons of yesteryear. You know the ones that advertise that they are "air-conditioned?" Step through the bar's deep-freeze of a doorway (outfitted with plastic strips kept up year-round regardless of the temperature outside) and you realize that you've entered a mystical place - part sports bar, part carnival funhouse. That's right. Not only can you watch the big game on Friendly's dozens of flat-panel televisions, you can also play games to your heart's content. Pool tables, skeeball, shuffleboard, air-hockey and bar-basketball are just a few of the games decorating the many rooms inside this sprawling oasis. And affordable? How many other bars sell Natural Light in a bottle or offer help-yourself snacks from the popcorn maker?
Jack Patrick's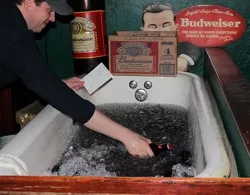 Bathtub Bud: Jack Patrick's ice-cold beer.
Neil Young said it best: "See the losers in the best bars. Meet the winners in the dives." Jack Patrick's would definitely fall in the latter category even if its ownership might dislike the "dive" moniker. This no-frills watering hole serves in stark contrast to the gleaming new clubs two blocks north on Washington Avenue and is a favorite for blue-collar and white-collar workers alike. Jack Patrick's offers everything you want in a tavern - be it a sports bar or otherwise: TVs tuned into the big game, billiards, a jukebox and cheap and tasty drinks and eats. The house-cut French fries are our favorite.
John P. Fields
Was the bar in the television sitcom Cheers a "sports bar?" If so, John P. Fields certainly qualifies as one as well. Like Cheers - owned by fictional ex-baseball player in Sammy Malone -- J.P Fields is owned (in part) by a former professional athlete in Jim Campbell, a retired winger for the St. Louis Blues. And also like Cheers, J.P. Fields is bedecked in wood - from its oak floors to its regal, old wooden bar. By far the most intimate of the sports bars on this list, John P. Fields is a great place to watch the game with a clientele that melds from happy-hour corporate types to a decidedly younger -- and attractive -- crowd late in the evening. How attractive? Let's put it this way: J.P. Fields is one of the few sports bars in town where the most fetching females in the building aren't the ones pouring the drinks.
Lester's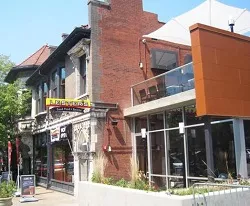 If Lester Miller's first
sports bar
opened in 2007 in Ladue was a two-RBI triple and his second restaurant in
Chesterfield
was a lead-off double, then his third location opened last year in the Central West End is a walk-off homer. David Freese style. Located in the old Companion bakery in the heart of the
Central West End
, the restaurant features everything that made the first two a favorite for sports enthusiasts: walls-and-walls of flat-screen televisions and gourmet pub fare -- the deli meats and the barbecue being the most stand-out selections. But what we really love is the rooftop patio at the CWE Lester's. Nothing like watching the game alfresco on a sunny afternoon.
O'B Clark's
A mid-county destination since the 1970s, O'B Clark's dozen-plus flat-screen TVs make it a great place to watch any game, especially Blues hockey. The team's radio broadcaster, KMOX, does regular live remotes from O'B Clark's, meaning that it's not uncommon to see a few Blues players hanging out barside. O'B Clark's is also a destination for soccer fans gathering early in the day to catch the action from across the pond. Though don't you worry, O'B Clark's also got your favorite baseball, football and hoops games on the telly. Favorite dish: The square pizza baked on cookie sheets.
Over/Under
If your game is being broadcast, odds are that you'll find it at the Over/Under Bar and Grill. The bar places signs under its TV sets informing patrons what game they can expect to see on that monitor, and for the duration of the game, the channel doesn't change. Period. With three dozen high-def televisions, there's always something to watch at the Over/ Under. More than that, the bar's downtown location is within a few blocks of all three sports stadiums, making the Over/Under -- and its massive patio along Washington Avenue -- the place to meet before and after the game. Add great food and an impressive lineup of microbrews on tap, and what more could the sports fan want?
St. Louis Sports Zone
Transitioning from college to the real-world is hard. And no time is the difficulty more apparent than Saturday afternoons when you and your old college buddies would gather at an off-campus bar to fire-up before the big game or knock-back buckets of beers while watching your team play on the road. If only there was a place like that old college haunt here in St. Louis -- somewhere you could find dozens of friends rooting on your school. There is. Be it collegiate or professional athletics, St. Louis Sports Zone is the one place in town where you're likely to find someone else cheering on your team no matter how obscure your school or favorite sports franchise. And, yes, Sports Zone will be broadcasting your game. That's almost guaranteed. The warehouse of a tavern has too many TVs to count, including five projector televisions broadcasting your team in life-size proportions.
Weber's Front Row
Okay, here's a test for all you so-called sports bars out there: Does your bartender know by heart which station to tune into to find the game? Or does he/she give you a blank stare and ask for the channel number? At Weber's you never get that deer-in-headlights look when you ask the barkeep to find your game. Why? Because Weber's employees are probably bigger fans than you and just as addicted to catching all the contests streamed through Weber's subscription packages to football, baseball, hockey and more. If you go, order the chicken wings -- some of the best in town -- and the pork tenderloin sandwich on garlic cheese bread. You'll be glad you did.
And the winner....
The Post
Warning: There is a chance, small but perceptible, that a complete stranger will hug you at the Post Sports Bar & Grill. And we're not talking about some half-assed "bro" hug, either, but a full-fledged, diaphragm-crushing bear hug. It happened to a friend of ours. He'd come to the Post on a Sunday to watch his hometown football team play its archrival. The bar was packed with other NFL expats and fantasy-football geeks watching the games on one of the Post's high-def flat-screens, but our friend was pretty sure he was the only fan of his team there -- until, that is, his team scored, and a man seated nearby erupted with a bellowing cheer. OK, so it turns out this stranger wasn't a fan of our friend's team, but he did have money on the game, and that (plus a few beers) was enough to cement the bond. When our friend's team pulled off a last-minute comeback, the stranger grabbed him in both arms, and the two jumped up and down with joy -- a celebration that might have been more pleasant had our friend not already gorged on the Post's tasty bar grub.