Bruce Springsteen at the Moody Theater at SXSW 2012
Thursday, March 15, 2012
1 p.m. SXSW is a time machine, not always dialed towards the future. Though the clubs change names every season, the gimmicks get more and more outrageous -- witness the skyscraper-sized vending machine stocked with minivan-sized bags of chemically-enhanced corn chips whose name shall no more be spoken -- the ante annually increased on the mega-star appearances -- this year, 50 Cent, Jay-Z, Jack White and the Boss -- at some moments the clock spins backwards, and you remember how it all once was.
The year was 2002, a 23-year-old lounge singer was on the radio with a voice like the soft sex of dreams, and Austin was quite precisely buzzing about her. Norah Jones had just released her first album and she was in town playing shows only the industry-connected by and large would hear. Sometimes the machine knows what it's doing.
Dana Plonka
Norah Jones at Waterloo Records at SXSW 2012
But on Thursday afternoon at SXSW 2012 she was back, playing a free party outside Waterloo Records, with 1000 people standing in the sunshine to hear her sing with the Little Willies, a country cover band that dates nearly to her first album. The quintet -- Jones on piano, Richard Julian and Jim Campilongo on guitars, Lee Alexander on bass and Dan Rieser on drums -- played old country songs, familiar and not-quite-forgotten, including "Remember Me," "Dangerous Curves," "Tennessee Stud," "Fist City," "Lovesick Blues" and a steamy, dreamy "Jolene." If it were only 1957, Jones might have been a country star, though her ethnicity would have been a catch. Still, her limber, intuitive phrasing and playful country-stride piano work are unassailable, whatever you think about her mass appeal. She and the band killed every song.
Dana Plonka
The Mynabirds at Jackalope's at SXSW 2012
3:05 p.m. After heading across town to queue up for a Springsteen ticket and wristband -- Bruce was here for a keynote speech and the E Street band was in town for a lottery show at the Austin City Limits Moody Theatre -- I returned to 6th Street and Jackalope's for a set by the Mynabirds. The Saddle Creek band, led by Laura Burhenn, has a new record out in June, and the singer celebrated it by wearing a crown in the shape of a fox on her head. With a click of sticks and a stomp on the stage, the band announced its excellent gospel-punk blues direction, swinging and rocking hard through the new call-and-response "Generals" and the wonderfully Dusty-in-indie-Omaha "The Numbers Don't Lie." How they got such a full, clear sound in a crappy corner bar is a mystery I'll let be.
Dana Plonka
Charli XCX at Red Eyed Fly at SXSW 2012
3:30 p.m. At Red Eyed Fly for the New Shapes day party, I discovered that indie synth-pop, like dubstep, is dying -- and innocuous, predictable bands like Savoir Adore and St. Lucia are leading the death march. I also learned that teen singer Charli XCX is probably a fine lip-syncher but she is not the next Lily Allen.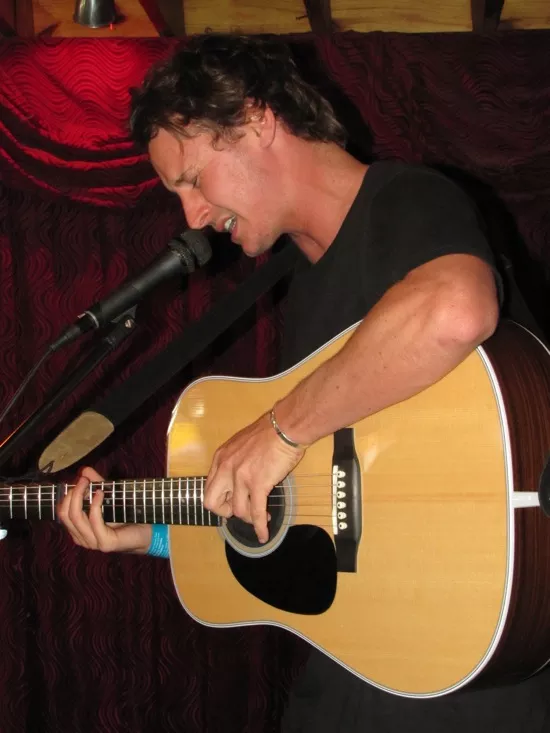 Dana Plonka
Ben Howard at Red Eyed Fly at SXSW 2012
4:47 p.m. Fighting the bleed-through from the outdoor stage, Ben Howard had his complex guitar tuning in place and lit into "Old Pine," the strongest song from a very strong album Every Kingdom, recently released stateside. The young, handsome UK singer and songwriter is writing and picking his own way into the folk songbook, and if he continues this way, he'll have his own chapter between Drake and Kottke. Sets like this, with so little pretension and so much musicianship and talent, really can still be heard in Austin in the spring.
6:58 p.m. Apparently selected by Mr. Springsteen himself as the opener, the Low Anthem did what it could to hold the slowly-filling Moody Theater at attention. The warble of Ben Knox Miller's voice and the wheezing pump organ, clarinet, trumpet and saw weren't enough for the weasels in the VIP seats, but it was more than enough for me on the floor. The band's set at last summer's LouFest was just a hint of how good it can be live; the insanely precise acoustics of this state-of-the-art joint made songs like "Boeing 737" and "This God Damn House" -- with the best cell-phone-to-cell-phone noise trick I've ever heard -- sound grand and febrile at once.
7:50 p.m. I've seen Austin native Alejandro Escovedo countless times here and in St. Louis, but I'm alway happy to continue to lose the tally. Tonight he was backed by both Sensitive Boys and Girls (on harmonies, percussion and keys), playing songs co-written by Chuck Prophet from a forthcoming album titled Big Station. Escovedo was efficient and focused, his voice a billowing main sail on a sleek and steady rock & roll ship.
9:20 p.m. House lights down and the 16-piece (I may be off by one or two) E Street Band walked out on stage in the dark, with Bruce trailing behind, holding an acoustic guitar, dressed, like the whole band, as a stand-in for Bonnie and Clyde. The musicians crowded together at the apron and with a "Happy birthday Woody" started off with "Ain't Got No Home." The horn section with sousaphone blared, Nils Lofgren picked a banjo, Steve Van Zandt chopped a mandolin, Soozie Tyrell sawed a fiddle and Patti Scialfa just stood there, radiant, perhaps thinking of her horses back on the ranch.
This was only Springsteen's second show for the Wrecking Ball tour (not counting the morning's keynote speech, which he said "fucked everything up"; he's 62 and would rather sleep in), but he seemed determined to make it special. He back-flopped, sans security, into the crowd and led the theater in calling out "The Big Man!" when asked if anyone was missing. Clarence Clemons was missing, but his nephew, Jake Clemons, made the first raw and ripping saxophone solo of the night, on "Badlands," sound like the soul of the departed. "If you're here, and we're here, then they're here," Bruce repeated throughout the extended and most-gospel version of "City of Ruins" he's ever played.
11:05 p.m. A DJ friend at a Seattle radio station calls SXSW a "corporate rat fuck," and it is that. But it's not just that. This year it was the place where I saw and heard a band worth believing in, and I care fuck-all how sentimental that sounds. What do you believe in? Beats? Noise? Bass? Free beer? Dressing up like bears and jumping around and shit? Really?
A song like "Waitin' On a Sunny Day" is worth believing in -- especially when sung with the smile of 40 years in rock & roll and coming after a sequence of the writer's most punishing and prophetic material, including the new, scathing "Death to My Hometown" (sung with Tom Morello of Rage Against the Machine) and the frightening underclass anthem "Seeds" -- as is "The Rising." After a decade of horrors, that song and the way Bruce sang it, held all the vibrating steel soul of a lightning rod. It's better to believe in something worth the rock & roll fiction; otherwise you'll fall for just about anything.
Bruce and the E Street band aren't falling anytime soon. The 18-song main set and eight-song encore was as excellent and painful and joyous as any giant rock & roll production could be. For the encore, Bruce brought Jimmy Cliff on for three songs that outshone his Wednesday-night acoustic set, and then called up another influence, Eric Burdon, who at first sounded as if he'd never make it through "We've Gotta Get Out of This Place," but the cannon-shot time-keeping of Max Weinberg helped him settle into the winter's lion roar.
And for a final song the correct, inevitable choice: "This Land Is Your Land," with Joe Ely, Escovedo, the Low Anthem and some band called the Arcade Fire (just hanging out, not playing) all on stage, carrying the night away, making it genuinely timeless.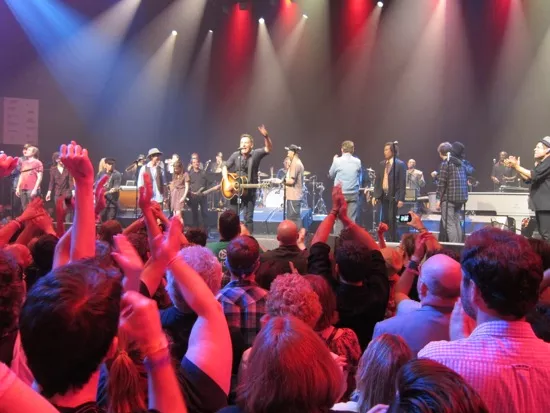 The E Street Band at Moody Theater at SXSW 2012
Bruce Springsteen and the E Street Band set list for SXSW 2012:
I Ain't Got No Home
We Take Care of Our Own
Wrecking Ball
Badlands
Death to My Hometown (with Tom Morello)
My City of Ruins
Seeds
The E Street Shuffle
This Depression
Jack of All Trades (with Tom Morello)
Easy Money
Shackled and Drawn
Waitin' on a Sunny Day
The Promised Land
The Ghost of Tom Joad (with Tom Morello)
The Rising
We Are Alive
Thunder Road
Encore:
Rocky Ground (with Michelle Moore)
Land of Hope and Dreams
The Harder They Come (with Jimmy Cliff)
Time Will Tell (with Jimmy Cliff)
Many Rivers to Cross (with Jimmy Cliff)
We've Gotta Get Out of This Place (with Eric Burden)
Tenth Avenue Freeze-Out
This Land Is Your Land (with Joe Ely, Arcade Fire and everyone else)