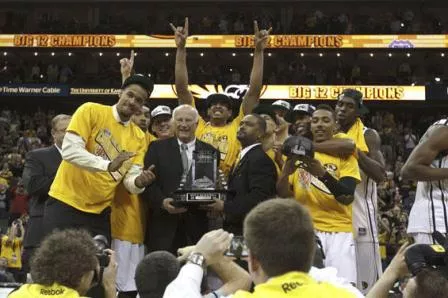 Jeff Moffett/Icon SMI AAH
Despite being the subject of an atrocious "anthem" song, Mizzou managed to snag the Big 12 tournament title.
Ah, March Madness. It's the period of time when gamblers around the world have hopes and dreams crushed by random, random schools.
Basketball sometimes gets lost in the pomp and circumstance of college sports. It's become increasingly commonplace, for instance, for fans of schools to go a little overboard in the enthusiasm department. For instance, Daily RFT scribe Paul Friswold detailed the absolutely atrocious musical depiction of Mizzou's basketball dominance.
But other schools seem to do a better job at composing "anthems" than our beloved Tigers. Here a few fan songs for teams competing in the tournament:
"A-10 Anthem" by Triple Entendre (St. Bonaventure)
No doubt about it: This western New York State school possesses a truly outstanding name. But unlike "We Are Mizzou," members of Triple Entendre seem to know how to piece together a rap song without looking like complete foolios. And even though St. Bonaventure is the nation's oldest Franciscan Catholic school, Bonnie fanatics don't seem too bashful about creating music with some, um, coarse language.
"UNC Anthem" by No9to5 (University of North Carolina)
While perhaps not as technically sound as "A-10 Anthem," at least these Tar Heel fans have something to brag about. The farthest the Bonnies will probably get in the tournament is the second round, while UNC is a near-consensus Final Four pick. That makes the braggadocios "UNC Anthem" a little bit more credible.
"Murray State Anthem" by Trubz 'N' Matlock (Murray State University)
Unlike the previous two "anthems," the above video looks to be completely sanctioned and promoted by the western Kentucky institution. Which makes some sense, since the school probably wanted that part of the state to be known for better-than-expected college basketball seasons than quilting. While the state of Kentucky is well-represented in this year's tournament, the Racers have fewer losses thus far than the UK Wildcats - and a song that prompted students to randomly stand on desks. Radical. "Welcome to My State (Michigan Anthem) by Brilliance (Every Michigan Team in the World)
By far the most unusual approach to college basketball "anthems" came from Brilliance, a rapper from the great state of Michigan. Instead of picking a particular college, Brilliance paid homage to pretty much every school imaginable. That seems like a smart move on the surface, since it connects with everybody from Wolverines at the University of Michigan to Huskies studying at Michigan Tech University. But the competitive nature of the state may not be enough to quench the bloody rivalry between the University of Detroit Mercy and the Cranbrook Academy of Art. Time will tell.
BONUS: "Unknown Techno Song" (Iowa State University)
Former Chicago Bull Fred Hoiberg was a somewhat surprising pick to coach the Cyclones, a team whose loss to Hampton in 2001 prompted this writer to throw a clicker against his wall. Apparently the team's recent success is partly due to relatively anonymous techno music, which obviously gets Iowans more pumped than a bushel of presidential candidates.