Dana Plonka
Fiona Apple at Stubb's and SXSW 2012
Tuesday, March 13, 2012
6:25 p.m. I've been coming to SXSW for over a decade now, and pre- and post-apocalypse days off are as much essential rituals as 2 a.m. taco runs and sleep deprivation. This year, there'd be no day-before day off, as SXSW has extended the music portion of the festival/conference by a full day, starting on Tuesday instead of Wednesday. The verdict on this move is still out -- Has anyone really been clamoring for more showcases? -- but I began my SXSW 2012 with a late start all the same. By early evening, with the last of the first-day day parties dwindled (no Jansport bonfire with White Denim for me), I snagged a rare table on the Driskill Hotel front patio, and sipped an LDM (Legendary Driskill Martini: Ketel One, grapefruit bitters) and girded myself for the coming onslaught. The breeze off the hunk of lemon on my glass was glorious.
7:50 p.m. At the Hype Hotel evening showcase, I somehow made it past security with notepad and pens (the latter were being confiscated by a zealous state trooper; "No graffiti on the walls," he said, and showed me a clutch of fifteen confiscated ink weapons). The drinks were free as were the Dorito-crammed burrito nightmares courtesy of sponsor Taco Bell.
Dana Plonka
Oberhofer at Hype Hotel and SXSW 2012
8 p.m. The first band of my SXSW 2012 would be Oberhofer at the Hype Hotel. The good, young quartet of indie noise and hook makers from Brooklyn began with a whistle and some Mel-Bay finger-picking. Lead singer Brad Oberhofer skipped around the stage and kicked at his amp for some excellent squawk. He knew he and his band were the party starters and they did as their inner jumping jack flashes told.
9:05 p.m. On 6th Street, I gave Nashville's Apache Relay just three songs before deciding that 1) a laissez-faire sound man can kill a set; 2) a Springsteen-pandering cover of "State Trooper" can kill a set; and 3) vaguely rocking Americana can kill a set. First trifecta of the week.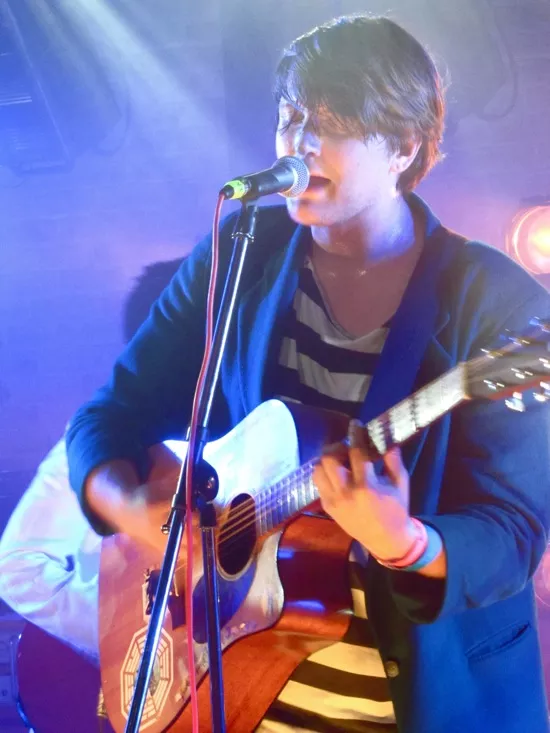 Dana Plonka
Miniature Tigers at Hype Hotel and SXSW 2012
11:07 p.m. Back at the Hotel of Hype (something about the other major sponsor, MP3 blog aggregator the Hype Machine) more free drink and more pop, this time from Miniature Tigers, which is so supremely and winningly '80s that I didn't mind the toothache from the fluffernutter of the songs. The dance-music-digging electro-bros (™ Roy Kasten, Inc.) high-fived and shook it -- and so did I.
Midnight Maybe it was the overwhelming stench of reheated Taco Bell chalupas and over-heated teenagers, but much as I tried I could not abide the much-hyped Dale Earnhardt Jr. Jr. I've listened to Flaming Lips records too, but I wouldn't do so ironically. I also wouldn't imagine a band could take a Leonard Cohen song like "Hey, That's No Way to Say Goodbye" and suck the soul out of it. Congratulations, hipsters and corporate sponsorship. My first night of SXSW came to a dispiriting end.
Wednesday, March 14
12:15 p.m. Now this is more like it: 72 degrees, breezy and the best bloody mary in town at the Dogwood for the Guitartown Conqueroo party -- an annual, free day event specializing in songwriters, vintage rock and Americana. I chatted with Cary Baker -- owner/operator of Conqueroo publicity, and one of the last true souls left in this industry -- about the late fiddle player Amy Farris and let the tequila do its job.
Dana Plonka
James McMurtry at Guitartown Party at SXSW 2012
12:33 Beneath his black fedora and fifteen pounds underweight, James McMurtry was looking a bit rough around the edges. He sipped bourbon and got his 12-string in tune for a set of some of the best songs -- "Down Across the Delaware," Choctaw Bingo" and "Ruby and Carlos" -- that I'd hear all week. "We Can't Make It Here" remains his biggest hit, the best portrait of class warfare since "Eton Rifles" and gave the Occupy Movement (nowhere to be seen as yet) a shout out, saying, "It's always been easy to pay the underpaid to beat up the unemployed. This shit has to stop." He sounded excellent, shaky hands and all.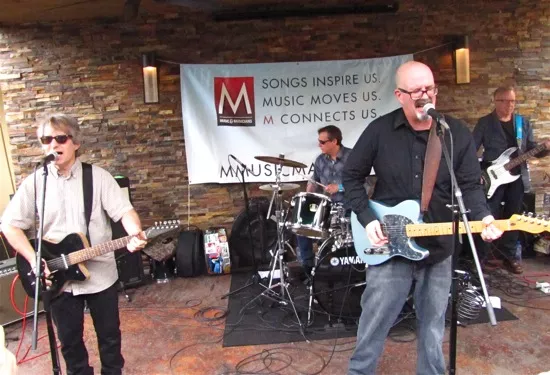 Dana Plonka
The dB's at Guitartown Party at SXSW 2012
1:30 p.m. At the Dogwood, the dB's made good on their reunion promise, with Mitch Easter sitting in on bass and Chris Stamey, Peter Holsapple and one of the most under-rated drummers in rock, Will Rigby, easing into a short set of excellent new songs (they'll have a record out in June) and old favorites like "Love Is For Lovers" and "Happenstance." Great riffs from 1984 never die.
3:15 p.m. I don't have an expense account but what the fuck: Lunch on the balcony of the Parkside restaurant on 6th Street, featuring Blue Point oysters and mushroom and garlic risotto beats heavy metal pizza. This is how the 1.5% roll, and since SXSW is a fantasy, and since I probably wouldn't get another long food break, I lingered on this upper deck oasis.
3:50 p.m. With no chance of making it into the Consequence of Sound party, I slipped into the Ground Control Touring parking lot event for a few songs by Craft Spells, Seattle-ites who have everything twee rockers need to poach fans from Acid House Kings -- everything but stage presence. Lead us not into humility, dudes. Your songs are better than that.
Dana Plonka
Tennis at Paste Party at SXSW 2012
4:07 p.m. At the Paste and Sennheiser party, the formerly fine music magazine (have you checked the online copy lately? all low me to safe you a trip) was late into a strong lineup, with the lovely and lightweight Tennis charming a beyond-capacity house. Alaina Moore has a sweet, full pour of a voice, and there's nothing wrong with the skating rink organ and generally dreamy Fleetwood Mac-isms, but I wouldn't say the impression cut very deep.
5:30 p.m. After meeting a friend down at the Convention Center for wristband assistance, I wouldn't make it back into the Paste party, so I had to enjoy (with 50 others also shut out) Ben Kweller from the street. He sounded alive and kicking, showing off with a quick jump onto the ledge of an open window. I wouldn't miss the kid when he comes back to St. Louis at the end of March.
7:57 p.m. Finally inside Stubb's, after the longest lines I've seen outside the big outdoor venue since Metallica was in town, Fiona Apple was off to a late start. The space was filled, badge to wristband, for the singer's comeback inauguration and first appearance at SXSW. Once the sound was tweaked, she and her small band sounded fantastic, her songs full of the neat twists and turns you'd expect. The unguarded emotion and sweat poured off her. She has dance moves that put Thom Yorke to shame, and her new material, which dominated the set, was smart and catchy and surprisingly tight. The best show of a still-early week. Fiona is very much back.
9 p.m. At the renamed Emo's ("Jr." for those keeping score), Seattle sextet Hey Marseilles quickly won me over with cello, violin, bass clarinet and gypsy accordion. The band moved from a hush to a howl, all vintage Euro-jazz folk and twee pop. The band isn't the next Head and the Heart, but it deserves what breaks come its way.
9:40 p.m. Leave it to Pennywise at the space formerly known as Emo's Jr. (now called Main; I can't explain this) to make mosh pits and stage diving seem tired, or maybe it was just me. Yeah, probably just me.
Dana Plonka
Jimmy Cliff at Main at SXSW 2012
10:33 p.m. How long does it take to set up one vocal mic, two acoustic guitars and a drum kit at SXSW? Apparently 42 minutes, which was just long enough to piss off a still post-Pennywise sweaty patio waiting on Jimmy Cliff. But when the legend finally took the stage, he strummed straight into "You Can Get It If You Really Want," "Wonderful World, Beautiful People" "I Can See Clearly Now" and a brilliantly-reworked "Vietnam," sung as "Afghanistan." His voice has diminished not at all, and he sung the soul into and out of every hit. In this trio acoustic setting he had all the sonic space he needed to wade deep, deep into the fathomless "Many Rivers to Cross." My teenage dream of seeing Cliff in person couldn't have been more fully fulfilled.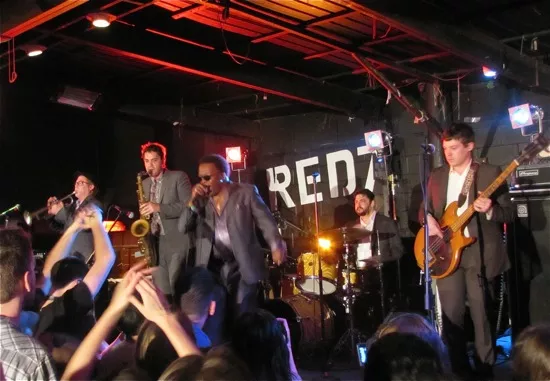 Dana Plonka
Lee Fields at Carson Daley Showcase at SXSW 2012
11:36 p.m. Another late start, this time over at the Red 7 Patio for Lee Fields and the Expressions, with your host, Carson Daley. This is as close as I ever want to get to the by-all-accounts perfectly nice late night mogul, and far closer than anyone should get to his exceedingly toolish fan base. But there's no arguing with the choice of Fields, a pin-striped-suited soul legend who still puts everything he has into every song, with a good if somewhat drowsy big band behind him. Funky, for sure, but lacking a bit of oomph around the edges.
12:47 a.m. Another late start at the Carson fest, with buzzed-about Colombian electronic band Bomba Estereo finally taking the stage nearly an hour late. But the two songs I heard were driving, exciting, with a great live drummer and fleet bass and keyboard riffs. Super suave and very much worth the wait.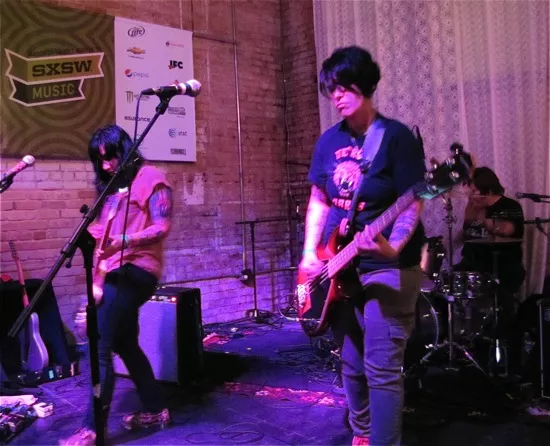 Dana Plonka
Girl in a Coma at Studio by HGTV at SXSW 2012
1:35 a.m. My Wednesday night ended across town at the Studio by HGTV (I don't recall what the small club on west 4th Street is named when not taken over by South By and Home and Garden Television), another corporate showcase featuring last act and very much non-corporate punk pop band Girl In a Coma. The young, female trio lived up to their Joan Jett discovery notices, shredding and smoking and loud as I had hoped. They laid down the best cover of the night and a precise, thrilling end to the evening: "Walking After Midnight." I took a pedicab back to my rental.