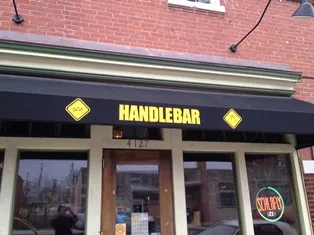 Jason Rosenbaum photo
The bar manager of the Handlebar says the Manchester Avenue establishment had a close call on the bar's first Sunday with a liquor license.
The Handlebar averted potential destruction earlier this week when a quick-thinking bartender put out a fire. And the manager of the establishment in the Grove says the potentially devastating blaze was set intentionally.
Handlebar's "Director of Inebriation" Keeley McGrew recounted the harrowing experience in a telephone interview on Thursday night. McGrew says that the bar -- located at 4127 Manchester Avenue -- was celebrating a recently acquired Sunday-night liquor license. To mark the occasion, it brought in a group that performed electronic renditions of old video-game songs.
The band brought in smoke machines, so McGrew says she didn't panic when the alarm went off.
"I jumped up, opened the back door and got the fans on," McGrew says. "By the time I got around to the back door, I noticed that the smoke was real smoke."
It turns out, McGrew says, that some clothing on a coat rack near the men's bathroom had caught fire. McGrew says that a bartender named Ben grabbed a fire extinguisher, put out the blaze and removed the burnt materials from the building. She says the fire inflicted very minor damage.
But McGrew says several staffers from surrounding bars told her that they had recently had fires in their establishments. She says the general manager of Novak's informed her there was a fire there a week ago. And she adds that a manager of the Atomic Cowboy told a staff member that two fires had been set there in the past month.
[RFT Music has a message out to the owner of Novak's. A manager at Atomic Cowboy told RFT Music that she didn't know anything Sunday's incident and told a reporter to call back in the morning.]
Eventually, McGrew says, a man was apprehended by police and handcuffed. She also says a photographer had three pictures of this person taken shortly before the fire started. One picture, she says, featured the man shielding his face with his hands. And two others showed the man with a bandana tied over his face.
The bar managers made their cases to the police, but the man was eventually released owing to lack of evidence.
"The police took a very, very long time to get here," McGrew says. "And because I had a fire and because I had to evacuate my bar, after people got kicked out they eventually dispersed. All my customers were gone by the time the cops got here. So there was no one to interview to find out if somebody saw something."
"The question that was put forward to all of us was, 'Did you see a match in hand?'" she says. "And since we all had to answer no, the answer we were all given was, 'Circumstantial case -- sorry, can't do anything.'"
RFT Music asked Katie O'Sullivan, the public information specialist for the St. Louis Police Department, about whether police were investigating or had arrested anybody for setting fires at bars in the Grove. O'Sullivan replied in an e-mail that police "aren't investigating anything like this."
McGrew sent out a mass e-mail earlier this week. That note was also posted on the Handlebar's Facebook page.
"I have a lot of ties throughout the industry," McGrew says. "And I just wanted other bars to know what happened. And [I wanted] to share that information with other bartenders just so they were aware if there was someone who could bring them probable danger."
Despite the scare, McGrew says the bar's staff is doing "really well."
"Our patrons have rallied around us," she says. "We have a very, very small staff that we run -- we're one of the few bars that run full-time staff. And so we banded together extremely hard. We went out all day on our day off and had lunch and just kind of talked and decompressed."
"We're holding up," she adds.