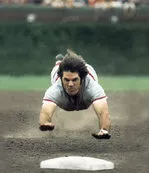 Bass has many forms -- electric, upright, synthesized. Whatever its shape, it is a crucial element to popular music.
Most songs don't need good bass lines, but the ones that have them are propelled into greatness. Here are the six best bass lines. Please note that bass parts that parrot guitar parts (i.e. "Day Tripper" or "Sunshine of Your Love") have been intentionally omitted.
6. Queen -- "Another One Bites The Dust"

If you haven't heard "Another One Bites The Dust" in a while, you need to. The production is insane -- backward pianos and cymbals, and some weird noise that sounds like TV static and helicopter blades. It's all anchored by the simplest, deepest bass line possible. Sure, things get flashy for a few bars here and there, but it's those three thumps that line up perfectly with the kick drum that make the track so solid.
5. Michael Jackson -- "Billie Jean"
MJ knew the importance of a good bass line, something he learned as a child (I am foreshadowing) and only forgot around the time of his
Dangerous
album. None of the songs released under his name hit as hard as "Billie Jean." That spry synth-bass walk is an intravenous injection of low end, a hypnotic get-yo-ass-on-the-floor call to your intestines. Just listen to the way the tune opens up during the "People always told me, be careful what you do" passage, when the line gives way to long notes. It's almost metaphorical for Michael, how the disappearance of the bass line making you realize you had been taking it for granted for so long. Unfortunately, the King of Pop can't just rise from the dead and drop in harder than ever before. Luckily for us, the chorus of "Billie Jean" can.
4. Black Sabbath - "War Pigs"
Sabbath's
Paranoid
opens with a sludgy waltz that is essentially a solo for bassist Geezer Butler. His work on the first 30 seconds of "War Pigs" is a treatise on rock bass. He lays low when needed but is not afraid of jumping into elongated fills. Butler plays bass like a second guitar; that's not always the best approach, but when it's good, people are still emulating it 40 years later (see: the Sword, Black Mountain).
3. Miles Davis -- "So What"
Kind Of Blue
by Miles Davis is the most successful jazz album that is undeniably a jazz album (and not, say, a Kenny G Christmas record). The closest thing it has to a hit single is "So What," which is built from an upright bass melody from Paul Chambers. It's a limber line for such an unwieldy instrument, and the horn section of Miles, Coltrane and Cannonball cleverly respond with two notes as if responding, "So what?" Miles is synonymous with cool (hence the disturbing "If peeing your pants is cool, consider me Miles Davis" joke from
Billy Madison
that you didn't fully get when you saw that movie at age thirteen). Much of "So What"'s coolness is Chambers, who opts out of soloing when his turn rolls around. He just walks the bass for a few measures and then kicks back into the melody. And the horns respond cheekily, "So what?"
2. Pink Floyd -- "Money"
If this was a list of "Best Songs In 7/4" this would be No. 1. It's not. Bass in under-appreciated in Pink Floyd's catalog. Imagine "Another Brick in the Wall" or "Echoes" without that undercurrent. You can't imagine "Money" without bass because it wouldn't even exist.
1. Jackson 5 -- "I Want You Back"
"I Want You Back" doesn't just have the greatest bass line ever, it has the
two
best bass lines -- the intro/verse and the chorus could have been spread into two songs. Thankfully, they were not. The song's greatness is not because of those little Jackson kids or their controlling father. It's because of the Motown production team the Corporation, who wrote the track and assembled one of the most feel-good grooves ever. Drums in one ear, congas in the other and that triumphant bass dead center. It's not so much a walking bass line as a hopping bass line, jumping playfully until it circles back to the tonic. The tension and release is phenomenal, especially considering it never leaves the key. It's so powerful that little Michael's vocals sound like a countermelody. Maybe Fender should have stopped making electric basses after this recording, knowing that the instrument has peaked. But then how would you be able to play along at home?