Peelander-Z, Wednesday @ Firebird
This week brings us not one but TWO members of the Wu-Tang Clan (unfortunately on separate nights), Japanese punk-weirdos Peelander-Z, and the first visit ever from Seattle's raw Ramones-y punk band the Spits in its entire ten years of existence. Continuing with the punk rock / hip-hop aesthetic is Minneapolis's Doomtree, playing the Firebird on Saturday. Radiohead's long-sold-out show at Scottrade Center is on Friday; hope you got your tickets. More after the jump: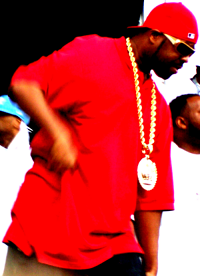 Cappadonna Mon., March 5, 8:00pm @ Club Viva! - $12 By Daniel Hill As a sort-of-official, most of the way, quasi, maybe full member of the Wu-Tang Clan, it seems safe to assume that Cappadonna proooobbably "ain't nothin' to fuck with". Internet sources are unclear and occasionally self-contradictory on the issue (I'm looking at YOU, wikipedia), but being that he is a childhood friend and long-time collaborator with the Wu (including a verse on the untouchable classic "Triumph"), one should probably play it safe, mind your manners, and throw your "W"s up at the Club Viva this Monday, March 5. KD Assassin, Bren Suarez, Tef Poe, Legend C4mp, Blan B. and DJ Fly D-EX open the show.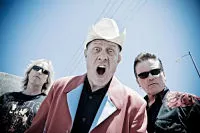 Reverend Horton Heat Tues., March 6, 8:30pm @ The Firebird - $20 By Jordan Harper You might think you're old-school. Maybe you're wearing dookie gold chains. Maybe you've got an ironic Flock-of-Seagulls haircut or an even more ironic mustache. But you aren't old-school. Reverend Horton Heat is old-school. His greaser hair and sock-hop-band finery place him firmly in the '50s, as do the rockabilly roots of his music. But there's also a bit of '60s surf to his blazing guitar sound, and some of his rave-ups have a healthy dose of fuzzy '70s-era Ramones punk. He first took to the stage as the good Reverend in the mid-'80s but really gained prominence with his early-'90s Sub Pop recordings. So no matter what decade of retro-rock you're digging this week, Heat is for you. His work ethic is from the real showbiz old school, the one that believes entertainers should get on the road and stay on the road, and his band plays about 150 gigs a year, every year. In fact, you may already be saying to yourself, "Reverend Horton Heat again?"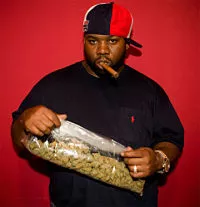 Raekwon Wed.., March 7, 8:00pm @ Gargoyle - $15 - Tickets limited to 100, available at the door only By Kiernan Maletsky From this 2011 review of Raekwon @ Firebird: The Firebird stayed eager, gamely, for the hour and forty five minutes while Raekwon methodically entered the Shaolin mind state (smoked weed on his bus). No matter; we expected nothing less. The Chef took the stage a little after midnight to the heavyweight hook from "Kiss The Ring" off his comeback burner Only Built For Cuban Linx... Pt. II and launched straight into "C.R.E.A.M." Might as well. It's not like he was going to run out of classics in the course of an hour-long set. He talks like he raps, savoring his words. He broke into a capella verses a half dozen times, always slowing his cadence to linger on the syllables. GZA thrills with wordplay; Rae thrills with delivery. He can make your mouth water by saying the word "fish." He was talking about that weed he got here in St. Louis and how it had him feeling nice, that "ooo-weee-loou-eee," and the words just dripped out of him. Always the professional: Raekwon is not exactly a pacifist, lyrically, but he called for peace signs all night. He told us to find a DD ("Don't drive no vehicle if you know you pissy drunk."), and he told us he just wants us to take care of our families, the babies, "especially you young boys." Raekwon rolls into St. Louis wearing sunglasses, raps his verses, gives everyone a little hip-hop history lesson and runs a couple sing-alongs and rolls out, wearing sunglasses.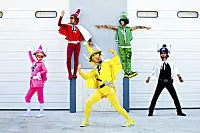 Peelander-Z Wed.., March 7, 8:00pm @ The Firebird - $12 By Jaime Lees Peelander-Z is like Gwar on ecstasy. From Japan (via New York City), the members' bright color-block costumes make them look like after-hours Power Rangers. Described as "Japan action comic punk", the band is loved nearly exclusively by those intrigued by novelty: comic book addicts, professional wresting devotees, anime enthusiasts and Juggalos, alike. Peelander-Z is a good time wrapped up in a j-punk box. With songs like "Ninja-High Schooool," "Ice Cream!" and "Pun! Pun! Punkrock!," the band gets audiences bouncing like little kids on a sugar high. Come for the spectacle, stay for the smiles. Did You Know: St. Louis Japanophiles have been in luck lately. We recently had Melt-Banana, now Peelander-Z and soon Guitar Wolf. Arigatou, Japan.
Who Fucking Cares? Record Release Thurs. March 8, 9:00pm @ Bonerville - $5 By Daniel Hill Rising from the ashes of crossover punk band Dude Nukem, which played its last show in January 2010, Who Fucking Cares? (or WFC? for short) has wasted no time making its name known and simultaneously sending anyone considering attendance at one of its shows into a maddening "Who's on First" routine. (Q: "Who is playing the show tonight?" A: "Who Fucking Cares?" Q: "Wait, what?") In addition to the nihilistically clever moniker, WFC? brings tight musicianship, blistering riffage and an in-your-face attitude to the St. Louis punk scene. With all of its members having been active in local hardcore bands for years, WFC? does not carry itself like a new band at all, but rather a finely honed one. Playing fast hardcore punk that borrows influence from bands such as Poison Idea, Infest and Tear It Up, the four-piece cuts like a rusty scalpel on record, annihilating and infecting anything it touches. The band's self-titled seven inch will be available at this show, which also serves as kick-off for a two week East coast tour.
Outernational Thurs., March 8, 10:00pm @ Stagger Inn - $3 By Nick Turse From this 2006 review: Somebody once called Outernational the "new Rage Against the Machine"--they might be, if RATM had mixed rock, ska, punk, reggae, hip-hop, dancehall, bhangra, Afrobeat, and a little bit of qawwali. In fact, what the two groups mainly share is the politicized ferocity of their frontmen. But even if the righteous rage of lead vocalist Miles Solay's lyrics don't put your soul through the ringer, his furious delivery and frenetic stage presence will get you. Plus, when did RATM ever sing love songs? Contrasted with the bland, by-the-books Bush-bashing banter of so many "political" bands today, Outernational's expansive worldview bespeaks a solidarity with Franz Fanon's wretched of the earth.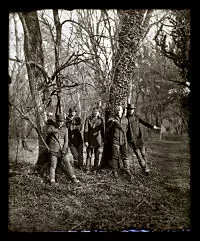 Radiohead Fri., March 9, 8:00pm @ Scottrade Center - $46.50 to $66.50 By Kelsey Whipple If the world were to end tomorrow, Radiohead would soundtrack its last day. Thom, Jonny and company, with all their breathtaking doom and gloom and misplaced H's, have already been practicing for that day for eight albums. They've made a living and a legacy out of smiling as they stick the knife in, from the early '90s days of Pablo Honey and hair bleach through their 2007 pay-what-you-want fling with In Rainbows to Yorke's epileptic (and Grammy-nominated) boogying for The King of Limbs' "Lotus Flower." The year 2012 could mark the experimental portion of Radiohead's career ― if only the band had any other setting.
The Spits Fri., March 9, 8:00pm @ Atomic Cowboy - $12.00 By Daniel Hill The Spits is long overdue for a St. Louis show. In its ten years of existence as a band, Seattle's premiere purveyor of "Punk for the People" has never played in town. It is fitting, then, that it finally comes through for local hardcore/punk promoter Rob Ruzicka's Birthday show ― after all, when Ruzicka's birthday brought us New York's hardcore legend the Abused two years ago, it damn near sold out Fubar. Fans of fun, infectious garage-punk a la the Ramones will feel right at home within the world of the Spits, whose dirty punk rock sound is often accompanied by the band members' propensity to wear costumes onstage, occasionally constructed out of toilet paper.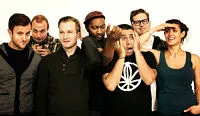 Doomtree Sat., March 10, 9:00pm @ The Firebird - $12.00 By Daniel Hill Twin Cities' premiere sayers of rhyme that are not Rhymesayers proper -- or in the case of P.O.S., who actually also is -- are coming to town. Minnesota's Doomtree hip-hop collective has been going strong since the 2008 release of their self-titled debut, with each individual member enjoying success as solo artists as well. Many know of the group though the popular Wugazi Wu-Tang + Fugazi mashup that came out last summer, which served as an appropriate introduction to their hip-hop-meets-punk-rock asthetic despite containing no original lyrics or instrumentation. November's No Kings, the group's second official full-length, works nicely to drive the point home.
Tucker Booth w/ the John Maxfield Band Sat., March 10, 9:00pm @ Atomic Cowboy - $5.00 By RFT Staff You've seen him outside the Ben & Jerry's on Delmar, strumming his acoustic guitar as he covers Kanye West's "Gold Digger." Or in front of Smoothie King, koo-koo-catchoo-ing Simon and Garfunkel's "Mrs. Robinson." Or under the Vintage Vinyl awning, happily accepting requests for his most popular original, "Smoke Blunts." His guitar case is always open to accept change and small bills, but Tucker Booth also keeps a red plastic bucket of shrink-wrapped CDs at the ready. It's difficult to reconcile the shaggy brown hair, easy-going grin and social-butterfly demeanor with his status as an indie rapper and director of public relations for local hip-hop, DJ and anti-folk collective the Frozen Food Section. But for the Portland, Oregon, native, it's all about the journey, not the destination. The guy may have bummed rides for three years and crashed on friends' couches for months, but Booth has house-sat for Val Kilmer, won a $500 bet by proving he voted in 2000 and earned $1,700 in busking cash over two weeks during a northward trek through California. As he puts it: "It's all about having a positive outlook and being grateful for what you've got."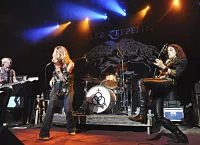 Lez Zeppelin Sun., March 11, 8:00pm @ Old Rock House - $10.00-$12.00 By Ryan Wasoba Lez Zeppelin is an all female tribute to Led Zeppelin. Behind this simple aesthetic lies many facets of appeal, from the visceral ― the group's hard-rocking. accurate portrayal of its idols ― to the intellectual: the feminist empowerment of singer Shannon Conley singing "I'm gonna give you every inch of my love." Robert Plant kind of sounded like a girl anyway, so it's not a stretch. All gender issues aside, Lez Zeppelin carves a niche among tributes by taking one of the largest bands in rock history into a small club setting, giving an intimate view of the subject rather than recreating its spectacle.