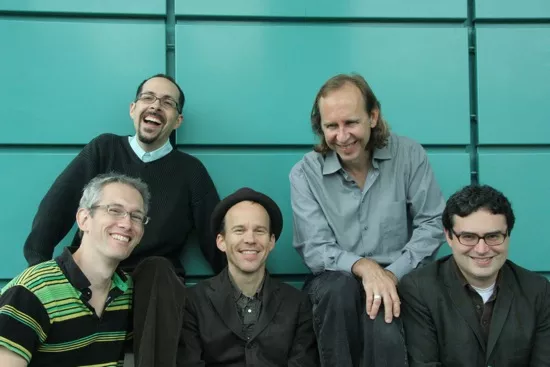 Courtesy of the Claudia Quintet
If the music of the Claudia Quintet seems somewhat genre-ambiguous to the first-time listener, it's likely by design. "I kind of like the mystery of listening to music and not knowing what it is or how it was put together," says John Hollenbeck, the group's drummer and leader. Originally formed in 1997, the NYC-based Quintet will be making their St. Louis debut in a concert presented by New Music Circle at 7:30 tonight, Friday, March 2 at 560 Music Center at 560 Trinity Ave.
Though nominally a jazz group, the Claudia Quintet was started primarily as a vehicle for Hollenbeck's small group compositions. (He also leads and composes for his own big band, the John Hollenbeck Large Ensemble.) A graduate of the prestigious Eastman Conservatory of Music and a gigging musician in New York for more than 20 years, Hollenbeck has accumulated a variety of influences to incorporate into his work, from jazz, pop and rock to minimalism and other styles of contemporary composition to the complex polyrhythms found in indigenous musics around the world.
"I really believe that the music is pretty accessible, although it's kind of different sounding,' says Hollenbeck. If pressed to describe the band's sound, he does it "according to each person. I may change my terms because those terms are pretty arbitrary anyway. They kind of have to be there, but they don't really describe the music very well."
Hollenbeck's compositions also stand out thanks to the Quintet's distinctive instrumentation, which features vibraphone, accordion and a saxophonist who doubles on clarinet, plus bass and drums. "I met all these guys around the same time," said Hollenback. "I was thinking for a long time about putting together some kind of group, but the instrumentation wasn't really set - it was more about the chemistry."
"Ted Reichman, the original accordion player, and I were playing together in a group that disbanded, and I wanted to keep playing with him. Then I met (vibraphonist) Matt Moran in Germany on a gig," says Hollenbeck. "It was an experiment based on what I knew about the players, and it was definitely worth a try. I didn't know any other groups that had that particular instrumentation."
Moran, reedman Chris Speed and bassist Drew Gress have remained with Claudia Quintet since its inception (though Chris Tordini will be subbing for Gress during their show here.) Reichman, though, recently had to leave the group, moving to Boston late last year for family reasons. He's been replaced by accordion player and keyboardist Red Wierenga.
"It changes things a lot, because the group's been together for a long time, so there's a real strong chemistry there," says Hollenbeck. On the other hand, "when one person comes in, if that person can kind of fit into the group, it's not so hard, because everything's kind of established already. It's either a fit, or not - you find out pretty quickly."
The Claudia Quintet is touring in support of their most recent CD, What Is The Beautiful?, which was released late last year. The music on the CD was composed by Hollenbeck under a commission from the University of Rochester for a celebration of the centennial of the birth of poet Kenneth Patchen.
Patchen was active from the 1930s to the 1960s, and his poems were known both for their political content - he was a confirmed pacifist - and their experimentation with language, styles and form. Patchen also was known for working with musicians; he collaborated on projects with composer John Cage and jazz bassist and composer Charles Mingus, and sometimes read his poems accompanied by improvising musicians.
On What Is The Beautiful?, Patchen's words were sung, spoken, intoned and whispered by two singers: Kurt Elling, who's well known to St. Louis audiences thanks to regular appearances at Jazz at the Bistro, and Theo Bleckmann, who will be in St. Louis to perform with the group on Friday.
Though less well known than Elling, Bleckmann has recorded four albums as a solo performer and has an impressive resume that includes 15 years with composer Meredith Monk's ensemble, as well as performances and recordings with musicians ranging from Laurie Anderson and Anthony Braxton to Michael Tilson Thomas and John Zorn. "He's been a collaborator of mine on many different projects," says Hollenbeck. "I've never really found anything that he can't do."
The concert on Friday will feature most of the music from the new CD, but Hollenbeck says the songs already have begun to evolve as the Quintet performs them in public. "We're trying to let it grow live into something that's different that the record," he says. "We have those discussions all the time - certain things on the record need to be there, but (improvisation) is a big part of it, too. That's what makes the music alive, is to let them be creative."
7:30 p.m., Friday, March 1, 560 Music Center, 560 Trinity Ave, 63130. $15 for general admission, $7 for students with ID. 1-888-NMC-STL1.