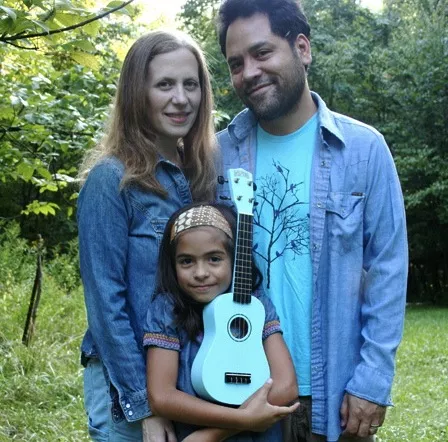 Courtesy of Elizabeth Mitchell
Elizabeth Mitchell didn't set out to sing children's songs -- or, more specifically, "all ages folk music." Along with husband Daniel Littleton, she was best known as the main voice of Ida, a NYC-based acoustic band with several hushed, emotionally driven albums to its credit. During the day, however, she worked as a preschool teacher, and would often lead the kids in singalongs. At the end of one school year, she recorded a batch and gave them out as CDs. Later, she and Littleton re-recorded them with His Name is Alive leader Warn Defever. The resulting album, You Are My Flower, became a hit among the young-adult-parent set. Four albums later, Mitchell has become one of the leading lights of the new wave of family music.
With faithful backup from Littleton, each of Mitchell's albums mixes classic children's songs with delightfully unusual cover choices, including Vashti Bunyan's "Lily Pond," the Carter Family's "Keep on The Sunny Side," Bo Diddley's "Hey! Bo Diddley," and even the Alphabet Song done dub reggae style. In this way, Mitchell provides a fine example of what might be called the Sesame Street principle: entertainment that is simple and buoyant enough to appeal to kids, while providing just enough sophistication and grown-up references to keep the adults amused. With Mitchell's and Littleton's ten-year-old daughter Storey now joining in, this is a family band in the truest sense.
Mitchell and her musical family will be in St. Louis this weekend for five shows at COCA. When I interviewed Dan Zanes last year in advance of his own COCA shows, he was kind enough to answer some questions suggested by my young, music-loving daughters. It was enough of an icebreaker that I started off this interview the same way.
Mike Appelstein: So my older daughter would like to know if you have any pets. Elizabeth Mitchell: We have a dog, a Bichon Frise. Daniel and I have been together for twenty years but never had any pets because of his allergies. But Storey is an only child, and she really, really wanted a pet. So we finally found a dog that we could have in the house.
And my younger one would like to know if you like Hello Kitty.
Yes, of course! And we've been to Japan so we have an even deeper appreciation.
She'll be jealous of you for that. So when did Storey become part of the band? Actually, she was first on a recording in utero; we used part of her heartbeat on one song. Even back then, her sounds were unique. We're always recording the sounds that are in our home, so on You Are My Sunshine, you can even hear her crying in the background. So she's been with us from the beginning. The first time she performed with us was on tour in Seattle. It just seemed like she was ready, and she wanted to try it. So we put a little chair on stage and told her, "Join in when you feel it." Mostly she was fascinated by the audience; she was interested in the other children watching. But pretty quickly, she found other ways of participating. She got off the chair and started dancing Now she's playing instruments she has proficiency with: alto recorder, ukelele and harmonica.
So it's an extension of your family life.
Definitely. It's what she's used to.
What are some differences between performing Ida music for adults, and performing for children?
They're polar opposites. When I do an Ida show, it's more internal show, going inwards and drawing out what I can out of that experience. When I'm performing for families, my eyes are wide open, and it's about sharing music with the people who are there and drawing something out of them, find something new about them today, and share this experience. I've learned so much from doing that; I enjoy it so much that there have been times at Ida shows where I've wanted to do that more. We did an Ida show in Chicago a few weeks ago, and there was a song where we did encourage call-and-response and singing along, which we never do for Ida. And they did, and afterward I was like (imitating an encouraging preschool teacher), "Good job!" I'm just so used to encouraging and praising our audience during the show that it was a funny thing to do.
But it's different when performing to children and families. We have to make sure the volume's loud enough but not too strong. You want to really be reading them all the time and engaging them, paying attention to their response. What are they trying to tell you? And I want to know what they're thinking, what our music inspires in them. It requires a lot of listening and reading. It's definitely a workout but hugely fulfilling. Do you find yourself drawing on your experience as a preschool teacher?
Definitely. One of the things about teaching that I miss is the one-on-one option. But actually, we've been playing with a larger band now, and I've been enjoying that aspect of performing with a larger group. There are more of us to have a connection, and if I'm not the one carrying the ship, I can take a moment with the kids and find out what's on their minds. Teaching requires a new discovery of patience and energy, and having accessed that when I did, it's always there, that mental place of opening yourself up. I look for songs can be interpreted in many different ways. I'm drawn to songs about the natural world; it's good to direct children back outside these days, there's so much mystery. there. Did you or Dan come from musical families?
Daniel's father was a pianist; he's the musical director of his church. I was the only one in my family that was really interested in music. There were a lot of recordings in my home; it was the 1970s, so we listened to a lot of James Taylor, Simon & Garfunkel, and also great singers like Ella Fitzgerald singing Cole Porter or Irving Berlin. So there was a lot of listening, but we didn't sit around and sing folk songs. Also, I had a wonderful elementary school music teacher who brought pure joy (to the class), and that was a big part of the spark for me. As I grew up, I did a lot of theatre and choir, but it was in college that I started playing guitar, and after college with Daniel, discovering the folk tradition and writing songs together. When I talked to Dan Zanes last year, he spoke about encouraging family bands. He even has YouTube clips on his website showing how to do it. It sounds like this is something you encourage as well.
We definitely encourage other people making bands as a family. It's a good time to put down the electronic gadgets and get together and sing. And we're a family that gets on stage and does it. When we're recording, we try to make it feel very intimate and close, and what your family can sound like also. We don't try to make them "perfect," we're not an example of exalted musicianship. We just try to make it simple. We're just up there being ourselves. Are you ever sent tapes or videos of your fans' family bands?
I do. I even get videos from kids pretending to be Storey! There's no greater honor. She laughs; she's humble, I think. She's not a big attention-needer and kind of shy about being onstage in the spotlight. I'm happy about that; she's not a natural performer so she's going to be really genuine when she gets up there. She's just being herself, a natural ten-year-old.
Details: Elizabeth Mitchell and You Are My Flower. 7 p.m. Friday, March 2. 2 p.m. and 5 p.m. Saturday, March 3. 1:30 p.m. and 3:30 p.m. Sunday, March 4. $14 to $18. COCA (Center of Creative Arts), 524 Trinity Avenue, University City. 314-725-6555.