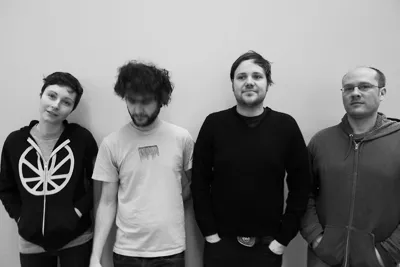 Back in November of 2011, and unknown band (at least around these parts) from Minneapolis, Polica (pronounced Poe-Lisa), quietly put on a gripping performance at the Old Rock House -- even if there were fewer than a dozen people there to witness it. Since that time, Polica has played sold out shows across the country, released its debut album Give You the Ghost, and then played some more packed houses across the U.S.. While Monday night's show was far from sold out, there was a much more respectable turnout this time around.
You gotta hand it to the folks at Old Rock House for bringing the band back for a proper headlining show. You could tell Polica was appreciative, too, as singer Channy Leaneagh (of GAYNGS) was quick to give the club a shout out and commend it for its warm hospitality. And that was about the extent of Leaneagh's in-between-song banter. She had more important things to focus on, like emceeing the grooviest experimental dance party west of LCD Soundsystem, and east of the Postal Service.
Leaneagh commanded the stage with her pixie-meets-Erykah Badu stature, easing out airy vocals that swirled and pulsated around the room with a little help from AutoTune and other loops and effects. There's a difference between using AutoTune as a crutch, and using it almost as another instrument, and Leaneagh respects that distinction. Behind her sat the two drummers of Polica, Drew Christopherson and Ben Ivascu. The two drummer approach can be risky, no doubt, but it's hard to imagine Polica pulling off its R&B, electro dance party without them. The rhythms got straight up tribal at times, with both drummers beating away on the rims and exteriors as much as the actual drum heads.
Even with the drummer by committee approach, Leaneagh's head still doubled as the perfect metronome -- feverishly bobbing along with bassist Chris Bierden's learned funk bounce. With having no guitars on its songs, Bierden has more weight to carry and did so with easy as he plucked just about every note available on his Fender.
Opening the set was Total Fucking Blood and Marijuana Death Squads (I'm not making either name up) -- both of which featured members of Polica. The former offered noisy thrash, while the latter set up a seizure-inducing, avant-dance-punk party smack dab in the middle of the Old Rock House dance floor.