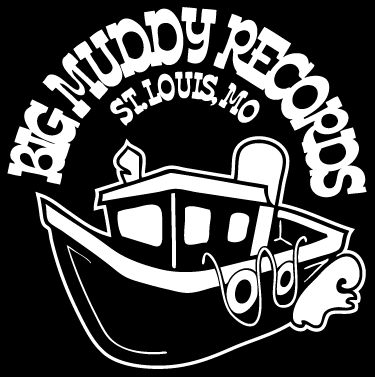 Photo Courtesy of Big Muddy Records
The True Sound of St. Louis
Since 2005, Big Muddy Records has been an influential and propellant force in the rock 'n roll underbelly of St. Louis. Operating around the taste of local everyman, Chris Baricevic, Big Muddy has established itself as "an independent record label, promoting authentic American music made by artists in St. Louis, MO." In recent years, the label has released albums from the likes of Casey Reid, Bob Reuter's Alley Ghost, Pokey LaFarge, the Hooten Hallers, and most notably 2011's
Mean Scene
by the Rum Drum Ramblers.
Equally inspired by soul, blues, and the punk rock aesthetic, Baricevic (who performs both solo and in Bob Reuter's Alley Ghost) is no stranger to the rock & roll mystique of South City. Since having served time in the blues-punk outfit Johnny O and the Jerks, Baricevic has developed an insatiable hunger for rock & roll with soul, channeling it into collaborations with everyone from Catholic Guilt to 7 Shot Screamer's bassist Chris Powers to his most recent project with Rum Drum Rambler's Ryan Koenig and the Groundhogs.
"The name of the band, the Groundhogs, comes from the holiday on which the tape was recorded - Groundhog's day. It's a raw recording that we made on a boombox while getting very drunk. Surprisingly, it sounds great!" Baricevic says. "Ryan branches out into fiddle and I play a lot of piano. We both play guitar and share singing duty. There are ten tracks - a sound collage intro, and then seven originals and two covers (Charley Pride & Fats Domino). It was all made in one night."
In December 2011, Baricevic "relaunched" the Big Muddy Records website, finely tuning the imprint and its appearance to the world. Inspired by the spontaneous Groundhog sessions, Big Muddy is now opening the doors of its vault online, releasing previously unreleased and rare recordings from the entire Big Muddy family.
In an official statement from the recent Big Muddy press release, Baricevic states: "Over the next couple of months, Big Muddy Records will be releasing online EPs as well as full-length records and live concerts via bandcamp. There are recordings from Johnny O & the Jerks, the Vultures, Casey Reid, Lonesome Cowboy Ryan and collaborations from all the Big Muddy family. There will also be a few things that pop up along that way that even I don't know about yet. The recordings will be given away for free."
The first release to be revealed is from Lonesome Cowboy Ryan, compiling various recording sessions and a self-released cassette. Lonesome Cowboy Ryan is the stage moniker of Ryan Koenig (Pokey LaFarge and the South City Three, Rum Drum Ramblers, The Vultures) and channels soulful country twang and at times the heartbroken coo of Roy Orbison.
We caught up with Baricevic to speak about the vault releases, the new Alley Ghost record, and the future of the label.
Josh Levi: Why are you releasing items from the Big Muddy vault?
Chris Baricevic: All of us Big Muddy kids are making music constantly but there's not enough money to put it all out. Money dictates the business and - even as much as I've tried to pretend it's not - a record label is a business. If we spend money, we have to make it back.
For example, I just released the Leopard Print Pills sessions online. This was made four years ago, and it's pretty good but it wouldn't have made any business sense to put it out. Gigs sell records and this band only existed in the studio. Half of the band was the Rum Drum Ramblers and they were gigging constantly at that time, so there was no chance of giving things a real go. I've always wanted to release it but couldn't justify dropping Big Muddy's bankroll on it. I'm only going to drop money on something that stands a chance at recouping the cost in a reasonable timeframe. That way we can put out another record. It's survival. It's not that this stuff isn't as good, it's just that it's not best candidate for being a product.
So basically, we've got all this stuff - past and present - and lot of it is good. I've always wanted to have an avenue for us to release whatever we wanted where money was no object - Bandcamp just makes it so easy. The idea is to get everything out into the ether and archived online - let people enjoy it and spread awareness of our crew and what we do. We want to encourage people to support us by buying our physical releases and going to shows. It will also encourage us to get together and make more recordings just for the hell of it.
What do you plan on having accomplished by the summer?
I have no idea what the summer holds. Will I still be here? It's hard to leave St. Louis in the summer, I'll say that much. At this point it's all about making the money back on the stuff we've thrown out into the world. We put out the Rum Drum Ramblers' vinyl back in August and just recently rushed out a new Hooten Hallers album on CD for them to take on the road. The next big thing for us is the new album from Bob Reuter's Alley Ghost, which will be out in the spring.
It's always a lot of work to hit that break even. We don't have sales down to a formula just yet. And I've been on hiatus for the past while, so we have to build up some of that lost momentum. I got faith it will work out though because we got love and we are putting out some unique, killer stuff. This Alley Ghost record is going to be awesome. I can't stress that enough. It was produced by us and the great Mario Viele, who's been making St. Louis proud up in New York as a full time sound engineer. Bob put his soul on the record, and we all did our thing. And the result is an amazing rock & roll album. I've got confidence but history has shown that it all takes time. I've always got about five different roads to go down unfolding in my head. I'm a schemer.
What does the future hold for Big Muddy Records?
I will tell you what I want to do, and that's move towards 45s. In particular, split 45s. I've been thinking about this for years and I've got a pretty fantastic dream that involves bringing people into St. Louis and throwing the Big Muddy gang behind them and cutting a song. I want to brand a sound, like Stax and Motown. And we got the talent to do it, and we got the love, and the sound is developing - sticking to the grindstone and making that monkey stay in the game.
More information and music can be found at www.bigmuddyrecords.com and facebook.com/bigmuddyrecords.