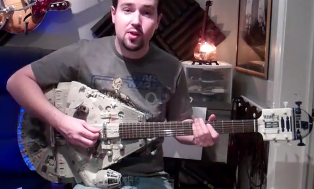 Brian Fisk created the most awesome Star Wars guitar in history.
Star Wars is a beastly franchise -- a film series to which legions and legions of fans don't hesitate to pay tribute. But a Missouri musician upped the badassery ante recently with an awe-inspiring Millennium Falcon guitar.
Brian Fisk -- a country music artist who resides in Sikeston -- has made serious waves since posting a YouTube video of himself playing the ridiculously intricate-looking instrument.
In an e-mail interview with RFT Music, Fisk says the guitar's creation was a result of hard work -- and a little ingenuity.
"The guitar started as a Millennium Falcon plastic toy from the '90 and a blank guitar neck," Fisk says. "I custom made the R2-D2 headstock and created a wood reinforcement system to go inside the toy body to support the tension of the strings. I kept the original lights and sounds operable and added blue LED hyperdrive lights in the back."
A video of Fisk playing one of his songs has been seen over 120,000 times since being uploaded to YouTube. And Fisk managed to snag some mainstream media attention, including getting interviewed by CNN's Geek Out! and the Southeast Missourian.
The rapid spread of the video, Fisk says, accomplished personal - and professional - goals. "I had expected the video to spread; that's why I included a clip from one of my original songs played during the video," Fisk says. "I have since had a large number of traffic visiting my other videos and listening to my music. This was both a mission to create a totally awesome guitar and promote my music. It seems that I was successful at both."
According to the Southeast Missourian's article, Fisk's guitar is now housed at Collins Music in Sikeston. The obvious question now is whether he'll create a sequel to his Millennium Falcon guitar.
Will Fisk make a Death Star bass? A Wookie banjo? A Jar Jar Binks keytar?
"I've had several suggestions for other sci-fi themed guitars," Fisk says. "I'm not an expert craftsman, but considering the huge response this guitar has gotten, there could be another creation in the works soon."
By the way, you can click here for more information about Fisk's singing and songwriting exploits.