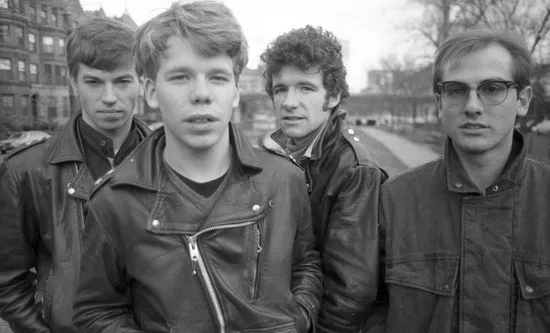 The Del Fuegos play Old Rock House on Thursday.
Some big names from decades past populate this week's featured shows -- Eddie Money and Barry Manilow on the same night?? Del Fuegos the night before? Luckily Manilow is playing two shows in town or else there'd be some difficult decisions to be made. In addition to the gray-hairs, St. Louis will play host to pop-punkers the Ataris, Green Day's American Idiot opera, the record release show of local outlaw country boys the Reebs and more. Additional info on the bands and shows after the jump.
Rusko Mon., February 27, 8:00pm @ The Pageant - $28 By Josh Levi Since 2006, Rusko has made his way from packed London clubs to the international dubstep pantheon. Staying away from the darker side of the genre, Rusko's music vibrates through the masses with a vital focus on high energy and massive bass. His unique approach and highly contagious remixes of acts like Adele and Basement Jaxx have kept him in the eyes of party monster Diplo, who is on his second Rusko release through his Mad Decent imprint. Full of trademark wobble, the new album ― called Songs ― is sure to make the kids wait for the drop.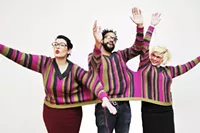 Pearl and the Beard Wed., February 29, 8:00pm @ The Gramophone - $5 21+, $8 18+ By Daniel Hill Hailing from Brooklyn, Pearl and the Beard is a quirky three-piece with a penchant for folksy multi-instrumentation and sophisticated vocal harmonization. Don't mistake them for your typical run-of-the-mill "alt-folk"; members Jocelyn Mackenzie, Emily Hope Price and Jeremy Styles add elements of blues, jazz, and world music to the formula to form beautifully crafted ballads, using -- according to their press release -- "one cello, one guitar, one glockenspiel, one melodica, several drums, one accordion, ninety-six teeth, and one soul." With a DIY approach and a passion for music that is evident on first listen, Pearl and the Beard are truly unique and worth checking out.
Del Fuegos Thu., March 1, 8:00pm @ Old Rock House - $18-$20 By Roy Kasten Cut from the same proto-punk cloth as Tom Petty and the Hearbreakers, the Del Fuegos had hooks, looks, tunes and 'tude: everything it should have taken to break into the '80s mainstream. Everything, that is, but business sense. The band notoriously sold out too soon (shilling in a Miller beer commercial), squabbled over songwriting and got sucked into studio-glossed R&B. Its best songs "Don't Run Wild," "Hand in Hand" and "I Still Want You" are still among Dan Zanes' best tunes, and along with brother Warren, bassist Tom Lloyd and drummer Woody Glessman (all original members), the reunited Del Fuegos should have the muscle to rescue them from the cut-out bin. Why This Show Matters: A non-Disney-approved rock show from Dan Zanes is nearly as rare as a show by his first band, which hasn't toured in over twenty years.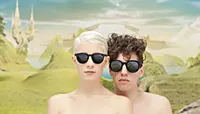 YACHT Thu., March 1, 9:00pm @ Plush - $12 By Christian Schaeffer Since 2003, Jona Bechtolt has kept YACHT evolving, first as a man vs. laptop side project during his time away from the Blow and now as a full-blown electro dance party. Since joining a few years back, Vocalist Claire L. Evans has worked in sweet congress alongside Bechtolt's already high timbre, and their partnership allows for some crucial call-and-response vocals. As the title suggests, last year's Shangri-La is long on uplifting utopian party jams, where one-finger synth lines meet metronomic drum beats and everyone makes twenty new best friends. Synth Siblings: The keyboard-driven flair of local opener Née will provide an electro-pop aperitif for the show.
Eddie Money Fri., March 2, 7:00pm & 9:00pm @ Lumiere Place Casino & Hotel - $30-50 By Kelsey Whipple Don't hate the RFT for the number of days you will now have "Take Me Home Tonight" stuck in your head. Blame Eddie Money. Since the pop maestro's heyday roughly three decades ago, he has wormed his way into both ears and the charts with all the glory and shamelessness of a John Hughes prom scene. The man did, after all, strike his mainstream comeback in the late 1980s. After releasing modern radio staples such as "Two Tickets to Paradise" and "Baby Hold On," Mr. Money cashed in on his success early ― and used it to buy drugs ― before returning to the rock revival circuit with fervor when his songwriting career ended in the Nirvana years. Homework: Google live photos of Eddie Money. Then Google Meatloaf. Lost at birth?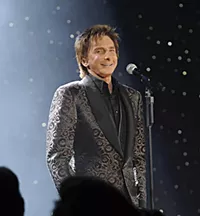 Barry Manilow Fri., March 2, 7:30pm @ The Fox Theatre - $29.99-89.99 By Mike Appelstein In 1983, the New Jersey punk band Detention recorded "Dead Rock 'n Rollers," a list of ill-fated musicians climaxed by this indignant shout: "Why couldn't it be Barry Manilow??" Those of us who were there can understand the annoyance. In the 1970s, the King of the Modulated Chorus was everywhere: on the radio, on Solid Gold and as the voice and/or songwriter of countless commercial jingles. Yet there's no denying the man's tenacity. He's stayed active long after his initial superstardom faded, pursuing everything from TV movies to country albums. And give him credit for challenging himself. His latest release, 2001's 15 Minutes, is no less than a concept piece about the price of fame in the reality-television age. Poke fun all you want, but Manilow has more than proved his staying power. Game Changing Cover: Langley Schools Music Project's cover of "Mandy." Recorded live in an echoey school gym in mid-1970s Canada, it magically transforms into a lost Elephant 6 outtake.
The Reebs Sat., March 3, 8:00pm @ The Heavy Anchor - $5 By Daniel Hill Interesting facts from The Reebs' Facebook page: December 13, 2003 marked the date that the rockabilly / outlaw country group recorded its first demo. Those of us with encyclopedic memories (or Google) will also remember that date as the day that Iraqi dictator Saddam Hussein was captured. Eight years later on May 1, 2011, The Reebs entered the studio again to record, this time for their new full length "Shame and Whiskey" -- the very day infamous terrorist and all-around-bad-guy Osama Bin Laden was being chased around his Pakistani hideout by Seal Six-ers. Is it coincidence, or does the recorded music of this St. Louis four-piece actually advance the cause of freedom worldwide? Find out for yourself this Saturday at their record release show at Heavy Anchor. Friends The Hail Marys and Butch Holler will play as well.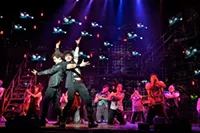 Green Day's American Idiot Sat., March 3 and Sun., March 4 @ Peabody Opera House - $22 to $92 By Alex Weir Green Day takes a lot of flak from purists for not being "real" punk rockers. Well, purists can be an awfully tiresome bunch. Suffice it to say that the band has connected on a deep level with millions of fans worldwide; and these days they're connecting with theater-goers, too. Their gazillion-selling, Grammy-winning American Idiot album was adapted for the stage a few years after its 2004 release, and it premiered on Broadway in 2010, a run that earned it two Tony Awards. Now St. Louisans can see Billie Joe Armstrong's big show within the opulent setting of one of our finest venues: the dazzlingly refurbished Peabody Opera House (1400 Market Street; 314-499-7600 or www.peabodyoperahouse.com). Bask in American Idiot's pop-punk glory in its St. Louis premiere at 8 p.m. March 3 through Sunday, March 4.
The Ataris Sun., March 4, 8:00pm @ The Firebird - $12 By Daniel Hill Led by lone remaining original member Kristopher Roe, The Ataris have been cranking out radio-friendly pop-punk since the mid 90's, relying on catchy hooks and simple rhythms to craft the songs that remain stuck in your head for days -- even their once-again ubiquitous (thanks Gen X radio) cover of Don Henley's "Boys of Summer" breathed new life into the old 80's track, raising an eyebrow or two with its minor "Black Flag sticker on a Cadillac" rewrite. Since 2007 fans have been waiting for the release of The Graveyard of the Atlantic, The Atari's endlessly upcoming sixth album. Roe claims that twenty songs have been recorded and cites early 2012 as a tentative release (isn't it almost March now?). In the meantime fans will have to settle for a live show. Don't Miss the Opener: St. Louis's own Better Days will be opening the show; the band's brand of Gorilla Biscuits-meets-Saves the Day skate-punk will play well to fans of The Ataris.