Go to hell, you old Bastard.
The sheer longevity of The Simpsons would be impressive if it wasn't so frightening. Consider: A person born on the day of the first non-Tracey Ullman Show episode is now 22 years old. And if characters from the show actually aged, Bart Simpson would be three years away from being able to assume the presidency.
Scary stuff. And individuals born in the 1980s may have felt a shiver of mortality Sunday when The Simpsons aired its 500th episode. With so many hours in the hopper, culling out particularly notable moments in its history without causing a flurry of angry debate is difficult.
Fear not: RFT Music waded through the murky yellow waters of the show's history in search of musicians and music that stand the test of time. Feel free to comment with other moments from Our Favorite Family that deserve recognition:
Best Guest Star in "Homerpalooza": Peter Frampton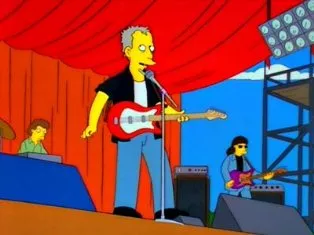 "Homerpalooza" is an episode that's aged particularly well, as it is a dead-on satire of 1990s musical culture. But it was a musician who gained fame in the 1970s - Frampton - who had arguably the best appearance. His faulty attempts to launch an inflatable pig were magical, narrowly surpassing members of Sonic Youth eating a giant watermelon.
Best Appearance by a Beatle: George Harrison in "Homer's Barbershop Quartet" The Simpsons holds the honorable distinction of having three Beatles on as guest stars. While Paul McCartney's appearance in "Lisa the Vegetarian" topped off a classic episode and Ringo Starr's role in "Brush with Greatness" was fairly well done, Harrison's cameo in "Homer's Barbershop Quartet" was perfect. Not only does the appearance make sense from a plot perspective [Homer ran into Harrison while the Be Sharps were becoming famous], but it provides a setup for Homer eating an infinite pile of brownies. Mmmm... brownies.
Best Musical Cameo from an Out-of-the-Mainstream Band: Yo La Tengo in "D'oh-in in the Wind"
While this episode is probably known more for being George Carlin's only appearance on The Simpsons, it also featured music from a band that's a bit out of the mainstream. Yo La Tengo -- a critically acclaimed alternative outfit from New Jersey -- played The Simpsons' theme song during this episode's closing credits. Lead singer and guitarist Ira Kaplan told The A.V. Club back in 2000 that YLT enjoyed the experience immensely, mainly because it forced the group to work faster than normal.
Best Comical Use of Self-Censorship: Red Hot Chili Peppers in "Krusty Gets Kancelled" Yeah, yeah -- music is art or whatever. But let's not kid ourselves: Musicians aren't above self-censorship for commercial gain. The Simpsons made this point when the show parodied the semi-apocryphal tale of how the Doors rebelled against changing lyrics to "Light My Fire."
The scene is also proof that the Red Hot Chili Peppers were once considered somewhat edgy, well before its sound took a more mainstream direction.
Best Use of Jack White: "Jazzy and the Pussycats" It may be hard to remember a time when Jack White wasn't trying to be in 1,600 bands at the same time, but he appeared along with Meg White in an episode where Bart becomes proficient at playing the drums.
That episode features an dead-on parody of "The Hardest Button to Button," culminating in both Jack White and Meg White falling off a bridge. Best Use of Dick Valentine and Jack White a Random Singer: "Danger! High Voltage" in "The Squirt in the Whale"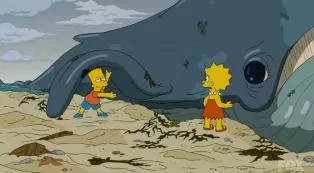 As RFT Music's Bob McMahon pointed out in 2010, Electric Six's "Danger! High Voltage" has been shoehorned into some strange places. The Simpsons is no exception, as the show typically drops popular songs into montages. In this particular instance, the Detroit outfit's most popular tune was playing while the Simpsons were trying in vain to generate power.
While this was a nice addition to one of the best episodes in recent memory, it's probably not the best random insertion of the song.
Best Appearance by a Current Pop Megastar: N'Sync in "New Kids on the Blecch"
One of the prime boy bands of the 1990s and early 2000s was an excellent contributor to "New Kids on the Bleech," a very good episode where the U.S. Navy clandestinely uses Bart and friends as a recruitment tool.
The boy band's appearance narrowly beat out Katy Perry, who appeared in a rather odd bit during a recent Halloween episode.
Best Contributor to a Fraudulent Telethon: Sting in "Radio Bart"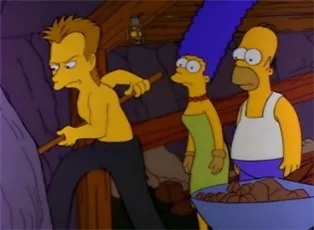 Sting was the glue that kept random Simpsons characters together in the benefit song for the hapless Timmy O'Toole. When Springfield residents discovered that O'Toole was merely Bart's voice on a radio, the song's popularity plummeted.
The biggest regret we have about this episode is that viewers didn't get to hear the song that dethroned "We're Sending Our Love Down the Well" -- "I Do Believe We're Naked" by Funky C, Funky Do.
Best Parody of a Falco Song: "Dr. Zaius" from "A Fish Called Selma" Before his tragic death, Phil Hartman was one of The Simpsons' most prolific guest stars. And Troy McClure was Hartman's best reoccurring character. Arguably Hartman's proudest moment on the show was during a musical send-off for Planet of the Apes.
"Dr. Zaius" was a riff on Falco's "Rock Me Amadeus," succinctly articulating the plot points of the film. Truth be told, the parody surpassed the original song in many respects -- besides the fact that it wasn't performed in German.
Best Musical Guest Star: Ramones in "Rosebud" Picking the best musical guest stars on a show as massive as The Simpsons is as subjective as subjective can be. But this scene reflects how to do a guest spot justice. A lot of times during the show's history, bands or musicians have been awkwardly placed in an episode and have been utterly forgettable. That's not the case with the Ramones.
The seminal punk outfit was the guest band during Mr. Burns' birthday extravaganza, complete with a hilariously back-handed rendition of "Happy Birthday." The group's appearance prompted the grizzled millionaire to mistakenly out a hit on the Rolling Stones.
For younger viewers, the Romanes' brief appearance almost certainly stirred enough interest to learn more about music beyond what was popular at the time. That may be the very definition of a highly successful guest appearance.