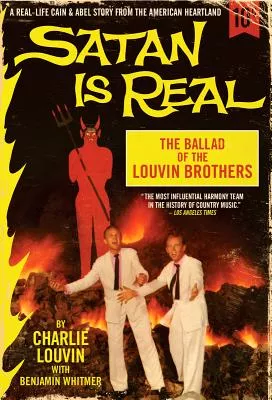 Tonight's guest at Subterranean Books' Noir at the Bar reading series is of particular interest to us here at RFT Music: It's Benjamin Whitmer, who wrote Satan is Real: The Ballad of the Louvin Brothers with Charlie Louvin before he died last year. It tells the story of the pioneering country music duo, active in the '40s, '50s and '60s, responsible for laying the groundwork for hundreds of artists and releasing an album with one of the most iconic covers in music history. That album lends its title to the book, which has been well received by everyone from Emmylou Harris to the New York Times.
Whitmer will be at Meshuggah Coffee House (6269 Delmar Boulevard, 314-726-5662) tonight at 7 p.m. Missouri's Robert J. Randisi and St. Louis' Sonia Coney and Jason Makansi are also reading.
Subterranean Books has a an assemblage of praise for the Louvin Brothers and the book; it includes the endorsement of some very familiar names:
"There was something scary and washed in the blood about the sound of the Louvin Brothers." -Emmylou Harris

"Charlie...was a true punk, in the best sense of the word." -Lucinda Williams

"You can't find anybody, I don't think, that was not inspired by them." -Vince Gill

"They influenced everybody." -Phil Everly

"The Burritos' favorite artists." -Gram Parsons

"Probably the greatest traditional country duo in history." -Grove Dictionary of American Music

"The Louvin Brothers were my favorite when I was young and growing up in the business." -Dolly Parton

"One of the pre-eminent brother acts in country music and an inspiration to several generations of rock musicians." -New York Times

"The most influential harmony team in the history of country music." -Los Angeles Times
The New York Times, in its review, describes Whitmer's contributions as, "pretty much invisible, which makes them difficult to praise, and all the more praiseworthy."