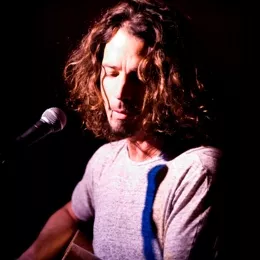 Longtime Soundgarden frontman Chris Cornell is winning a heap of (deserved) praise for scolding a homophobic traveler. According to the New York Post, Cornell was waiting in the Alaska Airlines lounge at Seattle's airport when he stepped in during a verbal fracas:
Witnesses said Cornell jumped into action when a man in a business suit "called another man a queer when he overheard him make a pro-Obama statement. Cornell stepped up in the packed lounge and slammed the guy for making anti-gay comments."

According to a passenger in the lounge, Cornell said, "You're a [prick]. You deliberately called him a queer to make him feel uncomfortable in front of a lot of people."

The witness said security came and the offending suit was asked to leave. The other man and Alaska reps thanked Cornell for his help, the source added.
As it turns out, the fundraiser Cornell was traveling to was the venue where he performed one of the better-received renditions of "I Will Always Love You" since Whitney Houston's death. One video of the performance has over 737,000 hits since it was uploaded to YouTube last week:
Although "I Will Always Love You" is often imitated, it takes somebody with an especially powerful voice to do Dolly Parton's song justice. Cornell -- who has long received plaudits for his vocal range -- certainly fits that distinction.
But Cornell seems to have a propensity to perform especially good covers. For instance, he has been known to sing a notable version of "Billie Jean" by Michael Jackson:
Cornell can also pay tribute to Pink Floyd with the best of them, including this rendition of "Comfortably Numb:"
And although they may have not technically been covers, Cornell often sang old Rage Against the Machine tunes when he was with Audioslave. That included the classic "Killing in the Name:"
Cornell's good luck streak comes as Soundgarden is gearing up to go back on the road.. The band is set to play a batch of European shows later in the year, including the Download Festival in Donington, England.