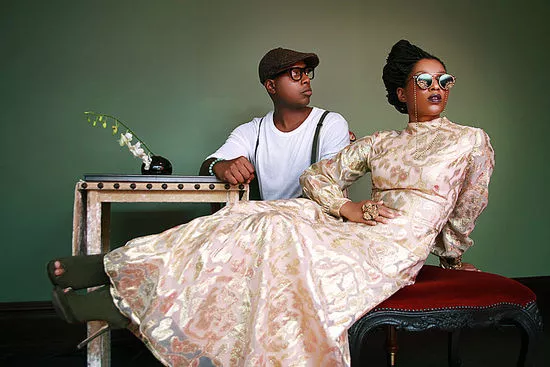 Mel D. Cole/Villageslum.com
Talib Kweli and Res are Idle Warship.
Idle Warship | SoundClash 2720 Cherokee February 15, 2012
Since setting up shop in the burgeoning Cherokee Street Art District in 2009, 2720 has made a name for itself in the national club scene as one of the top venues for street-inspired dance music. Last night's performance with Talib Kweli in Idle Warship was one of the venue's biggest names to date. Both 2720 and the audience grappled with a talented vocalist, quasi-celebrity status, and a band with an identity crisis.
Showcasing some of the brightest talent in St. Louis' hip-hop DJ community, SoundClash kicked off the evening. Known as the street-inspired sound collage project of DJ Needles, 18andCounting (Stan Chisholm) and frequent collaborator Black Spade, SoundClash blended a feverish live mix of hyper-dub, hip-hop, neo-soul, and electro bounce. A hometown hero, DJ Needles remains the undisputed mix master of St. Louis, not just for his technical skills but also for his tastefully rich song selection. Immediately locked in, he and Chisholm weaved in between a number of downbeat tracks, stacking the likes of Debarge's "I Like It" next to remixes of Tyler The Creator's "Yonkers," M.I.A.'s "Paper Planes," and Run DMC's "My Adidas." SoundClash's organic mishmash can stylistically turn on a dime, taking soulful instrumentals into Childish Gambino, SBTRKT, and even local top dog Rockwell Knuckles. But the majority of the crowd sadly seemed to pass them off as "just another group of DJs." It was unfortunate to see such disrespect.
Shortly after 11 p.m., Idle Warship hit the stage with outside smokers lucky enough to catch Mr. Kweli casually walk across Cherokee Street and into 2720. With an intro from neo-soul singer Res, the band launched into "Enemy," the first track off last year's Habits of the Heart. Amped and ready, Kweli hit the stage mid-song, flashing a charismatic smile as he blasted into his first verse. Before quickly addressing the touring sound guy over an issue with the monitors, Kweli eagerly greeted the audience asking "How y'all feeling? Tonight, we're gonna make you dance, we're gonna make you party, and we're gonna make you think."
Kweli propelled into a three-plus minute acapella, captivating the audience. Clearly they were here to catch a glimpse of his magic, and deliver it he did. Kweli's didactic display of lyrical wielding is so natural it's inhuman. Following his stunning vocal barrage, Res led the band with a vocal upheaval as they jammed into "Steady," borrowing the keyboard lead from Corey Hart's "Sunglasses at Night." In a set comprising the majority of the tracks from its debut album, Idle Warship grooved in and out of upbeat hip-hop and oddly placed pop songs.
And then there it was -- blasting from the speakers. What was this song? No...it couldn't be. It was! Idle Warship covering -- THE STOOGES?! Fueled by a punk rock energy, Kweli unleashed a raw version of the classic, "Search and Destroy," complete with Res banging away on the drummer's crash cymbal.
Immediately following this vulgar display of variety, Res took over with her vocals. She addressed the audience, reaching out and saying, "You know this song. You don't know you know it, but you've heard it before." It was happening. It was actually happening. The band was performing a beautiful rendition of Fleetwood Mac's "Dreams," leaving audience members completely ecstatic and others at a complete loss. What in the hell was happening here? Up next was a rather slow jam, featuring Res on lead vocals. The volume was taken down, and the song was punctuated by rude conversations throughout the club. The track was modeled after the commercial sheen of pop radio princesses like Colbie Caillat and Kelly Clarkson. How do you go from covering Fleetwood Mac and the Stooges to sounding like a Black Eyed Peas love ballad? Maybe it was audience members smoking weed in defiance or their inability to categorize the band, but the crowd's energy and enthusiasm flagged. Even as Idle Warship played Talib Kweli and Hi-Tek's 2001 single, "The Blast," it was clear that much of the audience was there merely for Kweli's quasi-celebrity status.
For an audience expecting what was billed as a hip-hop show, they weren't to blame for being confused with something far from it. Idle Warship's sound is often hard to pin down. Mixing soulful anthems, punk influence, Brooklyn style and polished contemporary pop tunes, the band seems to have an identity crisis. By merging socially conscious rap, funk, neo-soul, & electro, Idle Warship's melting pot of sound can often leaves audiences in a tough spot. Its exceptional talent didn't stop certain audience members from saying that, "they were doing all the right things the wrong way."
Sadly, the band suffered throughout the night with consistent sound issues resulting in microphone feedback, muddied bass, flat drums, and the faint mirage of a guitar. Each song was peppered with slight feedback, and the sound problems were obviously upsetting the band -- at one point resulting in a stop mid-song. Still, Idle Warship did its best to deliver a knockout show.
For the die-hard fans waiting to get a taste of Talib Kweli's old school flavor, the band performed his most well-known hit "Get By." Followed by a left-field cover of Berlin's "The Metro," not even an encore could hold the attention of many concertgoers, as people exited mid-performance. Last night seemed to be proof enough that even a talented band riding on the shoulders of a celebrity is no sure thing. It appeared that whatever appeal Talib Kweli had, whatever the crowd had just witnessed, Idle Warship was not what they signed up for.