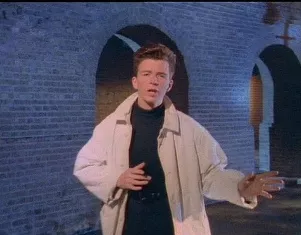 Just when you thought it was safe to listen to Rick Astley in a non-ironic way, the British singer comes rolling back with a downloadable song in Rock Band 3.
Any DJ, cover band or organ grinder can attest to how touchy people can get when a requested song isn't played. The blowback can be even more harsh when the musical entity in question is Harmonix, the creator of the Rock Band video game franchise.
Even though music gaming experienced some discernible low points in recent months, Harmonix has continued to pump out new downloadable content every week since 2007.
By contrast, Activision's Guitar Hero franchise hasn't released new downloadable songs since the series went on hiatus last year and Ubisoft's Rocksmith offers upnew songs on a relatively uneven basis.
Since the Rock Band franchise is effectively the last man standing in the "pretend-to-be-in-a-band" world, it's not that surprising that the Boston-based company gets requests for new tunes. Harmonix created a web site and Facebook application to handle demands of its consumers, but staffers at the company still get inundated with requests.
For example, there's an extremely vocal element of the Rock Band community that desperately wants more songs from Muse in the game. Browbeating for the popular British outfit has become so commonplace and irritating that some hardcore fans -- such as RockBandAide's Tommy Wall -- utilize the band as a synonym for overzealous requesting. When asked about whether more moar Muse was coming to Rock Band in a 2010 interview, Harmonix spokesman extraordinaire John Drake quipped "I hope they fall down a flight of stairs" before noting that he gets asked the question every 30 seconds.
But on Tuesday, Harmonix acceded to the masses' requests by releasing the most asked for song in the last three years. And it's not "Stairway to Heaven," "Knights of Cydonia" or "The Ballad of Gareb Shamus."
The most sought-after song for Rock Band DLC is none other than "Never Gonna Give You Up" by Rick Astley. The British crooner's song was a big hit during the 1980s, but it was given a new lease on life thanks to the science of "Rickrolling." For the uninformed, that's when somebody posts a link that seems to be pertaining to the topic of discussion. Instead, it directs to Astley's video for "Never Gonna Give You Up."
Rickrolling spread like wildfire throughout the late 2000s, culminating with Astley randomly interrupting the Macy's Thanksgiving Parade. The meme died down in recent years, but Aaron Trites -- manager of community development at Harmonix -- said Monday in a livestream that demand for the song has stood the test of time.
"We had a lot of people asking us if we were mental -- we are not, that is not true -- and a lot of people asking if that is actually the number one most requested song," Trites said. "It is!"
This is not the first time "Never Gonna Give You Up" emerged victorious in the realm of requesting. The song was overwhelmingly picked to play during the eighth inning of the New York Mets' 2008 season, which didn't exactly go over well.
As noted by Harmonix Web Editor Christine Jandreau in the livestream, requesting is not a perfect science. The second most requested "song" is simply "Green Day," because one mechanism to submit desired tracks doesn't require specific titles. Harmonix released an entire game filled with Green Day songs, by the way.
Other highly requested songs include "Radiator" by Family Force Five, "Always" by Blink-182, "Always" by Erasure and "Beer" by Reel Big Fish. When sorting by artist, Astley beats megastars like Metallica, Avenged Sevenfold and the aforementioned Muse.
"People argued that it was only number one because of spam, because people spammed the request tool," Trites said in the livestream. "That's no different from '80s hair metal fans spamming the request tool or Muse fans."
"Never Gonna Give You Up" is obviously not the first [or likely the last] "meme" song to be released as Rock Band DLC. "Still Alive" was unleashed in 2008 and is one of the most downloaded tracks in the Rock Band universe. Other meme-y songs that are available for purchase include Parry Gripp's "Spaghetti Cat," Eric Cartman's rendition of Lady Gaga's "Poker Face," and Antoine Dodson & The Gregory Brothers' "Bed Intruder Song."