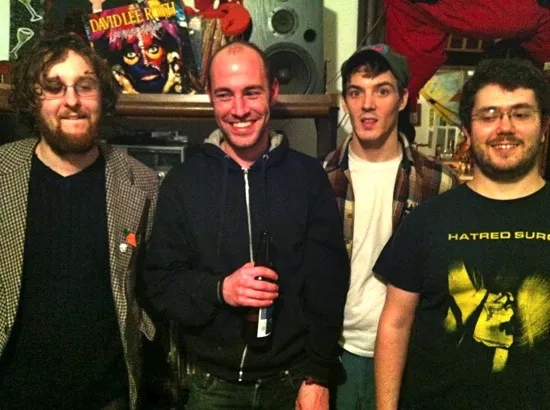 Courtesy of Catholic Guilt
Since 2007, Catholic Guilt's brazen brand of sonic warfare has become a staple in the experimental/noise rock community in St. Louis. Having won the title of the RFT's Best Noise Band of 2011, the band's raw gutter sound continues to emanate from venues all across the South Side area. Comprising the core group of Sean Burk (of Escalade), Joe Stein, and Nick Zengerling (of Maximum Effort and Bug Chaser), the band's constantly evolving take on feedback-laced dirge rock leaves audience with a different set each time.
This weekend sees the result of years of the band's hard work, in the release of their long-awaited debut LP, Beyond Pleasuredome. A rigorous exercise in audial decimation, the record explores the varietal atmospheres of Catholic Guilt's repertoire. With the addition of Shaved Women's Ben Salyers on drums, the current line-up is at its most effective and volatile state.
We caught up with the boys in Catholic Guilt at Sean Burk's Aquarian Magick Happening to talk about its debut LP, songwriting vs. improvisation and the many different trials of the band. Catch them on Saturday evening for their record release with Magic City and Shaved Women at El Lenador (3124 Cherokee Street)
Josh Levi: What are you guys listening to?
Nick Zengerling: I found this really cool record by this African dude, Francis Bebey. It's really cool. It's like thumb harp kind of stuff with almost dance techno beats behind it. And Throbbing Gristle. I've been getting into synth music more and appreciating it.
Sean Burk: I've been listening to a lot of gangster rap and house music. I listened to this really good album by this dude, Paris. A gangster rap album from '91, '92. It's real awesome. He talks about assassinating George Bush and shit. Bush Senior or whatever. It's real foul political hip-hop...some abrasive shit.
Joe Stein: A lot of Pere Ubu.
Who started Catholic Guilt?
Sean Burk: Technically it was me and Joe. Joe showed up, and I hadn't seen Joe since high school. And I was like "Let's Hang out!" and I was like "Let's do a band" or whatever. And I remember Joe said something to the effect that [he] didn't know how to play an instrument and me being like "That's fine." Then Zeng got involved...
Joe Stein: It wasn't whether I wanted to play, or do I know how to play, but if I had instruments. I played piano when I was kid and played trumpet a little bit.
When was that? I remember getting a flyer for an early show with you and Eric Hall at Shangri-La Diner.
Sean Burk: Beginning of 2007 or something.
Nick Zengerling: Where was the first place you guys played?
Joe Stein: Next to the river -- Artica. That was probably our second show that was at Shangri-La.
Nick Zengerling: You guys did 'Discipline' -- They covered Throbbing Gristle...kinda. Weren't your parents there?
Sean Burk: No. That was a different Shangri-La show and I remember I got up from that show. I was finished and I was like "God damn I need a fucking cigarette!!" or some shit like that and I turn around and my mom's hanging out wearing her Christmas sweater and shit and I'm just like "God, fuck!" Fucking bummer.
How did you bring Zeng into the band?
Sean Burk: It's an open door policy with the band for the most part.
I've seen Catholic Guilt incorporate the likes of Doom Town's Ashley Hohman and Joe's brother, Pete Stein.
Sean Burk: Yeah, but Zeng would come every time we played. It's all really Zeng just being like "I'm in this band now!"
How did you bring Shaved Women's Ben Salyers in to play drums?
Sean Burk: I knew Ben from Webster [University]. We had classes together and he had been to Bonerville a bunch. And I think I asked him.
Both live and on record, the band's sound tends to apply both improvisation and songwriting. On the new LP, are these songs that you wrote or are they jams too?
Nick Zengerling: It was like our soundcheck.
Sean Burk: Yeah. The one that sounds probably least like the soundcheck is the soundcheck. Oh yeah, that's right. You (Joe) recorded your bass part for that one.
You overdubbed it?
Joe Stein: Yeah. Which is weird. It took me a minute or two to get the feel for the whole jam.
Did you think it was an okay approach to recording? It must be weird, especially with a jam session.
Joe Stein: Yeah, no, it was fine. Just different.
Nick Zengerling: It's just the difference between playing live and recording. We've been recording tapes for a while now. We have tons of tapes. A lot of playing in the basement and playing live all over
Sean Burk: I mean it sucks. A lot of the early stuff has been lost. So it only exists in memory because I remember some serious mental shit in the beginning like, "What the fuck is this??" We didn't know what the fuck we were doing.
Nick Zengerling:We did some exercises too. That was interesting. I think I learned a lot from doing things like that. To look at music from a different approach. Very meditative. And that's why I always liked being in the band. It's like an outlet for all these things and you just play music and get lost.
Adam Hoskins (of Pokey LaFarge and the South City Three) and Pete Stein enter the room...
How did you come up with the name?
Joe Stein: Sean wanted to call us Lung Dust and I thought of Catholic Guilt - I can't remember how, but I was just like whatever. And we decided to wrestle for it, but beforehand made recordings of us throwing bottles at each other, and then Sean set off a fire extinguisher at this party, and then we wrestled. Then I went upstairs to nurse my knee...Adam you made a sandwich!
I saw a show at Mangia once where you (Adam) ate a sandwich and Griffin Richard projected porn!
Nick Zengerling: Yes! That one! We didn't get in trouble until the gay porn came on and the guy got mad. Bullshit! Yeah! The whole time, he (Griffin) was playing four pornos at once, and it all came to an end and all four screens started ejaculating. It was all ejaculation scenes and the show was ending and Adam was ending his lovely sandwich. That was the thing. The whole sandwich eating is enticing. I mean have you ever watched someone eat a sandwich who really enjoyed it and you don't have a sandwich?
How did Pete start playing in Catholic Guilt? Pete, were you there from the beginning right?
Joe Stein: No, not even for the first show. It was like January or February of '07 that we started practicing. Sean would play guitar and I would fart on some drums. We made some recordings.
Sean Burk: Dude, our first practice I remember we did a version of "It's A Rainy Day Sunshine Girl" by Faust. That tape is somewhere. And then we had some song about how Cricket O'Neill (formerly of KDHX's Etiquette of Violence) is a big fucking asshole. Remember we had that song about how I called her up one time when I had gotten off of work and I had worked a double at Blockbuster or some shit like that. And I was all cheesed after doing that much customer service and I got in the car and normally she played horsecrap on her own fucking show, and it was some Sparks song. I don't even remember what it was. Maybe because I blocked it out through anger, but I called and I was like "Oh thanks so much, I just got done with this double! That's so awesome that I heard this song! I love this band! Thanks for playing this song!" and she was like "Yeah, whatever" - and that's on the first practice tape.
Pete Stein: What was our first show though?
Sean Burk: It was at Artica. Everybody said your part with the slinky was the best.
Pete Stein: Because I remember playing the slinky at Shangri-La. Just contact mic-ing it and then bowing it.
How do you approach sets? Do you prefer improv or...?
Sean Burk: Usually we'll come up with a plan of attack, jam out on it, and then do something completely different.
Nick Zengerling: But it used to be more - Sean would have some crazy idea like "We have this castle, right, man. And we've gotta like... defend this castle."
Pete Stein: And there was the "Pooping Pants" set where the main objective was to try and make an audience member poop their pants.
Sean Burk: Oh yeah. That shit was evil. And then the cops came. That was at Bonerville. That Halloween set. That was probably one of the most sinister sets that I think we've ever done.
Pete Stein: The Jellybean show at CBGBs was my personal favorites. There was a bear cakepan that we contact mic'd and just set it in front of the stage at the beginning of the show and I think you (Joe) just dumped a bag of fucking jellybeans.
Nick Zengerling: You had to play a pinball game, right?
Pete Stein: Oh Yeah! We all switched off playing the pinball. We all had a four-player pinball game and we were just like "Let's all just play a game of pinball while we're playing our set. You're first player, You're second player..." and we just put in quarters and just rotated it and probably dropped our instruments, played a game, and got back in.
In terms of instrumentation on the record, what did you use?
Sean Burk: It was two guitars, live bass. Overdubbed Joe's bass. Overdubbed organ and harmonica. Then we took that and I spent a while taking that and running it through stuff. I listen to Mainliner a lot. I think a lot of that has to do with my fandom for that Japanese pysch-rock and that distorted sound.
Nick Zengerling: We overdubbed vocals. We recorded with Jason Hutto in two days. We did a few overdubs. I did a sound collage and we went over to Sean's and I brought mics over. There's two songs that are spliced together.
Your sound often recalls the influence of everyone from Throbbing Gristle to Sun City Girls. Is there any particular direction with this record? Is this record any different?
Joe Stein: Parts are.
Nick Zengerling: We're always writing songs. We have songs written. It's just a matter if the song sticks. And with that record we had enough songs that stuck. The one sound collage track is like two shows spliced together. We've always written songs. We write them and record them, but we don't play them. We just don't.
And you guys prefer it that way?
Everyone: Eh...No.
Joe Stein: It works when you want it to.
Sean Burk: Exactly. This is the first band that me and Joe have been in since high school. This is me and Joe's first fucking band really so we're still learning how to do this shit.
Nick Zengerling: I think there is potential to be a songwriting band. We're always working on shit, ideas, and we can push those further if we want, but it's about changing...right now we're in this rock band mode which we've been in for a while now. A lot of the time we jam every now and then. We'll play shows where we all play synthesizers and switch it up.
Sean Burk: I like the spontaneity of it. It makes you think differently when you're not as comfortable with an instrument. I like being comfortable playing guitar and comfortable with keys, but I don't like being comfortable in a mindset of playing a certain way. And that's what we're trying to deactivate now.
Nick Zengerling: It's like the idea of playing a set, and instead of just doing this one jam in this one instrumentation, break it up, so it's not really necessarily songs. We can always just jam out and get psyched out and it becomes this mental thing and just like lose all thought. It's awesome. That's why it's so fun to do this shit. You should just find one note and play it and close your eyes. Now we just jam at practice...
Joe Stein: Sometimes you gotta be like, "Alright, that's cool." And just stop.
You recorded, pressed, and are releasing your album without a Kickstarter. How did you do it?
Sean Burk: That's a good journalistic question. No, we all just had money saved up.
Do you have any opinion on bands who use Kickstarter to put out records?
Sean Burk: If it works for you, awesome!
Joe Stein: I also figure if you do everything yourself it would be the cheapest and we could split it three ways.
You've mentioned that you assembled almost part of this record. Did you guys silkscreen the cover?
Nick Zengerling: We've been painting all of them. All of the covers. And we paint them with moonshine infused paint.
So you could say they're all custom made?
Joe Stein: Moonshine paint on the record! Buy it! Don't smoke it!
Lastly, I'll say a phrase and you respond: Death to false ______?
Nick Zengerling: Death to false sandwiches. Why? Because why would you make shitty false sandwiches?
Joe Stein: Death to false spacerocks. Why? Accurate science is good science!
Sean Burk: Death to people being jerks. Don't be a jerk.