Kiernan Maletsky
Beth Bombara plays at Schnucks.
The check out at the Schnucks in Richmond Heights is a gridlock six carts deep and ten lanes wide. The soundtrack is a chorus of bar-code beeps. But if you walk away from the registers, toward the expansive produce section, the mood shifts. The lights are softer, the ceiling higher and what you hear is a woman patiently singing Neil Young through a small P.A.
Beth Bombara is on her second Schnucks gig. She's one of the musicians you can find on weekends at the locations in Richmond Heights, Des Peres just off of Manchester Road and the grocery chain's Culinaria Market downtown. Today, Super Bowl Sunday, Bombara's playing from 11 a.m. to 3 p.m., nestled in between a soft-drink refrigerator and a display stand for Kaldi's Coffee. "It's a really good place to play a new song to see if it attracts anyone's attention," she says. "During a certain song I was playing, I noticed a girl shaking her hips while she was picking out produce."
The grocery store offers strange challenges for a musician. There is no captive audience -- in fact, most people are hoping to leave as soon as possible. In that sense it resembles busking, but in that case, an artist plays for tips and is therefore trying to stand out. Bombara isn't even trying to sell merch, much less collect change. She's being paid by Schnucks, and what they want is ambiance.
A four-hour show is an endurance test. Three hours in, Bombara is shaking her hands, trying to momentarily relieve calluses. She plays a mix of originals and covers -- the hip-shaking shopper was responding to one of the new songs she'd written. During her first set at Schnucks, a stock clerk approached her after a rendition of the Beatles' "Across the Universe." Bombara recalls the interaction.
"I have to tell you something," he said. "I've been having a really bad day and you played that song, and it made me feel better. Thank you." There was a pause and he walked away. When you lie in bed as a kid imagining a life of rock stardom, playing for the smiles of strangers pushing carts past your guitar is not what you imagine. "I don't want to be playing these kinds of gigs all the time," says Bombara. But she's grateful for this one. "You get a fair amount of money, and you can put that toward something else. Putting out a record or funding a tour.
"I would much rather be playing this gig right now than nannying, which is my day job. I get to play guitar and sing. It's what I love to do."
Outside in the crowded parking lot, a white SUV rolls through a stop sign. A man walking with his groceries smacks the back of the car as it passes. "That's a stop sign, asshole!"
The SUV tilts as its driver slams the breaks and steps out into the parking lot. "I did stop, you fuckin'..." he trails off, gets back in and peels away toward the exit.
Inside, a little girl holding her mother's hand stops as she passes Bombara. The mother stops too and they linger. Bombara finishes the song and they both start clapping politely. Nearly everyone else within earshot remains focused on the groceries.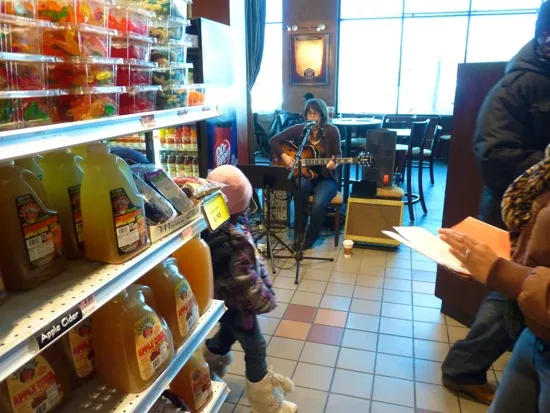 Artists interested in performing at Schnucks should contact the communications office at 314-994-4620.