Homer Simpson proudly displays his Grammy Award for Outstanding Soul, Spoken Word or Barbershop Album.
Adele could soon become a Grammy paper champion. Oh sure. 21 is a worthy entrant for the coveted Grammy for Album of the Year. "Rolling in the Deep," after all, topped the 2011 Pazz and Jop Poll by a pretty substantial margin. And in an era where physical releases don't sell particularly well, 21 is a remarkable outlier. The album -- which has spent an astounding nineteen non-consecutive weeks atop the Billboard 200 chart -- sold at least 17 million copies across the globe.
Those are impressive attributes for any contender for the Grammy's biggest award. And there's little question that Adele deserves praise if she ends up winning big during Sunday's award show. But there's just one problem: For some reason, the hoosiers who control the Grammys forgot to include Kanye West's My Beautiful Dark Twisted Fantasy in the Album of the Year category. Instead, Adele's masterwork got grouped in with Rihanna's Loud, Foo Fighters' Wasting Light, Bruno Mars' Doo-Woops & Hooligans and Lady Gaga's Born This Way.
Obviously West is a controversial figure. With his propensity for dumb statements and interrupting subpar video-makers, the Chicago MC doesn't get or deserve a whole lot of sympathy. But when it comes to judging the subjective beast that is popular music, it is difficult to make an argument that My Beautiful Dark Twisted Fantasy was less deserving of an Album of the Year nomination than Loud, Doo-Woops & Hooligans or Born This Way. It was one of the better reviewed albums in recent memory, making it a better rival to 21's inevitable dominance.
(For those who are wondering -- My Beautiful Dark Twisted Fantasy missed the cutoff for last year's awards, which is why it is eligible this year despite a 2010 release date.)
That's not to say that 21 wouldn't have beaten My Beautiful Dark Twisted Fantasy anyway. But the public will never know since Adele is going up against such subpar competition. And while others have written extensively about the stupidity of this particular decision, nobody should be surprised. This is an award show that's made a number of horrendous choices over the last few decades, most notably:
1977: Starland Vocal Band beats back Boston
"Afternoon Delight" hasn't really stood the test of time. But the Starland Vocal Band managed to beat out rock giants Boston for the Best New Artist Grammy in 1977.
Boston turned out to be one of the biggest bands of the 1970s and is still a mainstay on classic-rock radio stations across the nation. As for the Starland Vocal Band, its music is best known for being used in PCU, Arrested Development and Anchorman.
1989: Jethro Tull captures 'metal' honor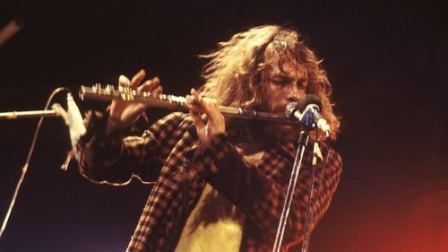 Speaking of Ron Burgundy, Jethro Tull played a very tiny role in a scene showcasing the San Diego legend's jazz flute dominance. But the band played a bigger part in one of the bigger Grammy goofs.
Make no mistake -- Jethro Tull is a great band. But can any outfit with a flute player be considered metal? Probably not. And that's an even tougher argument when Metallica's ... And Justice for All and Jane's Addiction's Nothing's Shocking are in the running. While both albums are considered seminal releases, neither could withstand the force that was Jethro Tull's Crest of a Knave, which managed to capture the Grammy Award for Best Hard Rock/Metal Performance Vocal or Instrumental. It was a surprise even at the time, as members of Jethro Tull didn't even attend the ceremony.
When Metallica finally won a Grammy in 1992 for its self-titled record commonly known as the Black Album, drummer Lars Ulrich thanked Jethro Tull, "for not putting out an album this year." 1990: Milli Vanilli wins Best New Artist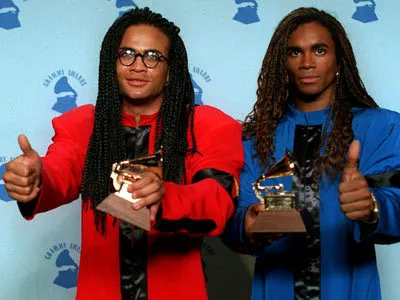 One of the more egregious Grammy disasters occurred when Milli Vanilli somehow won a Grammy for Best New Artist. Not only was it the beginning of the end for the fraudulent duo, but it stole the spotlight from more deserving nominees. Neneh Cherry released one of the greatest songs of the 1980s, while the Indigo Girls wound up with a lot more staying power.
On a side note: Count this writer as someone who wasn't terribly surprised or offended by Rob & Fab's lip-syncing exploits. Producer Frank Farian -- the mastermind behind the Milli Vanilli hoax -- pulled basically the same stunt with disco legends Boney M. The late Bobby Ferrell -- the male "singer" for Boney M -- contributed almost no vocals for the Dutch group's records. But try to make an argument that he isn't awesome after watching this video.
2001: Steely Dan-Gate
The Grammys' darkest day may have come on February 21, 2001. That's when Steely Dan's Two Against Nature won the Album of the Year Award over Radiohead's Kid A and Eminem's The Marshall Mathers LP. It also beat Beck's Midnite Vultures, which is not exactly a shabby album.
While certainly polarizing, Kid A is widely considered to be one of the most significant and critically acclaimed releases of the 2000s. And The Marshall Mathers LP propelled Eminem to super-stardom and represented a sea change about what is considered acceptable in popular music. Yet somehow, those two groundbreaking records couldn't beat an aging Steely Dan.
Dr. Dre -- who produced The Marshall Mathers LP -- didn't exactly take the snub very well. He told Access Hollywood back in 2001 that Slim Shady and company "were robbed." He went on to say that the decision "was probably something the Grammys had to do because of the backlash that they were going to get from giving him the award."
As is the case with many Grammy decisions, Steely Dan's win didn't have much of an impact on either of its biggest competitors, both of whom routinely sell out arenas.
Which goes to show that the dog and pony show of the Grammys doesn't hold much weight in the real world of music fans. People obviously enjoy music that isn't showered with awards. And just because something wins them doesn't make it good. Ahem: