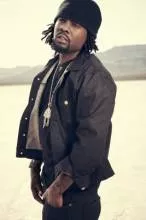 Wale, Gandmaster of the sports reference.
Wale is Grandmaster of the sports reference. No musical artist brings as much wit, depth and knowledge to the craft. For instance, in the recently released ode to the former St. Louis baseball hero, "Albert Pujols," Wale slangs this gem:
"John Rocker, Atlanta Bravest knows that I'm awesome/ Better be like Fenway out in Boston, my green is a monster/ We don't speak to informants, they just look for a way out/ They just hating on the game, they just way too Canseco."
Of course, it's completely reasonable for a St. Louis hip-hop head to boycott this song, on the same grounds Alex Rodriguez probably avoids Super Bowl halftime shows starring Madonna. Too many memories, too much pain.
Not to worry. Wale, who played running back at Robert Morris University and Virginia State University, has produced plenty more fantastic sports references for the world to appreciate. He doesn't just drop names and lazy metaphors-- none of that "I'm the greatest like Jordan" shit. He weaves the references tightly around his lyrical narrative. Sometimes he builds an entire song around a sports reference. Sometimes he peppers them so subtly as to be nearly imperceptible.
To illustrate the depth of Wale's sack of sports references, here are names from lyrics that didn't make the cut: Tommy LaSorda, Michael Phelps, Usain Bolt, A-Rod, Jeff Gordon, Sean Taylor, Michael Strahan, Tony Romo, Joe Louis, David Carr, Ben Roethlisberger, Mars Blackmon, "Hacksaw" Jim Duggan, Eric Mangini, Randy Moss, Adam "Pac Man" Jones, JaMarcus Russell, Troy Aikman, Bo Jackson, Dikimbe Mutumbo, Willie Beamon, Sacramento Kings, Marvin Harrison, Reggie Wayne, Tony Dungy, and so on.
Here's the list of his 25 best, along with some honorable mentions:
Honorable Mentions
"Scramble like Randall if John Randle was tryna get him/ Deion Sanders, you bullshittin', I'm pick sixin'."
("Pick Six," Eleven One Eleven)
"Dark liquor 'til we're busted/ 'Til I get a buzz like that nigga Chris Mullen."
("Chillin'," Attention Deficit)
"Without effort, this is something you ain't fooling with/ Young Ben Gordon, I play through all the bull shit."
("Night Life," Back to the Feature)
"What' you sippin' on? It's no problem/ Black and gold bottles like I'm pro-New Orleans/ But shawty I'm far from a Saint."
("Pretty Girls," Attention Deficit)
"And she swallows everything like Kirby, not Puckett/ but I hit it then I duck a bitch."
(Triumph, Attention Deficit)
"I look like a Don to you, a darker hue/ I'm sharp as few, I'm Shaq to you Udonis fools."
("The BMore Club Slam," The Mixtape About Nothing)
"I'm Air Jordan, you Ron Harper just fittin' in/ Bullshittin', that nigga did his shit for the Clippers."
("Pick Six," Eleven One Eleven)
"Standard stances, staying on the track like Gatlin/ Prior to that mad quick fast too."
(The Freestyle, The Mixtape About Nothing)
"Women be here, they be jockin'/ And they be hawkin', I call them hoes Josh Smith."
("Pot of Gold," Back to the Feature)
"I'm at Dulles with luggage, flying straight to the money/ You don't understand my slang, my colloquial's lovely/ So they quote me and love me like I'm a poet or something/ Ho, I kick it, I punt it like Reggie Roby or something."
("4 AM")
"You niggas mad 'cause you not me/ I remain a Giant, you are Jeremy Shockey."
("Chillin'," Attention Deficit)
"I'ma let the chips fall/ Niggas is Kemba Walker, tryna see me pitfall."
("Double M Genius," Ambition)
"Fresh out the airport, fresh out the chair, with the clippers/ Like Shaun Living, thinking/ Hm, I'm tryna get it like Shawn get it."
("Beautiful Bliss," Attention Deficit)
"And a nigga really don't need no slut/ Unless I need a b.j. like Bogut."
("O Let's Do It Freestyle")
"The revolution has arrived/ Luchador like I been masked but still remain fly/ Thus, flyer than a wreslter, you don't wanna mess with young Rey Mysterio."
(The Cliche- Remix, The Mixtape About Nothing)
"Wale you so arrogant/ Rozay told me, 'break a leg,' and wonder why I Kerrigan."
("F ck You," Eleven One Eleven)
"I can change a broad's life in about an hour/ I turn Ducks into Bucks, Luke Ridnour."
("The Black N Gold," More About Nothing)
"When Bret Hart meet Brett Favre/ A sharp shooter well exceeding any figure four/ You see my figure's more or less six or more." ("Beautiful Bliss," Attention Deficit)
"I kick it, I kick it like Olindo/ I wear my Nike boots and Gucci, I don't wear no Timbo."
("TV In The Radio," Attention Deficit)
"Still high two-steppin' it/ Do it for the capital Wale Overchkin/ SB, Hundreds, yes dear, I'm on that venison/ More or less Lindros, Flyer than the rest of 'em."
("The Heavy Song," The Mixtape About Nothing)
Top 25
25) "I never back-up, like Cleo Lemon, on myself/ Lemonade connoisseur, life's lemon coming out."
("The Artistic Integrity," The Mixtape About Nothing)
24) "Don't know what y'all tribe called, but I be spittin' Phife, Ali Shaheed Muhammad, Q-Tip I'm tryna follow/ I be so Ivan Drago, this beat gon' be Apollo." ("Pick Six," Eleven One Eleven)
23) "Smart nigga, brain power, this is work, yo/ I forever Pernell a nigga with my Whitaker."
("The Freestyle," The Mixtape About Nothing)
22) "So while the world goes Drake crazy/ I'm Danny Granger, I'm just working with a different pacer/ Speed up, patience, pleased 'cause/ Slow and steady wins this race, fuck leading."
(New Soul, Back to the Feature)
21) "Haters I ain't seein' them, don't even believe in them/ They are Skip Bayless, I'm the forward from Cleveland."
("Night Life," Back to the Feature)
20) "So if they're better than the kid/ I guess I'm Leftwich 'cause I still get to win, dig?/ And what you heard is thundering/ No Vince Young I did superb on the Wonderlic."
("New Soul," Back to the Feature)
19) "I go in when I start putting words out/ Words sharp like a Jerry Rice curl route."
("Two A Days Make You Stronger")
18) "Hi haters, try later/ I do the Heisman on you like I'm Gator/ Tim Tebow, slim ego/ Built for the game, creatine flow.
("Nothing to Worry About," Back to the Feature)
17) "They're holdin' out on pussy while you're tryna make a move/ They make you kneel before you score, Maurice Jones-Drew."
("Say Something Freestyle")
16) "It's not about the paper, it's not about the fame/ And I don't know no Triple H but this is all about the game/ Competition I ain't winning but admit it I'm still in it though/ Shoulda been an All-Star, I'm Crawford for Interscope/ Em starting, Fifty starting, Gaga, Game starting/ will.i.am and the Peas, the sixth man I am y'all."
("The Soup," More About Nothing)
15) "Was it me? Did I not love enough?/ I'm sure you're not about to tell me you ain't come enough/ I wouldn't fuck another girl out of the club/ I was Rodney Stuckey, wasn't giving my number up."
("Goodbye," Back to the Feature)
14) "I ain't ya regular rapper who just be talkin' shit/ Listen to it a little closer hear the Gospel in it/ How I maneuver through the studio is Hallelujah/ You dudes peaked too early like Biakabutuka." ("Wonder Why," Back to the Feature)
13) "Vic Page never made it, Len Bias never made it/ See God gave us the talent, but the devil make us famous/ My effort it contagious, so check this B-O-A shit/ With this recording I'm as sick as Jordan before game 6/ Jazz song and I bet I pick and roll with your bitch/ You got some paper for me? Hit me on the Hornacek."
("Barry Sanders," Eleven One Eleven)
12) "Limitation's for cowards, this is Che mixed with Malcolm/ This is anti-Mark McGwire, it takes patience for power."
("Legendary," Ambition)
11) "You stood me up and I understand/ But on the other hand, I don't understand why you got other plans/ Is it another man? Just let me know now/ Scoring gets you rings, why you try and rebound?"
("Warwick Avenue," Back to the Feature)
10) "Now I'm losing everything as they begin to lynch on me/ Turning on ESPN, you see they got it in for me, and they won't stop until they got my legacy in infamy/ Infamy, can't deal with it. She gon' get the mills for this/ Don't root for me, they boo for me, and cheer for Philip Mickelson/ Vijay Singh and all of them, they will stop acknowledging/ Have they all forgotten who done made this golf shit hot again?"
("The Eye of the Tiger," More About Nothing)
9) "Ricky Moore Flight Posits, Mike Bibby blue Foams/ Interscope feelin' like Charlotte when they traded Kobe, you know?/ But I let it go, Rozay finna re-up/ He got himself a Kobe and they stuck with Vlade Divac."
("Barry Sanders," Eleven One Eleven)
8) "Fuck the camaraderie, with B-grade artists/ I'm ballin', you niggas is Arliss so watch this/ Always knew where the pot was/ With no receivers, had to pick another option/ Tommy Frazier on the muthafuckin one and twos/ Or Michael Vick, if y'all bark, nigga, y'all through."
("Triumph," Attention Deficit)
7) "I'm talking Reggie Bush, matter of fact ask Cameron Newton/ Matter of fact go ask their schools how many jerseys they was moving/ Thank you for their tuition, thank you for room and board/ Most of them niggas got no pot to piss in, doing four/ Niggas thinking of moving, A.J. flippin' computers/ Brandon Davies had relations, what if Jimmer was screwing?"
("Varsity Blues," Eleven One Eleven)
6) "I could run the option best in my conference/ Look at my accomplishments, I'm all county/ You double-A niggas should be lucky y'all signed me, lucky y'all found me/ Lucky y'all stole me, I could be with Bowden, I could be with Friedgen/ Two-a-day curfews, where's my freedom?/ School ain't even start yet, there ain't no freaks here/ I might as well prepare, season opening's finna be here/ When the depth chart came, was no me there/ I mean me is there, but it's like three there/ Which made me have to wait like leap year/ 'Cause I ain't really lift weights, I ain't need them, I run a 4.4 so they can't catch me there."
("Two A Days Make You Stronger")
5) "Standing O-V, bet these bitches follow me/ And I just give 'em D, I give 'em D, like they is out the league/ Hasheem Thabeet and various other peoples/ The pressures of greatness always comes with critiquing/ New as the sneakers, you consume in the bleachers/ Blew in some reefer, in my zone like the two-three defense/ Double-M-G up, we up, y'all just relax/ See, uh, all my females show bust, Curtis Enis/ Nittany Lion, my pen state it, niggas recite it/ I'm Michael Jordan major, you niggas Harold Miner/ Pussy all on me, we too young for romancin'/ My niggas never block, I think I'm Barry Sanders."
("Barry Sanders," Eleven One Eleven)
4) "Nigga, I'm a hundred miles far/ I'm feeling Chris Childs, you lookin' like Kobe Bryant's jaw."
("Mama Told Me," Attention Deficit)
3) "Thuggin' hard, listen, mean muggin'/ When niggas don't see their seed 'til they see their judges/ Dark side of town, baby mama blues/ When drama ensues, niggas Ndamukong Suh/ Old lyin' ass defensive ass boys/ Why you knock that bitch up if you can't tend to that boy?"
("4 AM")
2) "Who woulda thought that the little running back with the Dickerson mask would be getting in the ass of opponents/ Witness what I'm showing, and I don't need no center or guard to get 'em open/ I used to run powers and draws/ now I'm checking with the strippers the power of them drawers/ And I don't run counters no more/ but I take a fly route to an opposite shore."
("The Power," More About Nothing)
1) "Thank God for what I did with blocking against a shaky defense/ They don't think you're a nigga long as you fill up their bleachers/ Yeah they always defend you, look how they say your name/ But if you rupture a tendon, I bet them feelings change." ("Varsity Blues," Eleven One Eleven)
-----
For more on St. Louis politics, boxing, hip-hop and miscellaneous social issues, follow @albertsamaha on Twitter.