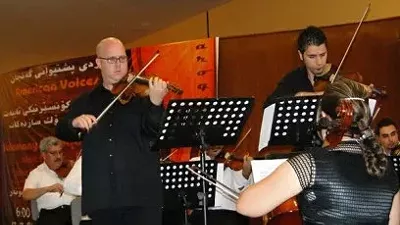 American Voices
Marc Thayer, American Voices' director of education, plays at YES Academy in Iraq. The group has a presence in St. Louis.
Diplomacy between nations doesn't always involve dignitaries or high-level negotiations. A group with a presence in St. Louis engages in "cultural diplomacy," which involves exchanging musical expertise between Americans and countries often hit hard by conflict. Since it became incorporated as a nonprofit in 1993, American Voices has been operating summer youth performing arts academies, workshops and concerts in dozens of countries around the world.
According to the group's web site, the American Voices has "performed concerts, workshops and master classes as well as interactive performance projects to over 200,000 audience members in 110 countries on five continents and reached tens of millions more through live television and radio broadcasts across the globe."
And the group took over the U.S. State Department's American Music Abroad program, which will send at least ten American music artists from a wide range of genres to roughly 40 countries. The group also donates music scores, method books and instruments to countries such as Lebanon, Iraq, Afghanistan and Jordan.
RFT Music recently sat down American Voices' Director of Education Marc Thayer and Director of Communications Paul Rockower at a coffee shop on South Grand to discuss the group's programs in St. Louis and around the world. Thayer -- who spent nine years working at the St. Louis Symphony before joining American Voices full time -- also shared some surprising international perceptions of popular music in the United States.
When did your organization set up shop in St. Louis in the form of a permanent office?
Thayer: I left the symphony in May to become full-time, so I work full-time with American Voices. And toward the end of August, we started a new project with the State Department's cultural touring department called American Music Abroad. And that allowed us to expand our staff. For the first time, we have staff in the U.S. We haven't before that. It's always been in Bangkok or Europe somewhere. And all of our work has been outside of this country before now. We're trying to have more of a presence here and more activity here. And we're bringing students here from the Middle East to study music and we have expanded the board so that a majority of board members are here in St. Louis. We're looking for new donors, new support, and looking for ways to grow and expand and become permanent here.
What sort of programs have you started for St. Louis and what programs are you planning for the future?
Thayer: After my first summer teaching in Iraq, I came back and talked with St. Louis University where I taught previously. I taught violin, viola and conducted their string orchestra. And they developed a scholarship program for students to come from Iraq and now we have some from Lebanon. We're in our fourth year. Students come as ESL students full-time. They're also on scholarship with the St. Louis Symphony Youth Orchestra and play in that orchestra while they're here. It's a partnership, a joint-scholarship program. And now one of those students is going to [the University of Missouri-St. Louis], he's stayed after the one-year program with SLU. One is also going to [Southern Illinois University-Edwardsville] and studying ... pedagogy violin teaching. [And he] will go back to Iraq and start a program for very young children.
And this past year, we have started a program bringing musicians from other countries here for short-term residences. We had two musicians here in December from Morocco who were here to study more about American bluegrass and folk music and jazz and improv. They did some performing while they were here, played in some elementary schools while they were here, did a couple of public performances and did some classes with various musicians here in town. We're hoping to have four musicians from Kurdistan in northern Iraq here this spring, possibly a Kurdish string orchestra next fall. And we hope that the student scholarship program will expand, so we have more and more students come short-term to study, to do teacher training and to go back and develop schools. We've been teaching all over the Middle East and we'd like to have more students come from different places.
This seems like a busy endeavor. From reading your website, it looks like you've been in like 110 countries.
Thayer: At different times.
Rockower: It was founded in 1993 with more a focus on Central and Eastern Europe -- countries that were emerging from the Soviet Union and from behind the Iron Curtain. Since then, we've expanded our mission to work more with countries emerging from conflict or isolation.
We're going to have what we call a YES Academy -- a Youth Excellence on Stage. We're going to have one based in Thailand that will have students from Thailand, Nepal, Cambodia, Burma possibly, Vietnam, Pakistan. They'll be studying traditional American performing arts and American musical genres - hip-hop, jazz, classical music, Broadway performing arts. In fact, our executive director lives in Bangkok. He managed to find a girls school that was doing Wicked in northern Thailand. We found these little Thai divas working on this little Broadway performing arts academy out in the middle of Thailand.
Thayer: [A YES Academy] depends on what's already happening in that country and what the embassy wants to do. It's adaptable. In each country it may be a little bit different. Our model that we'd like to present everywhere is combination of instrumental music, voice, piano, jazz, dance, Broadway-type music and dance, hip-hop and children's theater. And when can present all of that at one time, we have approximately 300 or 400 students. And we'll finish a two-week session with two or three big gala concerts featuring all of them. But at the same time, we're doing teacher training, we're donating a lot of printed materials -- music, books, things that people need there wherever we are. Some of the programs that bring international musicians to St. Louis seem mutually beneficial. People in St. Louis get to experience great music, while the performers get to take back acquired expertise to their home countries.
Thayer: This idea of cultural diplomacy, it isn't just us going to another country. Right here in St. Louis in this neighborhood, you've probably got people from 50 different countries. There are a lot of new immigrants ... coming every week and trying to interact and work with them.
And you know, people in this part of the world often don't meet anyone from the Middle East or they don't meet anyone from Cambodia or Thailand or Gaza. They've got to get to know people. It's the only way we're going to understand a little bit about each other. It's not what you see in the news. Everywhere we go it's really revealing and eye-opening. Especially when people have maybe difficult living situations or not enough of what we would consider daily needs. But they still work very hard to have a music school, an orchestra, a dance company - that's still very important to them. Often more important than other places. It's nice to see.
Tell us a little bit about American Music Abroad.
Rockower: That had been the Jazz Ambassadors program. It was the program that Louie Armstrong, Duke Ellington, Dave Brubeck were all part of back in the 50s and 60s. It's a real famous cultural diplomacy program by the State Department.
More recently, the Jazz at Lincoln Center was administering it under a title called "The Rhythm Road." Now we're proud to be administering the program. ... We're sending 10 musical ensembles from any type of American musical genre - so it could be bluegrass, blues hip-hop, Cajun, Zydeco, you name it. We send groups on a four to six country tour. And they perform, they do workshops with local students, they do jam sessions with local musicians. It's really about the give-and-take of cultural diplomacy. So we're in the midst of recruiting program. We just finished the application process and we had a tremendous, tremendous number of applicants for the program - nearly 300."
Thayer: For each band, part of the audition process is not only quality of their performance for whatever style music that it is in. But they also have to do some educational work. How would they present and talk about their music ... with a group of high school kids or middle school students? Part of what they're talking about is are they people we want representing the U.S. and really serve as musical ambassadors wherever they go. So each band consists of three to five people and each one will go to a different region of the world.
The embassy in each country determines what they do and we help to coordinate it.
Rockower: It's meant to be a two-way cultural exchange. They're going as musical ambassadors on behalf of the U.S., but they're also gaining from the culture and the places they go. Then they come back and they've been shaped by the programs that they've been on. It affects their music. I saw a concert from a group that had returned from last year's program. And they came back and they've been to India and Bangladesh. And they were a jazz group, but they were kind of influenced by the Bengal music and northern India music. So it affected their own music.
How are you hoping St. Louis benefits by your organizations?
Thayer: I think it's the type of city that really embraces this type of international interaction and loves having people here, loves hosting people here. It's good for the city - it's brought in a $1.5 million grant for this organization, which is based here now. The donors and the new board members who have gotten involved are very excited about this kind of work, because it's good for us locally and it also connects St. Louis with Washington, with the other cities where these bands are from and with the other countries where we're working.
And there's a lot of excitement about this, more than you might find in New York - where there's maybe not as much hunger for that kind of interaction and that kind of connection. There's a lot of potential here, there's a lot of generous support for this kind of work - for the arts and education in general in St. Louis.
Which country surprised you in terms of musical interest?
Thayer: I am constantly surprised how prevalent [hip-hop] is everywhere. We could put an announcement on Facebook saying tomorrow we're having auditions for a hip-hop program and have 100 or 200 people sign up.
Rockower: We've done hip-hop programs in Kazakhstan. We've did programs in the past, such a "country eastern" tour where we sent a country music singer named Jesse Dayton to Vietnam. ... Country music actually really big in places you wouldn't expect -- in India and Vietnam. One thing we haven't done yet, but what I'd really like to see is punk rock is really big in Indonesia. And maybe we'll end up doing that in the future.