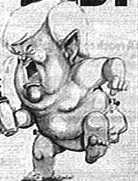 Ed Murawinski via Wikimedia Commons
Newt reacts to the call from Survivor's lawyers. Originally from a 1995 New York Daily News cover.
It's a time-honored tradition: A candidate for political office starts walking out for stump speeches to the strains of a hit by a band that doesn't agree with his views. Cease-and-desist letters follow. This week's episode stars one Newt Leroy Gingrich, who has been using "Eye of the Tiger" dating back to 2009. Frank M. Sullivan III, who co-wrote the song for his band Survivor, has sued the most rotund playboy this side of Ron Jeremy, and now the latter will have to choose a new tune.
He might as well stick with 1982, the year "Eye of the Tiger" was released -- the GOP was riding high on Ronald Reagan's first term, and awesomely cheesy pop songs rained like wealth trickling down to the common folk. Here, then, are the ten most appropriate theme-tune replacements.
10. "Africa" by Toto Would surely secure the coveted karaoke-enthusiast demographic.
9. "Der Kommissar" by After the Fire "Newt" is never going to be our fearless leader. "Der Kommissar"? OK, still probably not going to make him electable. But it's a better nickname than Newt.
8. "Heat of the Moment" by Asia Too easy?
7. "Dancing in the Streets" by Van Halen Clearly, Newt likes to party.
6. "Stand or Fall" by the Fixx We could read the Euro-theater bit as a swipe at Obama's handling of the global debt crisis. Plus, if the band took Newt to court, the trial might finally put to rest the question of whether it should be "speak your piece" or "speak your peace." 5. "Hungry Like the Wolf" by Duran Duran Perhaps the closest trade for "Eye of the Tiger" in that it involves focus and predators. Sound like anyone you can think of?
4. "Ebony and Ivory" by Paul McCartney and Stevie Wonder "Ladies and gentleman, I present to you the next vice president of the United States, a man who will help me protect the sanctity of marriage...my running mate, Mr. Herman Cain!"
3. "Up Where We Belong" by Joe Cocker & Jennifer Warnes The theme from An Officer and a Gentleman has that misty-eyed campaign sheen to it. Though it does expose some vulnerabilities for a man who could be described as a draft dodger and a philanderer.
2. "Bad to the Bone" by George Thorogood Right? RIGHT?
1. "Workin' for a Livin'" by Huey Lewis & the News OK, so maybe he's workin' for enormous lobbying interests, but still, Newt can relate to the common man. Plus, there's something about just about any Huey Lewis song that screams, "Use me at a Republican presidential campaign event!"