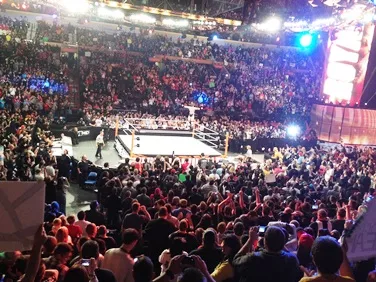 Jason Rosenbaum
WWE wreslter Sheamus is elated after winning the Royal Rumble on Sunday, January 29, 2012, at the Scottrade Center. The Irish-born wrestler will get a title shot at Wrestlemania 28 in Miami, Florida.
Pro wrestling and arena concerts may seem like vastly different species. But they're not that far off.
World Wrestling Entertainment camped out Sunday at Scottrade Center for this year's Royal Rumble, arguably the mega-federation's second biggest pay-per-view of the year next to its annual Wrestlemania extravaganza. Pro wrestling has a long and storied history in St. Louis, as evidenced by Albert Samaha's recent profile of legendary grappler Harley Race.
It would be a stretch to say that pro wrestling and arena concerts are one and the same. Performers as concerts don't get injured as much as wrestlers, with notable exceptions. But there were some commonalities between the two entertainment vehicles, as evidenced by what we observed Sunday at Scottrade:
High ticket prices
Seeing the best in the world compete inside the squared circle isn't cheap. My seat situated in Section 104 cost around $102, which wasn't too far off from some shows at the same venue. For instance, floor level seats at the George Strait and Martina McBride show next month at Scottrade cost $92.65.
To see the man, you've sometimes got to fork over a lot of money.
Complicated equipment transportation
Transporting ring equipment, pyrotechnics and bags full of used wrestler trunks isn't magical. It takes a lot of manpower and a lot of trucks. And big-ticket concerts often require some heavy-lifting - the most extreme example being the transformation of Busch Stadium into a U2 concert venue. Of course, it's unlikely that the trucks transporting Bono's sock collection have his face plastered on the side.
Comrade with complete strangers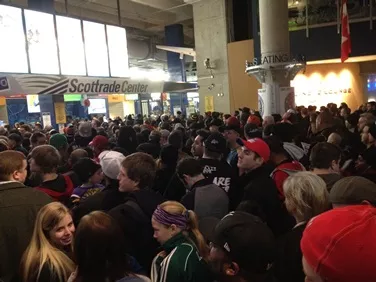 Getting through that rather insufferable Taste of Chaos show back in 2009 would have been a lot more difficult without talking to older folks about Thursday's heyday.
Wrestling fans are always in the mood to talk. One particularly astute dude wearing a Miami Dolphins hat correctly recalled that Dolph Ziggler - a former amateur wrestler who lost to WWE Champion C.M. Punk on Sunday - was formerly a member of the forgettable Spirit Squad. Two other chaps near the entrance conversed with me about Brock Lesnar's unfortunate appearance at a recent UFC match.
Unlike concerts, not everybody agrees on what constitutes excellence. There's always a tension between the younger fans that idolize John Cena and the older male fans that boo him at every turn. It stands to reason that most people who go to concerts are fans of particular bands -- or lost a bet.
Random hollering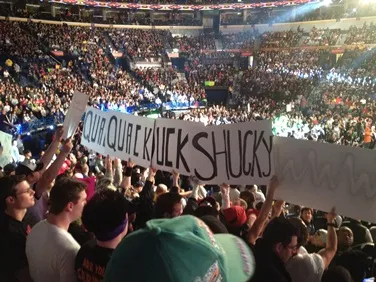 At particularly high-octane arena concerts, it's almost a certainty that crowd will start chanting something associated with a particular band. Look no further than the Urge's very famous catch-phrase.
The same type of phenomenon occurs at WWE events -- but with an eerie randomness. An outbreak of Ric Flair-esque "woos" echoed through the rafters as people filed into Scottrade Center. And it wasn't too uncommon for someone to shout Zack Ryder's "woo woo woo, you know it" while standing in line for a beer.
To be sure, I got some goosebumps when the crowd chanted "sexual chocolate" while Mark Henry battled Daniel Bryan and the Big Show in a steel cage match. And it's not in reference to an Attack Attack! song, but rather a popular gimmick Henry clutched in the 2000s. Wrestling fans have long memories. Merch, merch and more merch
Jason Rosenbaum
Jeremy Stein -- a member of Waco's television media -- holds a program that he purchased at the Royal Rumble.
This is probably one category where wrestling outflanks concerts in terms of sheer quantity. While merch tables at concerts may sell t-shirts, CDs and posters, wrestling events take it to a whole other level. The gaudiest collectable may be replicas of the championship belts, which were carried around with impunity throughout the arena.
And just as concertgoers showcase old t-shirts, wrestling fans enjoy clothing celebrating the bygone eras of sports entertainment. My favorite may have been a tie-dyed Lex Luger shirt celebrating the superstar's WWE run in the 1990s. That's when the former pro football player embraced his American spirit as he was battling the dastardly [and American born] Yokozuna. That gimmick wasn't as long-lasting as other wrestlers who embraced all things American.
Actual musicians
Yes, wrestlers do have other interests besides powerbombing opponents through a barbed-wire table. And at least two performers at Sunday's event - Cena and Chris Jericho - have found some degree of success within the music world.
Jericho recently returned to the WWE after a long stretch of touring with his band Fozzy, a heavy metal outfit that's released four albums. And Cena actually achieved some commercial success with his rapping exploits, as his album You Can't See Me has sold over one million copies.
Meanwhile, Krustophenia just sits on the shelves.
Popular music
When wrestlers sashay toward the ring, they're often identified through a particular song. And while some utilize original tunes created by the WWE's in-house composer, others utilize songs from established artists. For instance, Jefferson City-based Shaman's Harvest's "Broken Dreams" serves as Drew McIntyre's theme music. And "Just Close Your Eyes" by St. Louis' Story of the Year happens to be song that plays while Christian is searching for his peeps.
Some extremely popular wrestlers can even make a dormant or older songs a lot more popular. Hulk Hogan most likely made thousands of younger fans aware of Jimi Hendrix's "Voodoo Chile [Slight Return]" when he used it during his run as the leader of the New World Order. More recently, C.M. Punk caused Living Colour's "Cult of Personality" to spike in sales when he unexpectedly made the song his entrance music.