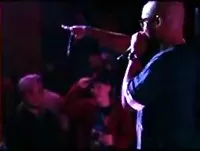 Rockwell Knuckles on stage at the Gramophone during his last St. Louis performance, from the Tef Poe "Coming Outta Missouri" video.
When St. Louis rapper Rockwell Knuckles got on a one way plane to New York last week, it wasn't exactly a surprise to those who are close to him. He'd been hinting at the move for some time through his prolific social media vehicles. But Rocky, whose tidal stage presence and uncompromising verses earned him a reputation as one of the best MCs in St. Louis, still left with relatively little fanfare. His final show, never billed as such, was the video shoot for frequent collaborator Tef Poe's "Coming Outta Missouri." If you think that was in any way coincidence, you don't know Rockwell Knuckles (or Tef Poe, for that matter).
When we contacted Rocky, he told us he isn't ready to talk about the move. But what can be gleaned from his postings on Facebook and Twitter tells us he's hit the chrome canyons running. From Tuesday: "Well, looks like I'm about to do a quick set at this show. I been here a week. Bout time..."
Doubtless this isn't the last St. Louis has heard from Rockwell Knuckles, so until then we wish him success and inspiration. His final performance appears very briefly in the "Coming Outta Missouri" video, below.