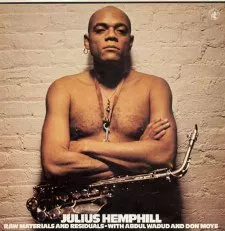 Paris Jazz Corner.com
Julius Hemphill was a key member of St. Louis' Black Artists Group in the late 1960s and early 1970s. He went on to perform with the World Saxophone Quartet.
Julius Hemphill may not have resided in St. Louis for his entire life. But it didn't take long for the jazz legend to make his mark in the Gateway City.
Hemphill -- who was born on this day in 1938 -- was an jazz virtuoso who unleashed a string of groundbreaking music over his career. Born in Texas, Hemphill spent time honing his musical craft at North Texas State University before joining the U.S. Army in 1964. He spent time performing with Ike Turner, who of course was a St. Louis native
Upon setting down in St. Louis during the 1960s, Hemphill became involved in the Black Artists Group. The multi-faceted collective -- which was active in St. Louis from 1968 to 1972 -- consisted of instrumentalists, artists and stage directors.
According to a 2006 Washington University article written by Liam Otten, musicians such as Hemphill and Oliver Lake "began to discuss forming a cooperative as a way to take control of their own artistic destinies -- a social and economic strategy already embraced by experimental jazz musicians in groups such as Chicago's Association for the Advancement of Creative Musicians."
From the article:
As BAG expanded, it attracted major grant funding from the Danforth Foundation and the Rockefeller Foundation, among others. In July 1969, the group obtained, for an annual rent of $1, a building at 2665 Washington Blvd., in the heart of the inner city, which soon housed living quarters, performance/rehearsal space, a painting studio and teaching facilities for dance, theatre, music, film, creative writing and visual arts.

Yet despite a rich tradition of black music, at the time "the atmosphere in St. Louis was not particularly receptive to the new sounds being explored by Lake, Hemphill and their musical comrades," Looker points out. For example, Hemphill's LP "Dogon A.D." (1972), released on his own Mbari record label, was praised by jazz critics yet found only limited distribution and virtually no radio play.
Dogon A.D. -- which was recorded in St. Louis with a cadre of other jazz musicians -- over time was seen as a landmark album in the genre. Writing in the St. Louis American, NPR's Kevin Whitehead called the album "one of the startling jazz recordings of the 1970s, a rethinking of possibilities open to the avant-garde."
"In the 1960s, free jazz was mostly loud and bashing, until some Chicagoans began playing a more open, quieter improvised music," Whitehead wrote in 2011. "That inspired St. Louis players like Hemphill, who also had ties to heartland rhythm-and-blues scenes. Hemphill's genius was to combine the Chicagoans' dramatically spare sound with a heavy backbeat. His new urban music smacked of old country blues."
Ultimately, Hemphill and other instrumentalists in the BAG relocated to New York City. There, Hemphill was part of the original lineup for the World Saxophone Quartet. In addition to Hemphill and David Murray, BAG stalwarts Lake and Hamiet Bluiett were a part of the original lineup.
Hemphill recorded nine albums with the group before departing in 1989 due to increasing complications with his diabetes. Hemphill continue to perform and compose music until his death in 1995.
In honor Hemphill's birthday, here is "Rites" off of Dogon A.D.: