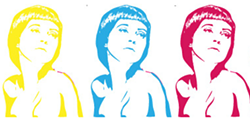 "Pretty Girls" art. Nips?
Yes, these three songs, all released last week, come from Native Sounds studio. So consider this, in some very small way, an introduction to the work being done there. But much, much more important is the music itself, which speaks volumes about three bands we sincerely hope to hear lots more from in 2012. A caveat: One of these tracks is a finished, ready-to-stand-without-caveat single -- that's Nee's "Pretty Girls." The other two are demos, so withhold your scrutiny. Instead, imagine you are buckling your seat belt in some sort of log flume amusement ride, for in both cases you are hearing a band working with some different inspiration/source material/experience that we will hear fleshed out in the months to come. Now stop reading and get your headphones dialed in:
The finished track first. Nee, with Kristin Dennis behind the wheel and Mic Boshans on the skins, recently picked up an extra two full-time members in David Beeman and Lex Herbert. The result, at least early on, is less reliance on digital tracks -- each line you hear is being generated by hand in real time. A full-length is scheduled for later this year.
Pretty Little Empire has been laying low of late, with drummer Evan O'Neal waylaid by knee surgery and the work of creating a third full-length taking precedence over public appearance. But rest assured the band is still very much alive and kicking, and here's the first evidence of that album as proof. The aptly titled "Gold On The Radio" shows plenty of promise from a band that wasn't exactly hurting in that department.
Old Lights "Cable Cars" Demo Download Link
We first heard this new Old Lights song, called "Cable Cars," at the band's three-piece synth-jam experiment toward the end of 2011. That sublime chorus hit and we went all cliche by dropping our jaw. It is still very much capable of provoking that reaction here. Who knows what form this song will take, precisely, but this is a band that has been known to tinker. Check this song and more out live on Wednesday at Off Broadway (3509 Lemp Avenue, 314-773-3363).