Diana Benanti
Inside at Lola.
Selecting Riverfront Times' Best of St. Louis 2011 was no picnic. Choosing the winner meant several worthy candidates would go unmentioned -- until now. In this RFT Music series, we're beeboping and scattin' our way through notable runners up in a number of categories.
Not yet ready to call it a night when the clock whirs past 1:30 a.m.? Then head to one of these bars -- our rundown of the best places to be at 3 a.m. -- for one last round.
Atomic Cowboy (4140 Manchester Avenue; 314-775-0755)
Anything and everything goes at Atomic Cowboy. It's the St. Louis version of the Tower of Babel -- these people might not be speaking the same proverbial language, but they're all here for a good time. You'll find some of the city's preeminent DJs, jam bands, burlesque troupes, indie bands or hip-hop showcases at Atomic and in the black-as-pitch venue inside, aptly named the Fox Hole. With housemade vodka infusions lining the bar, you can sip in style or slam vodka Red Bulls till the house lights come up. Too crowded inside? Head to the spacious patio and outdoor bar to spread out by the fire or simply imbibe al fresco.
Mike Talayna's Juke Box Restaurant (1115 Hampton Avenue; 314-647-7600)
You have needs, we all do, and sometimes they can only be alleviated by public embarrassment in a place that looks like RuPaul's sex lair. The blah exterior contradicts the mirrored entrails of Mike Talayna's Jukebox, where karaoke is king and the ceiling is lined with disco balls. This karaoke hall is a see-and-be-seen hot spot, and not even the stench of a few million spilt beers can diminish its renown. While nothing beats hearing an Adele ballad crooned by the drunkest girl west of the Mississippi, half the fun of posting up at Talayna's is in observing the ebb and flow of humanity within its glittery grips.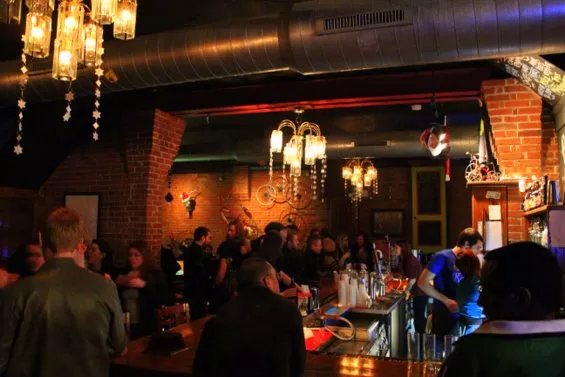 Handlebar(4127 Manchester Avenue; 314-652-2212)
Handlebar, the eco-friendly watering hole is on a mission: sustainability, increasing bike traffic on the Manchester strip, supporting local indie craft brewers and artisans, and having a damn good time doing it. Located in the old Church Key/Bar 5 location, it's luckily not entirely a hangout for imperious bike elitists with their weird shoes and their healthiness (we're just jealous). It's just a damn fine place for a drink. With kinetic bike art on the walls and stellar murals by local artists, HandleBar is a unique, fun addition to the well-established block. Be on the lookout for all things local: new pieces by artists, DJs powering the small dance floor, and the newest brews from our city's suds masters.
Novak's Bar & Grill (4121 Manchester Avenue; 531-3699)
When it comes to late night in the Grove, bars can be hit or miss, but Novak's is always a hit. Credited with starting the pansexual renaissance on that stretch of Manchester, Novak's is the gay bar of choice among those in the know. There's always something to entertain here -- amateur drag-king and -queen shows, DJs, karaoke, and let's not forget the people watching -- this is where the fabulous congregate, in sky-high platforms and snazzy sneakers alike. Dare we say, it's impossible not to have a gay old time at Novak's.
Sandrina's (5098 Arsenal Street; 314-601-3456)
Picking a 3 a.m. can be a tough prospect when you're with a group and already spifflicated. But Sandy's is easy--the drinks are cheap, there's shuffleboard downstairs and pool upstairs, there are booths for the weary and plenty of standing room for the amped. It's also our favorite place for a late night nosh because their kitchen is open until 2 a.m.--those Panko breaded chicken fingers will cure what ails you.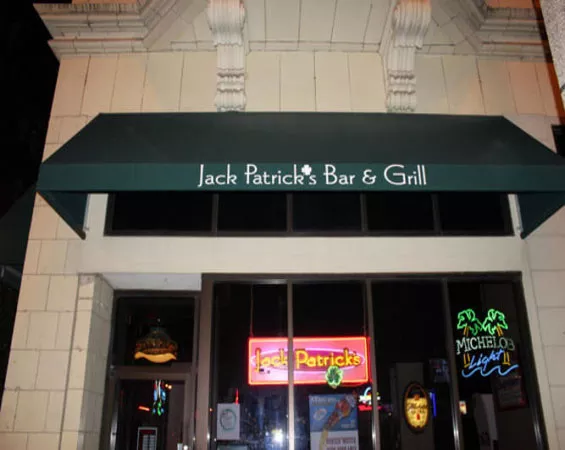 Jack Patrick's Bar & Grill (1000 Olive Street; 314-436-8879)
Washington Ave. can be a drag with all those halter tops and bachelorette parties running around, but we're not complaining, mostly because we're already bellied up to the bar at Jack Patrick's a few blocks away. This low-key sports bar is the downtown answer to a dive, and for that we are forever grateful. Whether the place is packed with Cards fans or populated by a few handfuls of fun-seekers making merry over games of pool or shuffleboard, the friendly atmosphere and sympathetic pours will keep you coming back again and again.
DB's Sports Bar (1615 South Broadway; 314-588-2141) Sure, we're staunchly Midwestern here in St. Louis: We leave the skin show and the post-3 a.m. partying to our debauched back yard across the river, which is why locals flock to DB's for a view when a Sauget sojourn isn't in the cards. Shot girls swan around in teeny tees or outfits that require modifiers: itsy-bitsy, neon-pink, strapless, Lycra. After 1:30 a.m. on the weekends, the place is teeming with roisterous (men) folk doing that other form of navel-gazing -- the one that involves bare stomachs and not omphaloskepsis.
Mangia Italiano (3145 South Grand Boulevard; 314-664-8585)
Walk into Mangia any night of the week and you'll be treated to inimitable jazz improv from the Dave Stone Trio, a no-wave DJ set or just a bustling bar full of late-night lushes keen on setting the night on fire. (Or, at the very least, drinking until the bartenders start getting mouthy.) Suggesting this south-city institution after the 1:30s shutter will make you the Henry Clay of your crew -- its South Grand location, full bar and assortment of characters makes it a no-brainer. Sarah Palin will head the U.N. before they start charging a cover, which means weekend nights are a destination for hipsters and industry folk alike.
Pin-Up Bowl (6191 Delmar Boulevard; 314-727-5555)
Pin-Up Bowl is practically a rite of passage for St. Louisians. At some point or another, you'll find yourself drunk in the Loop and requiring more entertainment than a DJ and a few dozen of your closest friends. Belly up to the bar and let one of the seriously inked barkeeps whip you up something special, or grab a Bud Light or four and make a night of it dominating the lanes. When the beer gets the best of you and those pins start looking fuzzy, indulge in some-late night bar food -- Pin Up's got everything from Pop-Tarts and pizza to T-ravs and tater tots.
and the best 3 a.m. bar in St. Louis is...
O'Connell's Pub (4652 Shaw Avenue; 314-773-6600)
Let's be honest: Late-night bars don't exactly have a reputation for attracting sterling clientele. Most often patrons end up at a 3 a.m. bar when they are five or six drinks deep -- and looking to continue the party by any means necessary. That's why O'Connell's, the venerable Irish pub at the foot of the Hill, is such a fine place for that last pint. With its dark wood booths and eternally dim lighting, time seems to stand still inside O'Connell's amber bubble. Here you'll find few chest-thumping alpha males or sad-eyed ladies looking to prolong the magic. It's not a place to pound vodka Red Bulls and make that last-ditch attempt at a hookup -- instead it's a warm, snug place for a few beers and a few laughs.