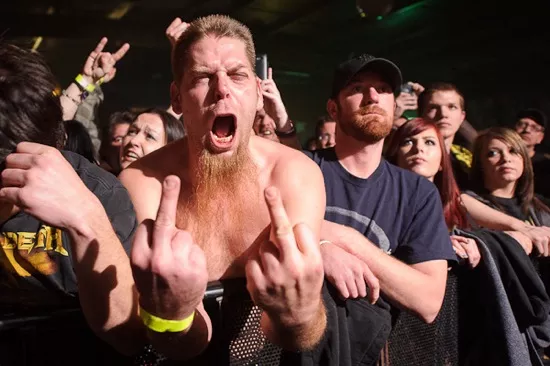 Todd Owyoung
GRAAAAAAAAAA
Todd Owyoung went to Pop's Nightclub (401 Monsanto Avenue, 618-274-6720) last night to let out some agression with the rest of the crowd for Machine Head. And we're not kidding -- if this is it and the world's not long for this universe (what's that you say about Mayan misinterpretation?) we will gladly take up a paddle and make our way through the blood river with this guy acting as our ????*. In the mean time, enjoy some of the highlights from the headbanging at last night's show.
*NOTE: Look up on Wikipedia the name of the guy who announces the strokes at the head of a rowing team.
View a full slideshow of Machine Head at Pop's Nightclub
Todd Owyoung
Suicide Silence
Todd Owyoung
Machine Head
Todd Owyoung
How to make rock and roll.