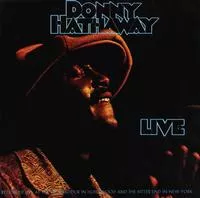 Wikimedia Commons
St. Louis native Donny Hathaway assisted in building careers of his musical compatriots. He also had a successful career that included a partnership with Roberta Flack.
Donny Hathaway was something of a musical bricklayer. Even though he wasn't in the spotlight his entire career, he was still instrumental in building up other musicians' careers and contributing mightily to the sounds of 1970s.
And today - the 33rd anniversary of Hathaway's death - it's evident that the St. Louis native not only helped others achieve musical success, but also built up an impressive and inspirational path with his own songs.
Born in Chicago, Hathaway grew up in the Carr Square neighborhood. Hathaway went to Vashon High School and spent his childhood singing in the church choir.
After attending Howard University, Hathaway worked with a raft of legendary artists - including Curtis Mayfield, the Staple Sisters and Aretha Franklin. As Allmusic's Steve Huey [yes, the same Steve Huey who starred in the ridiculously classic Yacht Rock series] noted, Hathaway wore a number of proverbial hats in the beginning stages of his career. He served as a producer, arranger, songwriter and session pianist.
It wasn't long before Hathaway started to gain steam for himself as a performer. The 1970 song "The Ghetto [Part One]" was Hathaway's first song that pierced the Billboard charts, combing social consciousness with jazzy and soulful elements. That song later became the foundation for rapper Too $hort's tune of the same name.
Hathaway struck gold later in 1970 with "This Christmas," a song that's become something of a staple during the holiday season. It's also been covered by a multitude of artists, including Chris Brown, Diana Ross and Aretha Franklin.
Perhaps the most notable string of Hathaway hits involved Roberta Flack, the very talented artist best known for helping Wyclef Jean and company catapult to fame. The two first got together to cover Carole King's "You've Got a Friend," which ultimately lead to an entire album full of duets. The pair's 1972 tune "Where is the Love" eventually won a Grammy.
Just around the time he hit his stride, Huey wrote that Hathaway began battling severe depression. After staying out of public view for a few years, Hathaway and Flack eventually reunited to record "The Closer I Get to You." Even though the alluded to "Killing Me Softly With His Song" is much more ubiquitous these days, "The Closer I Get to You" is actually Flack's highest charting song.
On January 13, 1979, Hathaway died after he fell 15 stories from a New York City hotel room. From Huey's bio of Hathaway:
Sessions for a second album of duets [with Flack] were underway when, on January 13, 1979, Hathaway was found dead on the sidewalk below the 15th-floor window of his room in New York's Essex House.

The glass had been neatly removed from the window, and there were no signs of struggle, leading investigators to rule Hathaway's death a suicide; his friends were mystified, considering that his career had just started to pick up again, and Flack was devastated.
After Hathaway died, Flack released the second duet album featuring Hathaway. Simply titled Roberta Flack featuring Donny Hathaway, the 1980 album ended up going gold.
To celebrate Hathaway's life, here's "The Closer I Get to You." Flack told Jet in 1979 that all royalties from the song were directed to Hathaway's widow and children: