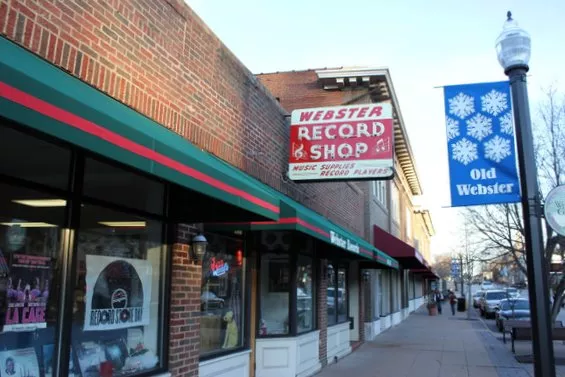 After 58 years of slinging wax and compact discs, Webster Records is closing its doors on January 31.
Owner Jennifer Graves Bellm has been the proprietor for five years, and she said the current climate of the music industry is the impetus for closing the small shop that's been operating since 1953. The lease is up at the end of the month and she's looking to pursue other opportunities. "I grew up in Memphis and fell in love with the classic record store there -- Poplar Tunes. Webster Records had the same vibe and I wanted to keep that alive as long as I could," said Bellm. She added that it was one of the oldest continuously operating record stores west of the Mississippi.
Bill Wondracek has been behind the counter for the last ten years and says he'll miss the clientele most of all. He remembers working with Dorothy Gleason, who opened Webster Records in 1953 with her husband Roy. "Dorothy was a dear heart, she worked 50 years on the floor. She knew more about music than anyone I'd ever met, and she'd forgotten more about music than anyone I would ever know, god rest her," Wondracek says with a laugh. Wondracek says it was ironic that Dorothy's wake was the same date as national Record Store Day 2011.
"People aren't buying as much. What we sell is not what you need to live, these are fun things but if everything you make gets spent on your ulitily bills and keep your car gassed up, hey, you're not buying a lot of records or CDs," said Wondracek.
Wondracek can attest to the vinyl renaissance, but Webster Records has always specialized in jazz and classical -- their core customer base is still folks who grew up on Ella Fitzgerald and Count Basie. He said he can't give a classical record away, but the "kids" are snapping up any rock LP that comes through the store -- and apparently the kids these days can't get enough of Black Sabbath.
"I can't keep it in the store. The kids are buying vinyl, our older clientele are buying CDs. Vinyl is new to them if they grew up on downloads and CDs. This is something analog, it's totally retro. The kids are loving it, but I can't sell classical vinyl."
Everything in the store is currently 30 percent off, and the inventory will be further discounted as January 31 looms closer. Wondracek advises that collectors come early and often, because as the prices get better, the selection will get worse. He's quick to note that the original sign and the classic Nipper the Dog aren't for sale.
"We have the best customers in the world here. Just like the Cardinals have the greatest fans, we have greatest customers in St. Louis, just great customers. People who love music, you know, that's what a little store is all about," Wondracek says.