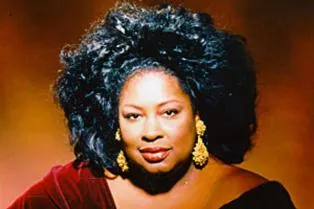 RFT File Photo
Shirley Brown's "Woman to Woman" was one of Stax Records' last major hits. The Madison, Illinois, native turns 65 today.
This post is dedicated to all the creepsters out there.
You know who I'm talking about: dudes who troll for tail while their significant others obliviously go about their day. These philanders think they can get away with their serial cheating, but almost 97 percent[1] of the time a girlfriend shakes off her mindless stupor. Sometimes the aftermath can be powerfully awkward not only for the cheater, but also for the "other woman."
Take the scenario in Shirley Brown's song "Woman to Woman." It was the biggest hit for Brown, a Madison, Illinois, native who was born on this day in 1947. After starting off singing at her church, Brown was later discovered by blues legend Albert King. King took her on the road and eventually got her signed with Stax Records. Brown recorded "Woman to Woman" at Stax - a Memphis-based record company known for housing Otis Redding and Booker T & the MGs.
And while "Woman to Woman" showcases Brown's breathtaking vocal abilities, it is perhaps best known for a rather intriguing opening monologue. Brown spends a big chunk of the song speaking to a lady named Barbara. Admittedly this is a far-fetched situation if it was transposed into the present day, as only 2 percent of people born after 1988[2] are named Barbara.
In any case, Barbara has been seeing Brown's "old man." How does Brown know? Well, Brown happened to find Barb's name and number in her dude's pockets. Damn, old man. You need to be more discrete!
Casting passive aggressiveness aside, Brown decides to confront the nasty seductress over the phone. While Beyonce cast her guy pal's stuff out on the curb in "Irreplaceable," Brown makes a power play. After all, she buys her old man's clothes and provides him with enriching foodstuffs. As far as Brown is concerned, her man "is mine."
"From the top of his head to the bottom of his feet," Brown states. "The bed he sleeps in and every piece of food he eats. You see, I make it possible."
RFT writer Roy Kasten wrote about the song's impact and evolution in a 2009 article:
"Woman to Woman" was written by the Stax team of James Banks, Henderson Thigpen and Eddie Marion. It opens with a recitation, not an unknown device in soul music. But never before had there been such frankness in the delivery, the tone of one woman speaking directly to another, albeit a rival. "Woman to Woman" is not a soul version of Dolly Parton's "Jolene." The love triangle it explores is a private conversation with everything at stake.
More than just showcasing Brown's voice and possessing an off-the-beaten path narrative, "Woman to Woman" was one of the last big hits for Stax Records. Although Brown never released another song with the successful track record of "Woman to Woman," she's recorded a number of albums since its release - most recently 2009's Unleashed.
"Woman to Woman" was also successfully covered by country artist Barbara Mandrell. And in a rather curious twist of fate, Jewell - the hip-hop artist, not the annoying crooner from Alaska - covered the song on the Murder Was The Case soundtrack. This writer almost certainly listened to that song when he was 10, but his parents made him take it back to the record store because of excessive profanity.[3]
In any case, here's a video of Brown's biggest in honor of her birthday:
1: That statistic may have been completely made up. 2: This figure's factual accuracy is also in doubt, mainly because the writer grabbed it out of thin air. 3: Sadly, this is actually true.