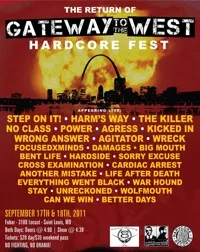 The Return of Gateway to the West Fest
From 2002 until 2008, local hardcore hero and all-around-badass Adam "The Devastator" Greer booked roughly 250 shows in the St. Louis area and beyond. I use the term "badass" rather than "promoter", because I don't think he would like being called the P-word. Working strictly out of love for the music and local scene, Greer fervently sought out bands from all over the country and brought them to St. Louis, rarely even pocketing so much as gas money off the door. Always accommodating of out-of-town bands, he soon made enough of a name for himself that he was able to book top-notch touring acts without even once offering a guarantee - "That's not punk," he has often said.
In March 2005, Greer pooled his contacts and set up the first Gateway to the West Fest, a hardcore music festival held at South City's American Czech Center. Among the bigger names on the bill were Outbreak, Blood In Blood Out, Blacklisted and This is Hell. Just four months later, in July, a second fest was set up, this time with names such as Modern Life is War, Risky Business, and the Amniotics rounding out the roster. Just one month after THAT, GTTWF 3 took place -- Cast Aside, Down to Nothing, and Nervous Wreck all played. Blacklisted did again, as well.
Fatigued from the three fests in five months and frustrated by the cancellation of several bands on the last one, Greer vowed at its completion that he was through with fests. This is a vow he finally broke this year.
In September, St. Louis played host to two days of hardcore punk from all over the country. Local tattoo badass Donna Marie contributed to the booking and securing of bands, and thanks to the hard work of both of them St. Louis had a hardcore festival we could call our own again. No Class, The Killer, Agress, Bent Life, Hardside, and about twenty others rattled the windows for a full weekend at Fubar while a pleased Adam the Devastator moshed every crowd into oblivion. When asked about the future of the fest, Greer had this to say: "There's definitely going to be another one. Right now we're looking at the beginning of September. This one is going to be bigger and better than ever. Start moshing now!"
--Daniel Hill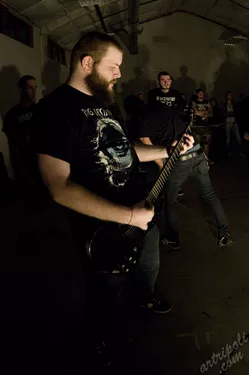 R.I.P. Shagy Kennedy, Everything Went Black Guitarist
Shagy Kennedy (born Brian Michael Kennedy) died on March 8, 2011, after battling a rare form of cancer. He was 27 years old. Bandmate and friend Brandon Hoffman said that Kennedy passed away surrounded by friends and family. "He had put up an extremely hard fight, and never let it effect how he lived his life," Hoffman says. Kennedy is survived by his loving wife, Esther, and doting parents John and Judy Kennedy.
Kennedy was diagnosed with ASPS (Alveolar soft part sarcoma) in 2008, and his pals in the music community rallied around him, putting on benefit shows at places such as Fubar to help offset his medical bills. Tomorrow night, April 1, Kennedy's friends, bandmates and fans will pour into the rock club for a final hurrah to celebrate his life with a memorial show and concert. The night features some of the rawest, ballsiest bands this town has to offer: Fister, Orion Pax, The Humanoids and Kennedy's rocket-powered hardcore band, Everything Went Black.
--Diana Benanti, March 31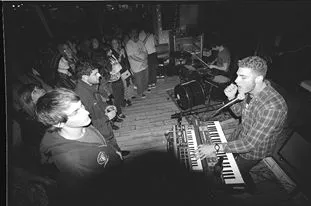 Volcanoes Signs to Afternoon Records
​
St. Charles' loudest duo took a huge, sudden leap this year, signing with respected indie label Afternoon Records. The label's current roster includes Pomegranates, John Vanderslice and Haley Bonar. Its alumni include beloved local post-punk Target Market.

In its announcement of the signing, Afternoon Records says, "We're really excited to be bringing both Eric and Jon into the AR family, and are really foaming at the mouth for you all to hear more of what these guys are capable of."