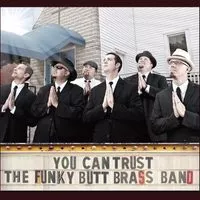 Part One: The Union Electric, Sweet Tooth, King Kong Magnetics, Warm Jets USA Part Two: Glass Teeth, Ryan Spearman, the Breaks and Adult Fur Part Three: Rum Drum Ramblers, Humanoids, Old Lights and Volcanoes Part Four: Bo & the Locomotive, Rockwell Knuckles, Dubb Nubb and Palace Part Five: Sleepy Kitty, Magic City, Nee Part Six: Sine Nomine, Prairie Rehab, Jack Buck, Mikey Wehling Part Seven: The Blind Eyes, Humdrum, Theodore, A-Game
The quasi-ironic album cover of You Can Trust The Funky Butt Brass Band shows its six members with hands slyly folded in prayer while the light of God bursts through the clouds overhead. The music contained inside is a virtual venn diagram of genres wherein all points intersect in New Orleans, one of the most notoriously sinful, devil-ridden cities in existence. Would I trust trumpeter Adam Hucke with my finances, personal property, or hypothetical future daughter? Hell no. But I can trust the Funky Butt Brass Band to deliver playful, feel-good tracks. The group's sophomore album delivers the Big Easy parade-worthy jams we expect from the band with a few curveballs - namely, relatively faithful takes on the BeeGee's "Stayin' Alive" and Charlie Daniels' "The Devil Went Down To Georgia" (rewritten as "The Devil Went Down To NOLA" with the fiddle battle replaced by a trumpet-off). In more familiar territory, the results are far from predictable. "South Broadway Stumble" sounds like a Dixieland ensemble drunk dialing its girlfriend after the bars close, and the "St. Louis Breakdown" has the tight knitting of a Tower Of Power cut. Even when playing to its strengths, The Funky Butt Brass Band never plays it safe. --Ryan Wasoba
Key Track: South Broadway Stumble Place You're Most Likely To Hear The Artist: Where the crawdads swim freely and the Pabst flows like water, there will you find the Funky Butt Brass Band.
Pokey LaFarge and the South City Three | Middle of Everywhere
In the past year, St. Louis transplant Pokey LaFarge has made a lot of famous friends and fans: He has recorded with Jack White, played the Newport Folk Festival and been celebrated on National Public Radio. It's not hard to hear why -- LaFarge's lovably anachronistic take on jump blues and easy-pickin' swing jazz goes down like vodka-laced lemonade, and his have-to-see-it-to-believe-it live shows have made him a local favorite. But it's easy to read the title of Middle of Everywhere as a response to LaFarge's growing fame: This music and its makers don't come from the middle of nowhere but represent generations of American blues, jazz and folk styles from all over. That little bit of flag-planting is as much of a statement as you're ever going to get from LaFarge, a singer who prefers to keep things simple -- he needs little more than pretty girls, strong whiskey and the freedom of the road to make him happy. All those are in abundance on Everywhere.
For this LP, the quartet's sound gets embellished in tasteful, era-appropriate ways. One would never expect LaFarge and the South City Three to, say, blare electric guitars (though, never say never!), but the additions help flesh out the songs without drawing focus from the singer's pinched, warbly and easy-flowing vocals. Lugubrious horns attend the opening kiss-off "So Long Honeybee, Goodbye," and some rattling steel guitar playing gives the next track, "Ain't the Same," a touch of the Delta. LaFarge even gives his adopted hometown a sweet shout-out on "Mississippi Girl," alongside plenty of blustery harmonica and spirited hollering. LaFarge's good-natured and commanding presence stands at the center of these songs, but the efforts of the South City Three -- bassist Joey Glynn, washboard/harmonica player Ryan Koenig and guitarist Adam Hoskins -- show that these players are supportive, unfussy sidemen at every turn. Likewise, their harmony vocals on tracks such as the sweet-and-low "River Rock Bottom" help make this disc a true group effort.
--Christian Schaeffer Homespun: August 11
Ra Cailum | Leaving and Returning
October's Leaving and Returning, the twenty-track retrospective of Anthony Engelhardt's first year making music under the moniker Ra Cailum is not bad. It is an interesting, scattered helping of electronic instrumentals with a dash of straightforward, M83-ish synth pop. What Leaving does best is give context for the excellence of Ra Cailum's simultaneously released Finding My Way EP. Its five tracks are dense with chiptune bleeps, invasive drum machines, pitch-shifted vocal samples and Kid A atmospherics, yet an organic vulnerability survives the digitized chaos. Engelhardt's programming is too sophisticated for his 19 years on this planet. His grooves have the woozy depth of a Stones Throw record, while his bass drops and found sounds enter the soundstage at points of maximum impact. Four Tet, Aphex Twin, and Boards Of Canada are fitting comparisons. While Finding My Way is not quite on par with the best works of these electro icons, it is certainly more enjoyable than sizable chunks of their catalogs - and a hell of a lot better than what they were doing at 19. --Ryan Wasoba
Key track: "The Risks You Take" Place Most Likely To Hear The EP: Space. Streaming track:
The Gorge | Prehistoric Relapse
Phil Ring calls the Gorge's proper debut a "pretty straightforward record" and an attempt to "get an accurate representation of the band live." This goal seems less than lofty, but the result is stunning in its effectiveness; Prehistoric Relapse boasts clarity while still managing to shake the bowels like a Marshall stack wedged into the large intestine.
Four of the tracks on Relapse previously appeared on the Gorge's 2010 EP, a self-titled, self-released and self-produced affair. Despite the originals' better-than-average fidelity, the band outsourced engineering duties on Relapse to Miles Vandiver and Dan Mehrmann of local avant-pop act Dropkick the Robot. "It's too stressful recording yourself," Mazzuca says. "If you're in control, there aren't any hard deadlines, and before you know it you've been mixing for two and a half months."
--Ryan Wasoba Feature: Furious Gorge