Say what you will about the Catholic faith: It has inspired, over the centuries, some haunting and beautiful Christmas melodies, and our city's faithful know how to do them justice. Here are four masses where you can sample the sounds:

St. Margaret of Scotland [map]

Best mass for music: 10 p.m., Christmas Eve (music starts at 9:30)

Components: Choir of 40 adults, woodwinds, strings, brass, piano, organ, percussion

Highlights: According to music director, Peter Hesed, "O Holy Night" will be a high point, and his version of "Joy to the World" will be among the most "rousing" folks have heard. Also listen for "Ave Maria" and the traditional Scottish lullaby, "Balulalow."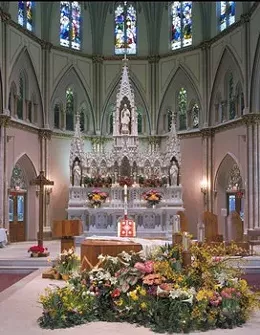 St. Alphonsus Liguroi "The Rock" Church
St. Alphonsus Liguori Rock [map]

Best mass for music: Midnight, Christmas Day (music starts at 11:30 pm on Christmas Eve)

Components: Choir of about 25 adults, piano, keyboard, bass, drums, bass, possibly steel drums, tambourine

Highlights: They don't call this place "the Rock Church" for nothing. They do traditional tunes, of course, but they also add a healthy does of gospel songs, says Fr. Rick Potts. Choir director Danny Dumaine has even written his own version of "O Holy Night."



St. Louis Abbey Church [map]

Best mass for music: Midnight, Christmas Day

Components: Choir comprised of some 25 monks, plus students from Priory school.

Highlights: If you like chant (and you should; check out an example here), this is the place to go. The midnight mass features both Latin plain chants and Rennaissance polyphany (which contains harmonies).

Fr. Gregory Mohrman, the choirmaster, says there's a special place in his heart for the plain Latin chant.

"It's older and simpler, and in that sense, more contemplative," he says. "The polyphony is more beautiful, bu the plain chant is pure -- particularly in the Abbey Church, because the acoustics of our church were designed for plain chant."


St. Gabriel the Archangel [map]

Best Mass for music: Midnight, Christmas Day (music starts at 11:30 pm on Christmas Eve)

Components: Choir of 25 - 30 adults, piano, brass, timpani, pipe organ

Highlights: Music director Bruce Ludwick, Jr., clearly puts a ton of thought into choosing his program -- who else writes a weekly newsletter explaining how the music all fits together? (See the one he did for this holiday here). On the program this year: "For Unto Us a Child is Born," an aria from Handel's Messiah; "O Magnum Mysterium" by Victoria; "I wonder as I wander," a traditional American hymn; and another hymn featuring text penned by deceased St. Louis resident, Jaroslav Vajda.

Ludwick prefers the midnight Mass because it contains readings on the Nativity (the whole manger scene where Jesus of Nazareth is born). "We use incense, and we really try to do it well. Any time you have a vigil, it's always a moving thing...when you're there at night, in expectation."

==

Overall, what could make this an interesting holiday in the Archdiocese is the new retranslation of the Mass, says Nick Moramarco, music director of Immacolata:

It's now becoming familiar with most Catholics, as it started being used several weeks ago on the first Sunday of Advent. However, for those Catholics who might only find themselves in church on Christmas and Easter, there will be some very surprising changes which they encounter, and which will likely result in responsive train wrecks as old text conflicts with new text."

Lord have mercy.