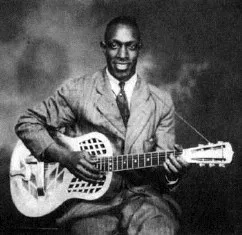 Wikimedia
Even though he died at 39, Peetie Wheatstraw had a sizable impact on the blues world.
Those who have been following RFT Music's "This Day in History" feature may have noticed that some posts use a notable St. Louis resident's birthday or death anniversary as a jump off of sorts.
These anniversaries present an excellent opportunity to delve a little deeper into some well-known and perhaps not-so-well known musicians that made St. Louis their home. This is one of those situations -- but with a bit of a twist.
Peetie Wheatstraw -- a blues musician who made a name for himself in St. Louis throughout the 1920s -- was born on this day in 1902. And on this day in 1941, Peetie Wheatstraw died.
That's right -- Wheatstraw had the unfortunate and likely rare distinction of passing away on his birthday.
Wheatstraw -- whose real name was William Bunch -- had a very intriguing journey into the music world. According to a biographic sketch from Greg Johnson Cascade Blues Association, Wheatstraw made a transformation from a farm worker in the Deep South to a mainstay on St. Louis' musical scene.
Wheatstraw's metamorphosis included a new persona. Long before allusions to Satanism were trendy, Wheatstraw -- according to Johnson -- employed "supernatural myths" about his life to his audience. For instance, he often called himself "The Devil's Son in Law" and the "High Sheriff of Hell."
Before he came to St. Louis, Wheatstraw learned how to play the piano and guitar. He ultimately became popular in the 1930s both as a performer in the St. Louis area and as a recording artist. Over 160 of Wheatstraw's recording were compiled in 1994, a collection that spanned seven compact discs.
And while Johnson said Wheatstraw was "only a mediocre instrumentalist at best," he added that he excelled at both songwriting and singing:
His songwriting appealed to the working class minorities of the time, due to their nature of the content. He wrote about social issues such as unemployment and public assistance (this was during The Great Depression, remember). There were also pieces about the immoral ways of loose women, and true to his own self-publicity, death and the supernatural.

Almost all of his songs included his trademark statement of, "Oh, well well," usually accentuated in the third verse.
[Johnson noted at Wheatstraw's 'oh, well well' gesture was incorporated into other blues musicians' repertoires. An example was R.L. Burnside - whose grandson appeared in the film Black Snake Moan a few years ago.]
Sadly, Wheatstraw's life was cut short in 1941 on his 39th birthday. He was a passenger in a car that was hit by a train. He joined other notable historical figures -- including George Washington Carver and Betty Friedan -- who died on their birthdays.
But as noted in a RFT article earlier this year, Wheatstraw is considered a shining example of St. Louis' deep collection of famous blues artists. His biographical quirk, it seems, is a good excuse to take a gander at his brief, but storied life.
To honor Wheatstraw, here's a video of his tune "You Can't Stop Me From Drinking:"