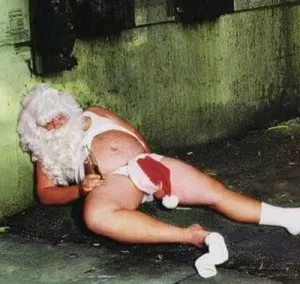 Roughly what we will look like after attending four Bert Dax Xmas release shows.
A Very Bert Dax Christmas, Volume Nine has now officially been released. The ninth annual X-Mas compilation, a joint release by Rob Severson from Pancake Productions (subject of a recent music feature) and Matt Harnish of The Bert Dax Calvacade of Stars, features a pool of truly diverse local artists. These are cover songs and original tunes, all inspired by the wintry holiday season. Year after year, this compilation has proven to showcase an eclectic mix of St. Louis music through love for holiday jams. The compilation has been welcomed into the world with a series of four release shows, the final two of which are tonight and this Sunday, respectively.
Producer Rob Severson was kind enough to provide us with the full compilation. Below, you can find all twelve tracks from this year's compilation, with Severson's commentary as well as our own, expanding beyond the songs to talk about the artists involved.
Friday, December 16 at 2720 Cherokee Ded Bugs Hathead Jones Bass-Amp & Dan-O and more $10 | All Ages
Sunday, December 18 at Lemmon's Prune Navigator Dubb Nubb $5 | 18+
"Homebound Holiday" by Prune
Rob Severson: I knew as soon as Prune agreed to be on this year's compilation that I wanted to find a way to make their track be the first, and then when I heard what they put together, I found myself entirely justified! Their airy-light pop sensibilities have never been better, and that opening chord is just so...Prune. As guitarist Bill Michalski (who doesn't appear on this recording on account of his currently residing in Massachusetts) quipped: "I'm a little jealous that they are able to sound so much like Prune without me."
Joseph Hess: Airy pop, as you put it, is the perfect way to describe Prune. I can imagine "Homebound Holiday" spinning in the background at some family gathering or other, setting that essential holiday tone. The song is an excellent entry point for this compilation, as Prune crafts a light-hearted but not too wholesome tone that leads well into the diverse pool of artists to come.
"Silent, Night?" by Catholic Guilt
Severson: One of the great things about AVBDC that always drew me to it was the sheer variety of stuff on it. The juxtaposition of Prune and Catholic Guilt, two excellent bands with two excellent bits of holiday fare exhibited here, could scarcely illustrate this any better. I'm also reminded of the inexplicably amazing version of "Silent Night" that the Conformists did for Better Than Fruitcake whenever I hear this...probably just because they're both awesomely messed-up versions of one of my favorite carols (and one that I've been performing live for many years -- see for proof -- and yes, that video was taken in April).
Hess: Where as Prune is an entry point for most listeners, Catholic Guilt might be the exit point for those not equipped to deal with the odd offerings that this compilation can offer. Percussive noise rests under a demented choir singing the classic Silent Night, while a creeping spoken word piece takes the lead. Catholic Guilt does whatever it damn well pleases, and does it well. The way "Silent, Night?" transitions into the next song might be my favorite moment on the compilation. "Please Daddy (Don't Get Drunk this Christmas)" by Bass-Amp & Dan-O
Severson: I later found that the full title of this one is "Please Daddy (Don't Get Drunk This Christmas)" which makes sense but was never communicated to me properly, so I hope the boys in the band don't mind too much. I absolutely love the way that Catholic Guilt's track abruptly yet oh-so-smoothly transforms into this one. What brings this song home to me as such a great X-Mas song is the fact that all of the changes are the same as those in "Grandma Got Run Over By A Reindeer." See for yourself by singing the first syllable of Grandma at the same time Bass-Amp & Dan-O sing "Please" in the chorus. In fact, I'm hoping they'll let me join 'em on stage and sing the Grandma lyrics at the release show, just for giggles.
Hess: The subject matter is a little sad, don't you think? "Please Daddy" is in the same spirit as "Grandma Got Run Over By A Reindeer," but the delivery and lyrics are a bit more vicious. This is fitting of punk-rock mainstays Bass-Amp & Dano-O, who craft a fun song with a fast pulse. The usurped melodies lend big nostalgia to the song. "Please Daddy" is a fitting reminder that some people party a little too hard on the holidays, but can you really blame 'em?
"Winter Planet" by Navigator
Severson: As perennial Pancake Productions mastering mastermind Mario Viele says, "I love the production, I love the kid's voice, I love the pulse...man it's cool." I agree with him 100%. These fellas were eager to join the Daxmas family and when I heard this track I was only too happy to have 'em. I can't get enough of that cavernous snare sound. I also have been watching a lot of STAR TREK lately and I like to believe the lyrics tell the story of a person on some distant world where, while not otherwise unlike our own (in the neo-Ice Age, commerce is king) it's winter all the time, there's NO ESCAPE!
Hess: Curtis of Navigator sent me a barely-finished version of this song nearly one month ago. This song feels so much like Winter it's almost unbearable. The range of sound coming from those drums are unbelievable, especially if you've seen Navigator live and know how stripped down Drew Gowran's drum set can be. I admit, I am biased because I've worked with Curtis and Drew in the past, but "Winter Planet" ties with Catholic Guilt's Silent, Night? as my personal favorite. "Satan Baby" by Ellen the Felon and the Mattronome
Severson: This one was recorded live at KDHX last year. Ellen preferred to use this version over the studio version she recorded for her Christmas EP. I am a little disappointed that the extreme glockenspiel on the studio version is not present here, but it's a great cut because it presents a funny take on a classic X-Mas pop song, and is a sweet showcase of Ellen's talents as performer and consummate entertainer.
Hess: "Satan Baby" pops, especially coming after "Winter Planet." This live cut shows the same personality you'd be subject to at a live Ellen the Felon performance. The Mattronome always crafts interesting but appropriately written drum parts. Ellen's banter is a highlight, a treat you wouldn't otherwise have in a studio-recording.
"The Night Santa Went Crazy" by Hathead Jones
Severson: Dan Kelley (drummer for Bass-Amp & Dan-O) provided this reasonably straight-forward version of the twisted "Weird Al" Yankovic original -- he was excited to be a part of the Daxmas family, and takes his X-Mas music seriously. I love the sampling of the movie DIRTY WORK during the breakdown in the middle, and if you're at all familiar with the Weird Al version, you'll notice that where Al kept Santa alive and just sentenced him to prison for 700 years, Hathead Jones ends his life swiftly and mercifully.
Hess: I admit, I like Dan Kelley's voice a lot more than Weird Al's. Not that I dislike Weird Al, there's just something about his voice. This twisted song is presented with such a friendly, lovable sound. The DIRTY WORK sample ruins that friendly tone half way through and provides a stark, comedic contrast. Weird Al might have been scared to off Santa. This is a man who is magical enough to shape-shift and slide down chimneys, who knows what other wizardry he has hidden up his wooly crimson sleeve? "Wild Turkey is on Sale" by Bug Chaser
Severson: $17.77 at your local Shop 'n' Save. I wonder if that's actually true. If so, I'll need to leave here before Shop 'n' Save closes. I love listening to the subversively danceable Bug Chaser and just picking out all the little nuances that make it great. The jingle bells are a nice reminder that it's an X-Mas carol. This is probably pretty easily the most futuristic song on the whole compilation. Future-funk. It should have space-ships in the music video (which I hear is a reality that'll be debuted at our Off Broadway release show on December 14th).
Hess: Jake Jones of Bug Chaser does whatever he wants. "Wild Turkey Is On Sale" feels like an amalgamation of Jones' multiple musical forays, including Bug Chaser, King Kong Magnetics and The Beamship Blues Band. Solid beats under a sea of nuances, strange sounds and odd vocals. This song will be blasting over a night club's speakers during the Nuclear Winter that follows World War III. Bug Chaser will teach the survivors of jingle bells and holiday cheer.
"Suck it Santa Claus" by Superfun Yeah Yeah Rocketship
Severson: I am eager to see this one presented by the two-piece version of SYYR, you know, with GUITARZ. I'm pretty sure it was recorded when Superfun was just a one-piece. Speaking of my beloved jingle bells, here they are again and in full force. Like so many songs that populate Daxmas, this one represents its artist at its best. In this case, its spastic-dance-pop best! I'm glad there are so many songs specifically about (or at least that mention) Santa Claus on this year's compilation.
Hess: Superfun tends to squeeze out blatantly catchy songs. These electronic drums and kitschy melodies are the sort of sounds you don't want to have stuck in your head. They will not go away. Superfun continues to sing from the perspective of a wise ten year old, which works in this angry letter to ole Saint Nick. "Hanukah at Home" by Dubb Nubb
Severson: I'm also always happy when Daxmas acts branch out to holidays not-necessarily-befitting the somewhat politically incorrect (though for the record, I care NOTHING for political correctness) A VERY BERT DAX CHRISTMAS title. Those Rainey twins can sure harmonize beautifully. The difference in recording fidelity between this and basically every other track on the compilation is another lovely sometime-hallmark of Daxmas collections, particularly recalling Josef Steinman's recorded-over-the-phone contributions thereto.
Hess: The appropriate lo-fi, charming sounds of Dubb Nubb bring special character to this year's compilation. What a sweet song about spending time at home and listening to records. Dubb Nubb knows how to make this raw, happy sort of folk music that makes you smile.
"All I Want For Christmas Is To Kick Out Your Teeth" by the Ded Bugs
Severson: Yes, following quickly on the heels of that sweetly-sung girlie-folk tune, we have a sneering punk ode to...what else? Kickin' someone's teeth out! Hah hah. This is one from the Ded Bugs vaults - I think some members no longer with the band appear on it, and they couldn't figure out what to do with this recording, as it wasn't deemed appropriate or acceptable (for one reason or another) to the original purpose for which it was recorded.
Hess: I first saw the Ded Bugs at an STLpunk X-Mas show many years ago. Hearing them makes me nostalgic. This is a happy anthem about kicking out teeth (or kicking in skulls instead). Really, it's about starting out the New Year right, and who doesn't feel that way every year or two? It's so fortunate that this was rescued from the vaults and shared with all the loyal Bert Daxers. "Have A Very Merry Dawg Christmas (Jingle Dawgs)" by the Chill Dawgs
Severson: I saw The Chill Dawgs in concert a month or two ago and was shocked to know I'd never had the pleasure of taking in their ultimate party-on attitude before. Awesome dudes one and all (and contributors to the eponymous Dudes Magazine, in many or all cases - drummer Nighthawk is the editor-in-chief, for example). They are a lot of great fun, both on stage and within this recording. I also love the use of "Jingle Dawgs" in the title (and intro) of this song. What better way to spend the holidays than poundin' coldies with yer buds, and Santa, too, and...Marisa Tomei? Heck yes!
Hess: So it's decided, this is the seminal party anthem. When that airy intro, snapping and all, creeps in, you can't help but crack a smile. The vocally intense instrumentation, shakers, snapping and every little thing between provide the perfect holiday sing a-long. The Marisa Tomei climax begs to be heard, and the off mic banter at the end makes the party tone quite obvious. The Dawgs spend their holidays right.
"Happy Birthday Little Jesus" by Black James
Severson: Black James has been pretty much my favorite thing of all time since I first saw her live, but I tell you now she outdid even herself for this track. There's something special about a Daxmas finale. She joins the exclusive ranks of BUTT, Aldo Nagy, Googolplexia, The Frankenhookers, Skarekrau Radio, Strawfoot, Blondiegrunt, and Johnny Vega$, in that order. She really hit it on the head. That ethereal harp outro, complete with chirping birds and babbling brook noises, I could practically swear it comes from a relaxation tape (and if it actually does, so much the better). The dreamy beginning, the drawly vocals, the steam-engine-and-clippity-clop accelerando leading into the repeated strains of "Happy Birthday," it's all...just...so nice. Black James herself tells me she wrote the lyrics to this one as a little kid for an X-Mas pageant she was in. I'm sort of half-hoping that the extremely-pregnant Black James has to be rushed to the hospital straight from her performance at El Leñador on the 15th. Our first Daxmas baby! Well, we can hope...
Hess: Black James lends her voice and melody against a backdrop of other-worldy sounds, tribal drums and backing vocals in an esoteric, thoughtful finale to this year's AVBDC. The building percussion could be the highlight for me, but it's so hard to choose when every part of the song is done so seamlessly. Happy Birthday Little Jesus is as organic as Catholic Guilt's noisy Silent, Night? and as raw and touching as Dubb Nubb's Hanukkah At Home. This song is a great way to wrap up the compilation, and makes me hopeful for next year's line-up.