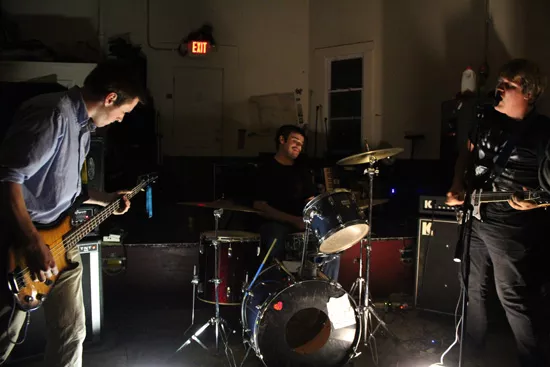 Mabel Suen
Trauma Harness dismisses the stage and performs on the floor at Illegal Tone in Belleville.
The Wicked Witch of Belleville likes to throw musicians into a dirty black cauldron. She vigorously stirs the pot, concocting odd bands that creep and slither their way into nearby cities. Trauma Harness was born from the hiatus of Egg Chef, a beloved noise rock band signed to St. Louis' Apop Records. Since its start as a pet project of Egg Chef's Josh Jenkins and John Birkner of Shaved Women, Trauma Harness has quite literally hit the street, performing in bars and punk houses alike. The release of their cassette Trauma Demolitional is being followed up by a snappy tour of the Midwest, starting with a tightly packed kick-off show in Belleville on December 16th.
Jenkins squeezes esoteric melodies out of his guitar neck, heading the reverb-drenched Trauma Harness with palatable punk hooks. Birkner beats the hell out of that drum set with a hyperactive fervor while bassist Andy Peterson stands at the core of every song with a wobbly thick sound. The vocals are rich with effects, causing the crooning of every word to blend with the psychedelic guitar tone.
Trauma Harness' tour kick-off show takes place Friday, Dec. 16 from 7 to 11:30 p.m. at Illegal Tone Recordings. Admission is $5. For more details, check out the Facebook invitation.
Mabel Suen
Guitarist and Vocalist Josh Jenkins blasts through a set at Illegal Tone on Belleville Main St.
The head of Trauma Demolitional has an odd juxtaposition: A fuzzy voice sample spits an uplifting message followed by seven songs of gloomy post-punk. The debut album features mid-tempo songs broken up by stark, high-tempo flourishes. The parts have a noisy tone about them, but Trauma Demolitional never comes off as aggressive or overblown. Trauma Harness introduces a small bit of odd sound to complement the guitar-driven songs. The intentionally fuzzy recording causes each instrument to fight for space and produces a raw sound akin to a live, unaltered performance.
Trauma Harness kicks off a short run through the Midwest on December 16th at Illegal Tone Recordings (8 South Church Street) in Belleville, IL. Tour-mates Dino Bravo hailing from Champaign, IL share the bill, slinging stoner rock wrought with pro-wrestling references. Local openers include Soccer Moms, Spastic Plastic, Adam King and Carte de Visite. The five-day tour carries Trauma Harness and Dino Bravo through venues in Missouri, Iowa and Illinois. Jenkins and Peterson sat down to tell us more about the upcoming tour and the band's life thus far:
Trauma Harness shares band members between Egg Chef, Shaved Women, French Fry Guys and Dem Scientist. When did you find time to form Trauma Harness?
Jenkins: The band had loosely existed under the name Pierce Bronzeman with John Birkner and I kind of writing stuff since winter 2010. Trauma Harness actually began in late summer 2011, though!
Egg Chef was a band with focus on aesthetics. What goals are behind the artistic and aesthetic direction of Trauma Harness?
Jenkins: Loss and ideas, senses, hockey cards, death, indecisiveness, perceptions, lives, disillusion, hot dogs, et cetera. We wanted to play and do whatever we really felt like with little restriction on being tied down to any specific sound. We became gloomy! A lot of the initial songs were written without a low E string because the nut on my guitar was broken, so there aren't extensively low tones too often in our early stuff because of that. Most of the songs are written off of jamming to a melody either Andy, John, or I make though.
All three of you are from the same area and have worked together in the past. What other bands have the members of Trauma Harness combined efforts in?
Jenkins: John and I have been in a pizza themed cover band and a band that extensively promoted soda and food. Andy and I were in a band that wore hazmat suits and a band that sang about Dragon Ball Z.
What musical influences do you draw from when writing and performing in Trauma Harness?
Jenkins: For me, a heap of bands on Flying Nun Records and Factory Records; early stuff on Touch and Go; Tall Dwarfs, The Chills, The Gordons, A Certain Ratio, Joy Division, The Fall, Stockholm Monsters, Pere Ubu, Breaking Circus, Naked Raygun and Volcano Suns.
Peterson: I guess for me it's like Killing Joke, Fugazi, Joy Division, Ramones, Gizmos, Hot Pockets, Husker Du and Black Flag.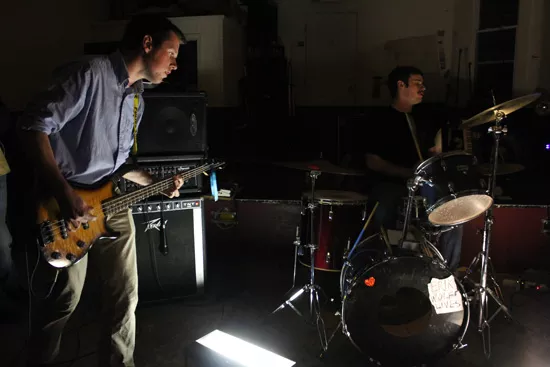 Mabel Suen
John Birkner on drums and Andy Peterson on bass provide a hard hitting, punchy rhythm section.
When you search Trauma Harness on Youtube, a pleasant video titled "Garfield's Kitchen - Trauma Harness" springs up at the top of the screen. Tell us about what the heck we're watching!
Jenkins: That is us demonstrating abilities to some of the most profound and highly regarded cuisine masters of Champaign, IL.
Peterson: Basically, it's the pilot episode of the online cooking series "Cooking with Garfield" on which bands teach viewers how to cook various foods. While the food cooks, the viewing audience is treated to a sample of the band's music.
Who recorded your album?
Jenkins: The mysterious denizens of Tarpland, a mysterious location in the depths of Belleville's old sewer systems where blue tarp covers all the eye can see.
Your album certainly wasn't published by any old record label. It looks to be conjured in a basement or years-old shed. Tell us about your debut cassette.
Jenkins: The creative minds of Dingle Records are mostly to thank. They are friends of friends, a pretty small and easy-going label that puts out releases by bands in the Belleville area.
When you arrive at a venue and unload your equipment, what little things make you happy?
Jenkins: My equipment working, temperature changes, the fact the 35 Tylenol I swallowed should be kicking in any second.
Peterson: A hearty handshake and an offering of snacks and soda always do the trick.
Trauma Harness is still green. Tell us about your favorite show thus far in your short time as a band.
Peterson: Well, we played a set in Tarpland for like seven people who stuck around after a show that had happened earlier that night. It was very cramped.
Jenkins: It was our first show actually in Belleville. We played at 1 a.m., nearly two hours after the previous show ended. We also played a show in Carbondale, IL that was really fun. It was at Lost Cross, an ongoing punk house that's been open for over 20 years.
Trauma Harness embarks on a wintry tour on December 16th. The tour kick-off is overloaded with local music. Tell us about the line-up.
Jenkins: We're going on a five-day shindig with our pals Dino Bravo from Champaign, IL. They're playing the 16th as well. Carte de Visite is a rad and underrated band from Belleville who have been playing around the metro area unnoticed for the last year. It's actually one of their last shows, if not their last, with their current drummer. Adam King is a sweet dude from the IL side who has been giving a bunch of bands coverage on a college radio station he runs in Texas. Soccer Moms are killer dudes from small rural towns all around Belleville and play chunky math/indie rock. Spastic Plastic are a two-piece heavily influenced by Caddywhompus and used to hail from the IL area in their old band Fragile Farm.