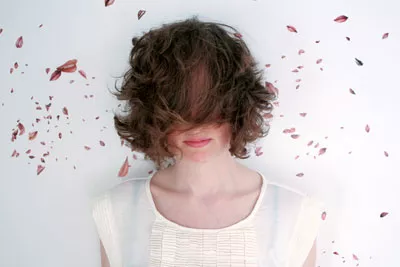 Kathryn Calder, a member of indie-rock-mega-supergroup The New Pornographers, will play a December 13 solo show at Cicero's (6691 Delmar Boulevard 314-862-0009).

The Canadian songstress is touring the U.S. in support of her second solo album "Bright and Vivid."

Calder has been a member of the New Pornographers (and is the niece of lead pornographer Carl Newman) since 2005 when she began filling in for singer Neko Case during live performances.
Kris Wernowsky: So, you're coming back to St. Louis. Do you have any particular memories of playing here before?
Kathryn Calder: It's always been really great playing in St. Louis. It's one of the only places I've seen where there was a line of people outside the venue to get things signed. The audience knew where to go and there were 40 or 50 people waiting to get pictures with the band. That usually doesn't happen.
So you're not used to a gaggle of people waiting outside of an indie rock show?
Usually there are a handful of people trying to get photos with the band. They were neatly formed in a straight line. A gaggle of about five is pretty normal.
Your new album is dedicated to your mother and father [note: Calder cared for and lived with her ailing mother during the recording of her first album Are You My Mother? She passed away in 2009]. Did their passing inform any of the decisions you made on "Bright and Vivid"?
When I recorded the first album, my mom was very sick at the time and had a terminal illness. I wanted to make a record for her to hear as well. She's always been a very big supporter of my music career. When I went into the second album, I had a good background of what I wanted. I just wanted to try something different. I knew that I wanted it to be something a little bit crazier, a little bit noisier and go in a bit of a different direction and make a bit of a statement too. That's the difference between the two. I've made lots of records before and it's always been in collaboration and it's always different. Here I am making the decisions and that's way different than being a part of a group where everyone has a say what is going on.
I just take events from my life and I write about them. Obviously, my mother's illness was huge. "Bright and Vivid" isn't a whole record about death, but there's defiantly a very strong theme. Anything is fair game. Any event is life is fair game.
Do you think that being in a very important indie-rock supergroup helps draw people in to you solo work?
Being in a band that's relatively high profile certainly helps. There are a lot of fans of the New Pornographers who are willing to try out stuff by the people who are in the New Pornographers. For a lot of bands, it's a big deal having people giving your work a chance in the first place. That's a huge hurdle for musicians starting out. Most of the time people just won't even bother. Then you're attached to a band and it gives people context to what you are doing. It's just a bit of a help, aside from just the fan crossover, there's also that too. It's been extremely helpful.
You came in to that band as a tour replacement for Neko Case. Now you're a permanent fixture. How big of a say do you have in the band's musical direction?
I don't feel like I have to have my voice heard. I go in and I play and I come up with parts and I have ideas. Carl [Newman] is very easy going about trying things out and he's willing to let me play with wine glasses when I feel like it. Nor am I the type of person who would demand that my voice be heard. I came in to the band a fan of the band and happy to be there.
What's it like playing in a band with your uncle?
It's kind of an interesting relationship because I haven't known him my whole life. I only met him when I was fifteen because my mom was adopted. Carl was in her birth family. It feels more like maybe older brother. It doesn't feel like an uncle/niece relationship.
Were you familiar with any of his work before you learned he was your uncle?
He was a musician, but he hadn't started the New Pornographers. I can't remember my thoughts on that. I thought that was pretty cool. I remember when I first got "Mass Romantics," hearing his new band and thinking it was incredible when I first heard it.
Both of your parents were musicians?
My mom and dad both played piano. My dad did choir. There was always music in the house. It was usually live with the piano. He was a wiz with sight reading. That's always something I'm impressed with. I've always found that really impressive.
You started with the piano. When did you start going in the direction you are going now?
I was a teenager. I started picking up the guitar really casually around 17 or 18. I started writing songs on the guitar and my mom brought out her guitar up from the 1970s from the basement. I was playing in bands at that time. I had a classic background. It's a completely different experience to play by ear. Being in bands was helpful and taking classical piano helped me make a bridge from classical to rock keyboard. I like music and I like instruments. Not that I'm great at the cello.
So, you probably didn't encounter a lot of resistance from your parents when you decided to tell them that you were going in to the rock-and-roll life then?
No, I think that, they know what it's like. I was 23 when I joined the New Pornographers. I was really just drifting through school taking a bunch of random crap, which is great for knowledge and learning, it's not great for a degree, which is really kind of the point in some peoples' eyes. When I got asked to join the New Pornographers, they thought it was kind of a no-brainer. I could do school at any point. How many times am I going to get to join The New Pornographers. I took it.
During my research for talking with you, I found endless comparisons to your new album and other work by St. Vincent. Do you feel like that women are often pigeon-holed when it comes to being compared to other similar-sounding female artists?
In the particular example of St. Vincent, I've had that a lot. I love St. Vincent, I just take it as a compliment because she's such a wonderful guitar player and writes such unusual songs. There are more women now making music ever before. There still aren't as many females as there are men. There is a rock history you can draw upon for men and the list is long and you can compare all kinds of things and all kinds of bands. For women you have a few really standard comparisons even though there are more now. Sometimes the only way to describe something is to describe it compared to someone else. It's interesting that it's not very often that you hear a female artist compared to a male artist in the style of music. People do tend to pick vocally similar women, but people mean it to be flattering.
Well, if you had the chance to rewrite all of the reviews and have your say in what you think Bright and Vivid sounds like, what would you say?
In my humble opinion, it's different than a lot of things out there. That's why I made the record and the production decisions that I made. It's going to be interesting and filed with melodies and focus on the songs. There are a lot of great bands out there, and I was trying to be a female version of Animal Collective.