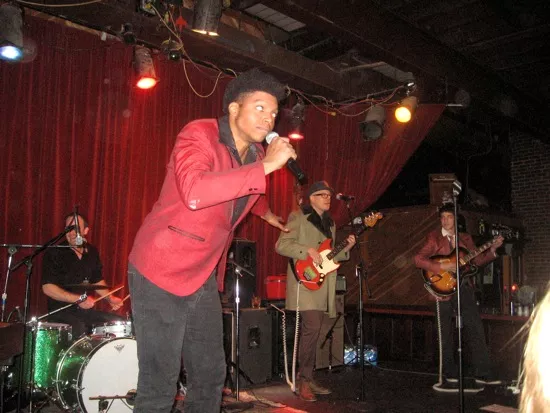 JC Brooks & the Uptown Sound | Bailiff Off Broadway December 10, 2011
Toward the end of its set at Off Broadway last night, JC Brooks & the Uptown Sound's bassist Ben Taylor addressed the crowd. Though they'd spent the last few months touring America and Europe, he said, they were "so fucking happy" to be back in St. Louis, the land of KDHX and Euclid Records. It came off as more than a showbiz routine ("How ya doin', [name of city]?") Indeed, Brooks and his Sound have worked St. Louis so often that they've become local favorites. Last night's set went a long way in cementing that mutual love.
Tempting as it is to call JC Brooks & the Uptown Sound a "soul revue" in the old-school sense, that description slightly diminishes the depth of their approach. True, Brooks plays the Otis Redding/James Brown soul shouter role with abandon, leading the band and engaging the crowd in call-and-response routines. He may or may not be the new hardest working man in show business, but he did overcome laryngitis, broken mics and a wardrobe malfunction (specifically, he forgot to bring a change of shirts, so he did the second half of the set in an undershirt) to give us an inspired performance. Yet even he sings about wanting to be a "Motown star" ("Berry"), Brooks is clearly living in the present. Your average soul shouter does not cover Wilco ("I Am Trying to Break Your Heart") or throw bits of Luscious Jackson ("Naked Eye") or human beatboxing into his repartee. Brooks did all of these things.
You might even forget that Brooks isn't alone up there. But there's also the Uptown Sound, a crackerjack five-piece that serves as the Bar-Kays to his Otis, the Funk Brothers to his Marvin, the Revolution to his Prince. While bassist Taylor and drummer Kevin Marks lay down a sturdy Jamerson/Benjamin groove, guitarist Billy Bungeroth unleashes some truly stellar, almost No Wave soloing. He's part Steve Cropper, part Robert Quine/Tom Verlaine punk-era guitar hero. Complete with a Booker T-style organist, the Uptown Sound could easily serve as a new MGs or Wrecking Crew should they ever choose.
Last night's set was, of course, heavy on material from new album Want More. Brooks didn't mind working blue, as evidenced by songs like "I Got High" and suggestions of after-show liaisons with the band, but it was all fairly innocuous. For "I Am Trying to Break Your Heart," the band channeled Ike & Tina Turner (former locals, just like Wilco's Tweedy), doing the first verse "nice and easy" and the rest of the song "Uptown rough." Whereas Wilco's original is woozy and abstract, Brooks broke it down to what it really was at its core: a song about a relationship gone wrong. That the band successfully flipped it into an Otis Redding shouter really gets to the heart of what this band is all about: as joyful as the best old soul and R&B, yet not so much carrying on a tradition as molding it into its own modern version. JC Brooks and his Uptown Sound could have played all night if they wanted.