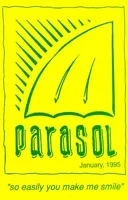 The cover of a Parasol catalogue from 1995, which included Neutral Milk Hotel's debut single for $3.25
When Champaign/Urbana, Illinois' Parasol Records announced this week that it was closing its retail store and suspending its mailorder operation, the general reaction seemed sad but not surprising. On Facebook, some former customers reminisced about ordering records through Parasol's service, and the weekly new release lists that always arrived on different colored paper. Others griped about not being paid for their label's release or the last issue of their fanzine. Very few people in this (admittedly unscientific) sample, however, seemed to have patronized Parasol recently. And perhaps therein lies a clue.
Parasol was one of the last of its kind. When the indie-rock scene exploded in the early 1990s, micro-indie retailers like Ajax, Twee Kitten, Darla and Penny Black Music formed to fill the retail need. These often functioned as one-stop enterprises: they were often record labels, distributors and catalog merchants simultaneously. Mind you, they wouldn't take just anything. Each of these retailers had its own approach and clientele, and a band could tour as a result of getting listed in the right mail-order catalogs. The approach was curatorial before that term existed in popular culture.
Parasol's catalog was among the largest. It encompassed twee-pop from Olympia and Washington, D.C., industrial music from Chicago, dreampop and shoegaze from England, electronica from Europe, and the latest from New Zealand's Flying Nun label or Australia's Chapter Music. Your blogger sold his 1990s fanzine through Parasol, and heard back from readers as far away as Japan and Israel. Forget social networking; this was more like taping a handwritten message to a helium balloon and hoping for a response.
Champaign/Urbana, of course, also brought the world the Mosaic browser, and by extension the World Wide Web. But it's too easy to blame the Internet or file sharing for Parasol's demise; twenty years is a remarkable run for a small business, especially a music business. Still, any band can now upload its music onto Soundcloud, Bandcamp or MySpace, put the word out on Facebook and Twitter, and immediately secure itself the type of exposure that Parasol-era artists could not have envisioned. Those online music retailers that have held out and thrived, such as Insound and Other Music, offer digital downloads and exclusive pressings -- and the big digital players like Amazon and iTunes offer simple ordering, streamlined payment and user comments. Perhaps it's a simple matter of the torch being passed.
What next? Despite the end of the store and mailorder operation, Parasol will continue to operate its family of record labels, including Parasol, Hidden Agenda and Mud. And on Saturday, December 17, the retail store will host a free all-ages show starting at noon, featuring local bands Evil Tents, Anna Karenina/Anna Karina, Deathtram, Easter and Shadows on A River. If you're so inclined, it might be worth the trip upstate to say goodbye to one of the most important indie-rock clearinghouses of the past two decades.