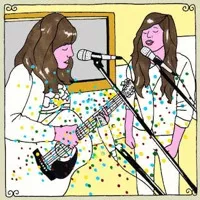 It's all coming up Rainey. A little over a week after the release of its excellent Sunrise Sleepy Eyed, Dubb Nubb's Daytrotter session is now live for the listening.
The Columbia-based trio, which originated in St. Louis, comprises sisters Amanda, Delia and Hannah Rainey. The Daytrotter session, recorded over the summer before Amanda officially joined the band, features two songs from Sunrise, including the arresting St. Louis ode "Mound City Baby."
Daytrotter, based in Rock Island, Illinois, has plenty of love for St. Louis lately -- the site released a session with Rum Drum Ramblers in mid-November.
Related
The Rainey Sisters' Dubb Nubb and Special Passenger Records
The New Dubb Nubb Album, Sunrise Sleepy Eyed, is Out Now: Listen