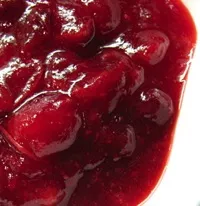 As holidays go, Thanksgiving gets the short end of the wishbone. Its musical impact is generally limited to that damn Adam Sandler song. Yet, for anybody who survived the 1990s, one thought comes to mind when plating turkey's fruity companion: "Hey, remember The Cranberries?" We most certainly do. This year, enjoy your cranberry sauce with Cranberries jams. Here are the six best songs by everybody's favorite Irish light alternative rock band. Feel free to interject which Cranberries songs you are thankful for in the comments section. We'll start the ball rolling for you - "Zombie" didn't make the cut.
6. "Just My Imagination" from Bury The Hatchet (1999) By 1999, most folks had written off the Cranberries. Alt-rock radio developed a sharper edge and previous Cranberries hits like "Dreams" were delegated to adult-contemporary stations. As if to embrace its new market, the band released Bury The Hatchet's cut "Just My Imagination" as a single. The jangly tune is custom fit for the dentist's waiting room, complete with a hook effective enough to scrape the plaque from the most pecan-pie-encrusted molars.
5. "How" from Everybody Else Is Doing It, So Why Can't We? (1993) The Cranberries developed a strange relationship with heaviness. Some of its most popular, harder tracks like "Salvation" and "Zombie" reek of overcompensation. Truthfully, the band was more capable of rocking than it may have realized. "How", a latter-half standout from the Cranberries' debut plays the quiet/loud card like a nonexistent Pixies MTV Unplugged session. It settles into a moody verse with the occasional guitar outburst before Dolores O'Riordan restrains her anger on a power-waltz chorus as she sings "You said you never would leave me alone." "How" proves the band is capable of intensity without bathing its guitars in uncharacteristic fuzz.
4. "When You're Gone" from To The Faithful Departed (1996) To The Faithful Departed was a relative flop compared to the Cranberries' first two albums. It's tempting to compare it to Weezer's sleeper hit from the same year, Pinkerton, but the record plays more like Harvey Danger's sophomore album King James Version. Like HD's forgotten follow-up, Departed showed a pigeonholed band's stylistic diversity. "When You're Gone" could have drowned with the weight of its ambition -- there is, after all, not much demand for Irish doo-wop. Alas, the song rules and, like R.E.M.'s "Everybody Hurts", would be ideal slow dance material were it not such a downer. 3. "No Need To Argue" from No Need To Argue (1994) It's a lazy O'comparison to O'liken The Cranberries' Dolores O'Riordan to Sinéad O'Connor, but on O'sophomore album No Need To Argue's O'title track, it is O'so accurate. "No Need To Argue" is a lonesome heart breaker a'la O'Connor's "Nothing Compares 2 U". O'Riordan milks the tragedy, pours it on her frosted flakes and chows it down like the potato famine never happened. The Cranberries' catalog has its share of ballads, but "No Need To Argue" makes us wish the band let its guard down more often.
2. "Free To Decide" from To The Faithful Departed (1996) The Cranberries hated drugs and baby thieves (those who stole babies, not babies who stole). Its message-driven songs were lyrically hokey with the exception of "Free To Decide." The track works because it is somewhat sly about the don't-kill-yourself theme, squeezing in "I'm not so suicidal after all" after two repetitions of its title. The video is less subtle, with O'Riordan hiding from the paparazzi and singing from inside a cage. If the general positivity isn't an effective enough reason to live, the cowbell twelve seconds in should suffice.
1. "Linger" from Everybody Else Is Doing It, So Why Can't We? (1993) Orchestral pop rock was all the rage in the mid '90s: Oasis had "Wonderwall", the Verve gave us "Bittersweet Symphony", Bush did "Glycerine". The Cranberries' "Linger" arguably started the trend. The band's second career single (after "Dreams") is a virtual obstacle course for songwriting, building a powerful tune from predictable rhymes (by/lie, confused/used, finger/linger) and stock chords. One of the Cranberries' most unrecognized strengths, drummer Fergal Lawler drives the tune with his thoughtful marching beat -- rarely can drumming be referred to as "introspective." But "Linger" remains in the general consciousness in part because of the string arrangement's drama. By leaning away from rock production, the track is the least dated sounding in the Cranberries' discography. As creamed-corny as it may sound, the song is the most likely to linger in our hearts for many Thanksgivings to come.